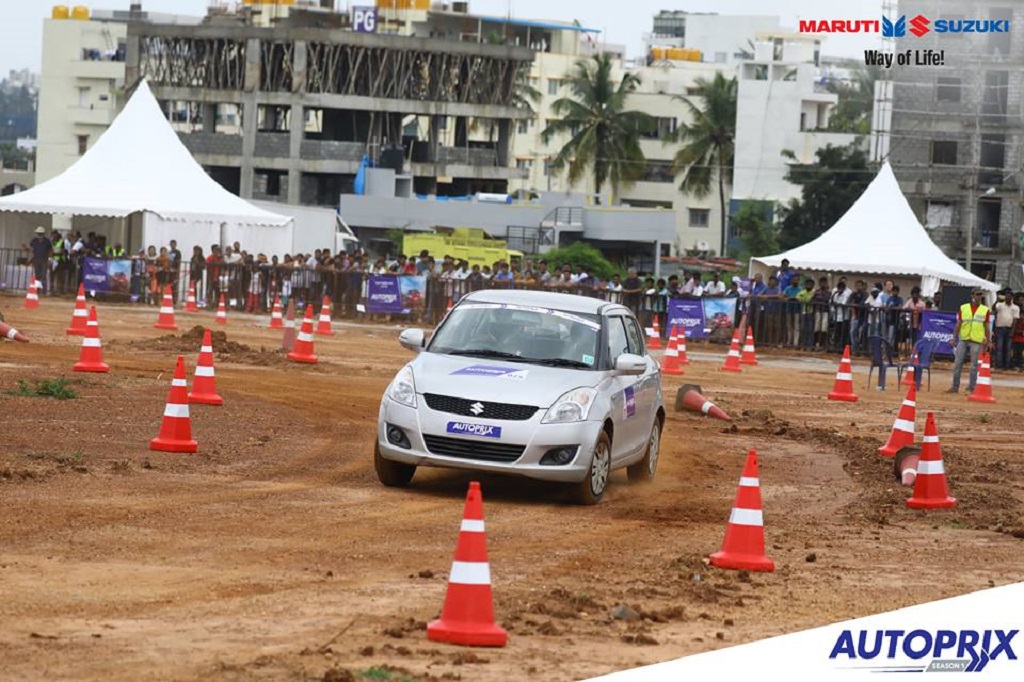 4 Zones | 8 Cities | 1 Championship
20th September, 2017: Maruti Suzuki Autoprix 2017 (Season 1) is all set to enter the cultural capital of Maharashtra – Pune, for the second round of its autocross format.
The first round of championship concluded in Bengaluru on 10th September, and is now ready to hit the tracks of Pune on 22nd September, to find the first winners of the West zone.
Spread across 5 months, budding racers and motorsports enthusiasts from 7 cities – Bengaluru, Pune, Coimbatore, Chandigarh, Indore, Gurgaon and Guwahati, will compete against each other to battle it out in Greater Noida at Buddh International Circuit and win the coveted title of Maruti Suzuki Autoprix Champion in 6 classes in the championship.
Maruti Suzuki Autoprix 2017 (Season 1) will act as a stepping stone for amateur motorsports enthusiasts to hone their motoring skills and taste the thrill of adventure in a safe environment before graduating to tougher formats of rallying.
The second round will culminate into a prize distribution ceremony in Pune, on 24th September, wherein the winners will represent the city in the national championship.
The national champion of Maruti Suzuki Autorpix 2017 (Season1) will bag the all new Maruti Suzuki Swift at the finale in Noida on 29th January, while there are cash prizes to be won by the winners of city rounds.
Maruti Suzuki Autoprix 2017 (Season 1) Calendar
| | | | |
| --- | --- | --- | --- |
| Round | Zone | City | Date |
| Round 1 | South | Bengaluru | 8th, 9th, 10th September'17 |
| Round 2 | West | Pune | 22nd, 23rd, 24th September'17 |
| Round 3 | North | Chandigarh | 27th, 28th, 29th October'17 |
| Round 4 | South | Coimbatore | 17th, 18th, 19th November'17 |
| Round 5 | West | Indore | 1st, 2nd, 3rd December'17 |
| Round 6 | North | Gurgaon | 15th , 16th , 17th  December'17 |
| Round 7 | East | Guwahati | 5th , 6th , 7th  January'18 |
| Finale | NA | Noida | 27th , 28th , 29th  January'18 |