Cayenne expedition to support women's empowerment through mobility
Porsche India has partnered with the organisation'Women Beyond Boundaries' (WBB) on a 20-day expedition across the Himalayas. Nidhi Tiwari, founder of the organisation, will showcase women's empowerment through mobility, by driving the 4,000 km route through challenging terrain together with her navigator Neha V Sadananda. Porsche India will be providing a Cayenne for this trip set to commence on 18 June from Gurgaon. The drive will test the Cayenne's endurance on some of the highest motorways in the world and test its off-road capabilities across different terrain as well as river beds.
'Women Beyond Boundaries' (WBB) is an organization which runs extreme overland journeys (XOL) that push boundaries to achieve empowerment through mobility. As part of its core mission, WBB showcases mobility solutions adopted by women in the remote areas through which they traverse. In keeping with this objective the WBB team will also train local women in Ladakh on the topic of XOL driving to motivate their movement between remote communities. This will be done with the help of the local administration and community participation. In addition, the expedition will also interact with local communities to spread awareness on women's health in collaboration with a reputed local NGO.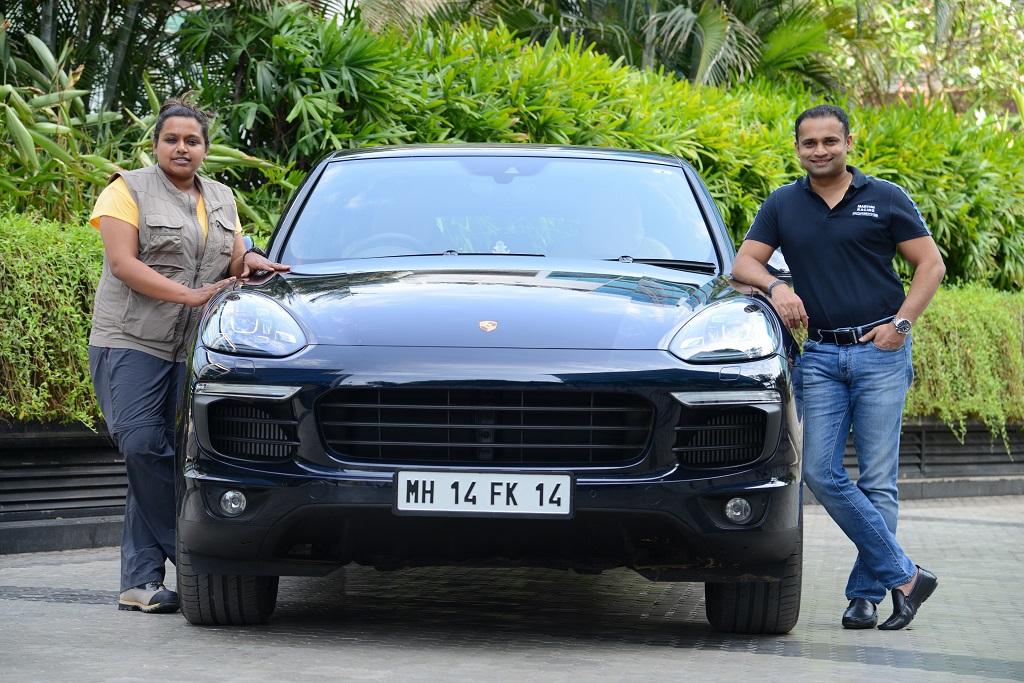 Speaking about the project, Pavan Shetty, Director of Porsche India, said: "We are absolutely delighted to partner with WBB on this unique initiative and see their activities as an essential contribution in the overall progress of women's empowerment.Through this expedition, we want to support this cause and also showcase the endurance of the Cayenne in some of the most remote places in the world."
The Porsche Cayenne Diesel provided will be driven across more than a dozen high-altitude passes, including Khardung La and Marsimik La, two of the highest motorable passes in the world. Featuring a powerful three-litre V6 turbo-diesel engine, the model produces 245 hp (180 kW) and has a top speed of 221 km/h. Its eight-speed Tiptronic S gearbox will be convenient during the on-road sections of the planned route. When leaving the tarmac, the Cayenne's three off-road modes ensure maximum support for the driver. Assistance systems,offering improved traction on loose, wet and snow affected surfaces, include Porsche Traction Management (PTM),Porsche Hill Control, whilst ground clearance can be adjusted through the Porsche Air Suspension Management (PASM).
Nidhi Tiwari, founder of WBB, said: "We are glad to partner with Porsche India for such an initiative. With the spirit of women empowerment, and a sensitive cause of women's health and cancer awareness in the remotest corners of the country, we believe in going beyond all perceived and conventional boundaries. We are equally excited to get behind the wheel of the Porsche Cayenne on some of the most unique roads in the world."
 The 4,000 km expedition will start from Porsche Centre Gurgaon, north of Delhi on Saturday, 18th June. Nidhi Tiwari and Neha V Sadananda are expected to complete the route in 20 days.
About WBB:
Women Beyond Boundaries (WBB) is an organization which offers extreme overland journeys that push boundaries both within and outside to achieve empowerment through mobility.
WBB signifies 'mobility of women' via extreme overl anding. Its core mission is to highlight the significance of empowerment via mobility. WBB seeks to motivate women from urban and rural communities to learn overlanding skills in order to be mobile on public roads and highways. For more information, log on to www.wbbglobal.org