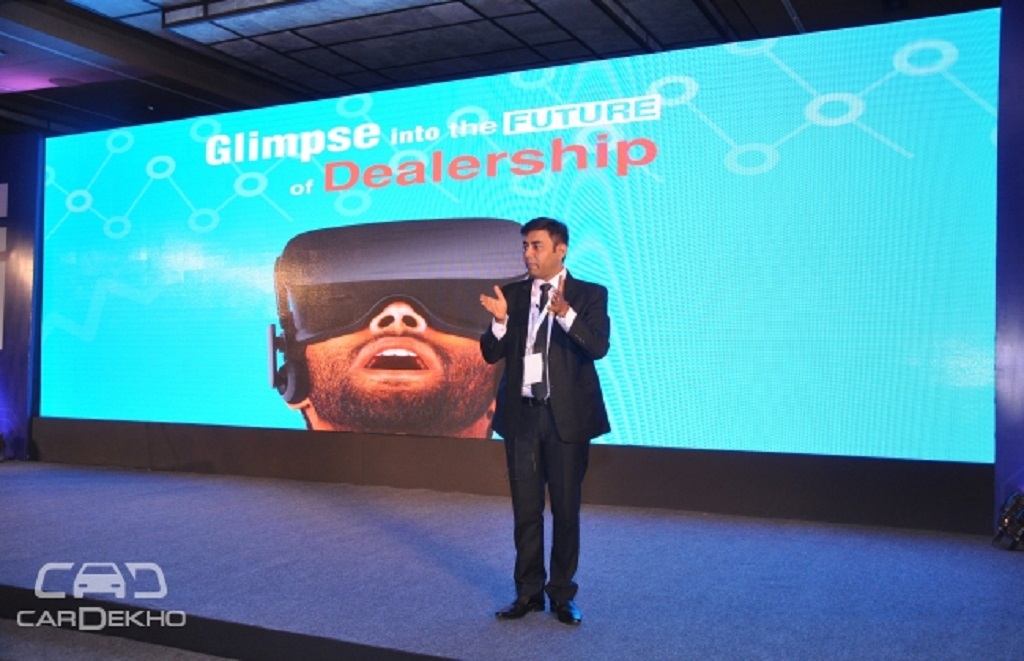 India's leading online automobile portal CarDekho in partnership with FADA presented the Ninth Auto Summit, themed on "Digital Dealer – Accelerate Opportunities." The biennial conference underlined the standing of Digital ecosystem in today's automobile business. The summit focused on various B2C technologies like virtual showroom and augmented reality platforms along with several B2B technologies solutions like lead management system, branding solutions, digital marketing and other cloud solutions.
The Auto Summit 2016 is one of the largest conferences that facilitate dealers and OEMs to learn and enhance their knowledge on new technologies to run their businesses efficiently. The theme this year stresses on the importance of adopting digital technologies or 'going digital' in the backdrop of an increasingly digital era. Close to 600 auto dealers from all over India and many OEM manufacturers attended the event.
The event unfolded with an inaugural session and a welcome address by Mr Jayant Sinha, Hon'ble Minister of State for Finance, Government of India; followed by addresses by Mr R C Bhargava, Chairman, Maruti Suzuki India, Mr Rajan Anandan, Vice President & Managing Director, Google South East Asia & India, Mr Ravi Pisharody, Vice President SIAM & ED Tata Motors, CVBU, Mr K V S Prakash Rao, President, FADA and Dr Kailash Gupta, Chairman Auto Summit 2016.
The speakers in their address to the dealers and the automobile fraternity brought out the necessity of proactive presence in digital space having become imperative for a competitive edge in the digital and communication era. Digital intends to help acquire new customers and provide support in plugging leakages in order to improve productivity and efficiency.
Jayant Sinha, Hon'ble Minister of State for Finance, Government of India lauded the automobile Industry and mentioned the vitality of GST in India as it would lead to removing a lot of tax related anomalies attached to the industry.
KVS Prakash Rao, President FADA in his welcome address urged the government to give emphasis to the Auto Retail sector. He said, "The organised retail for other sectors has received attention of the government agencies; we would also want it to focus on auto retail which is one of the largest employers and has a significant turnover. The auto market is passing through a developmental phase and there is a need to appreciate the members of the ecosystem like manufacturers, OEMs, dealers and the disruption that is caused by the e-commerce companies."
Rajan Anandan, VP & MD, Google South East Asia and India, "Software can reinvent industries, in a few years to come internet will impact businesses which do not actually have a digital product. Consumer experience would change massively in the coming years owing to internet. As OEM's we would have to transform dealership, service experience through imbibing technology. 75% buyers do online for the car purchase and 54% change their consideration after research. They search for right affordability, dealership and service and it is important to exploit the opportunities of internet."
Padma Bhushan, RC Bhargava, Former CEO and Chairman Maruti Suzuki opined that the automobile will lead Make in India. He also said that there are considerations the ecosystem has to take into account and that it is making efforts towards the issues of pollution and safety.
Amit Jain, MD and CEO, CarDekho.com, gave a comprehensive understanding about the measurability and efficiency of the digital media. He emphasized, "We are on a digital mission and I urge the OEMs and the Dealerships to go Digital. Every single expense gets measured through digital usage and also gets a dealer the best ROI. The cost of leads generated through digital media is approximately 10 to 12 times lower as against the conventional sources such as print media and marketing initiatives. With the potential of online dealerships we have geographically covered the zones without a requirement of any capital expenditure."
The audience present were enraptured by, Amit Jain's demonstration of the use of Digital Technology through indigenously developed solutions such as Feel the Car with Touchscreen, Virtual Showroom using 3D modeling Technology as well as mobile apps to dramatically increase efficiencies in a dealer's customer acquisition process.
Umang Kumar, President, CarDekho commented, "Driving digital adoption at dealer partners to improve their sales and profitability is key focus area for us. We are deeply excited to partner with FADA to bring this digital transformation to India's dealers to deliver a differentiated buying experience and increase their engagement with customers leveraging technology."
The sessions were themed around key topics which help direct impact to the stakeholders present at the conference these were. 'The Digital Dealer: Glimpse into the Future', 'Where are my Leads', 'Digital Marketing', and 'Improving Dealer Profitability through Digital'. The sessions, laid strong emphasis on the importance of digital for brand building, buyer search, lead generation and conversion of sales and service.