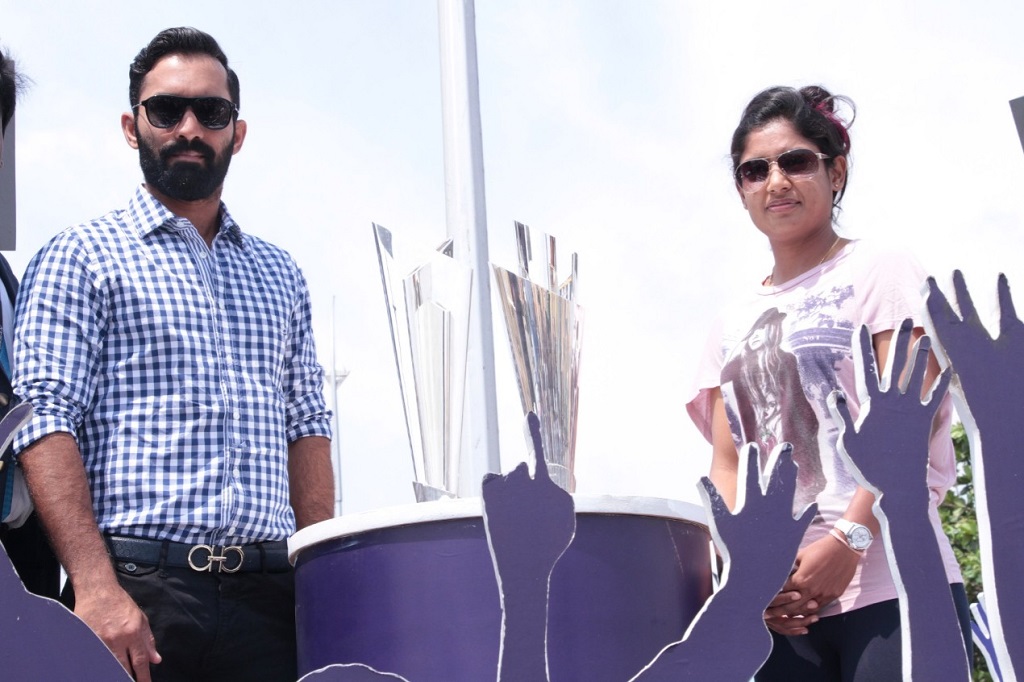 Trophy has embarked on an eight city journey across India, makes its sixth stop at Chennai
Dinesh Kartik and Mithali Raj flagged off the Nissan Trophy Tour in Chennai
Nissan Trophy Tour starts the countdown for the ICC World Twenty20
The series starting from March 8, will be hosted in India for the first time                                                     
The countdown for the much awaited ICC World Twenty20 2016 tournament began last week with Nissan India kick-starting the eight-city tour of the trophy in India. The trophy has traveled across 11 nations before starting its India journey.
The Nissan Trophy tour started its India journey from Dharamshala, followed by Mohali, Delhi, Kolkata and Nagpur. The Nissan Trophy Tour has now reached Chennai to woo cricket lovers of the city. The trophy was flagged off by criketers Dinesh Kartik and Mithali Raj from Marina Beach. The trophy will head to Bangalore and Mumbai, after igniting the excitment in Chennai, which will host the four qualifying women world cup matches of the series.
Arun Malhotra, Managing Director, Nissan Motor India Pvt. Ltd. said, "Nissan and cricket have a lot in common. Both are about pushing boundaries, inspired team-work and delivering excitement. The ICC World Twenty20 tournament garners a lot of enthusiasm from devotees of the sport the world over. The trophy tour provides a unique opportunity for all fans to get closer to cricket history in the making."
"Additionally, to celebrate our association with the sport and as a commemorative offering for cricket buffs across the country, we just launched ICC World Twenty20 limited editions of the Micra and Terrano at the just conclued Delhi Auto Expo," he added.
The Nissan ICC World Twenty20 trophy embarked on its global journey in December 2015. It has visited 11 participating countries around the globe before arriving in India for the final leg of its tour. From Dharmshala, the trophy is traveling to seven more cities – including all match venues – and in the process build up excitement for the tournament, which kicks-off on 8th March 2016.
The trophy tour, ahead of the main event, is a part of Nissan's eight-year deal with International Cricket Council as a global sponsor. The global automaker is sponsoring a host of worldwide tournaments including the ICC Cricket World Cup, ICC Champions Trophy and ICC Twenty20, along with the Under 19 tournament and Women's cricket.
The countries participating in the Nissan ICC Twenty20 tournament include Scotland, Ireland, England, Netherlands, Zimbabwe, South Africa, Pakistan, Bangladesh, Sri Lanka, New Zealand, Australia and India. The complete tournament schedule can be found at:
http://www.icc-cricket.com/world-t20/news/2015/media-releases/91066/icc-world-twenty20-india-2016-schedule-announced