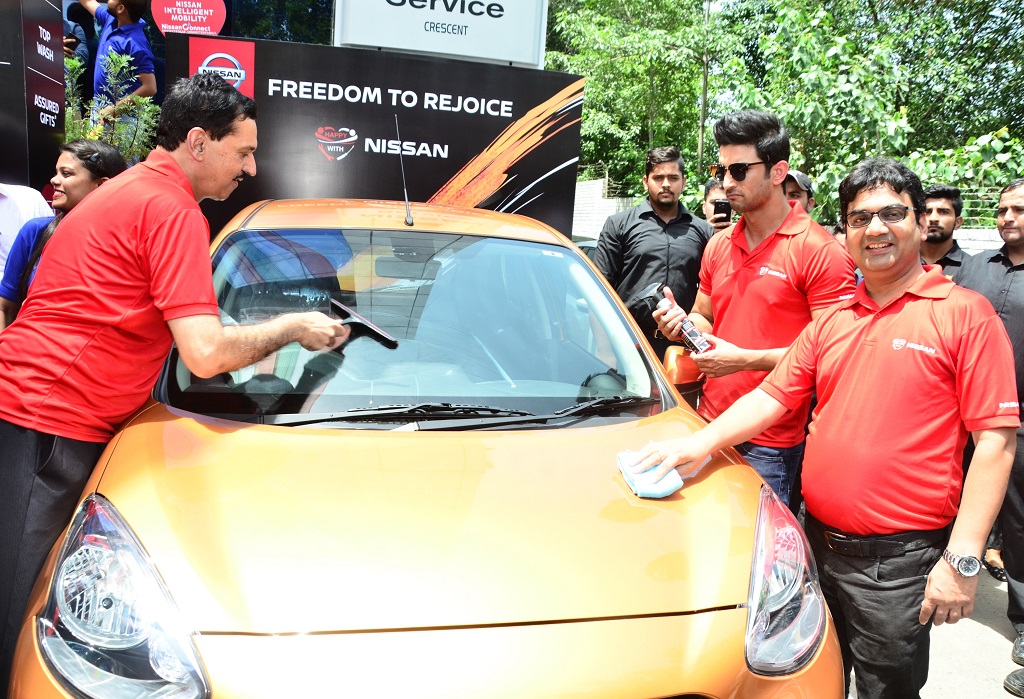 'Waterless Car Cleaning' introduced to kick start the 7th edition of the 'Happy with Nissan' customer service campaign at Nissan dealerships
Waterless washing solution to save approximately 2.8 million litres of water during the campaign
Happy with Nissan campaign enables customers to avail of a free 60-point car check-up, top wash and attractive discounts on accessories
Nissan also announces partnership with Paytm for easy cashless transactions
GURUGRAM, India (August 17, 2017)—Nissan India today launched its Waterless Car Cleaning initiative at the opening of the 7th edition of the 'Happy with Nissan' service campaign for its customers pan-India. Popular Bollywood actor and Nissan brand ambassador Sushant Singh Rajput kicked off the eco-friendly car wash program with customers at a newly-inaugurated Nissan workshop in Gurgaon. The seventh phase of the 'Happy With Nissan' customer service campaign will be conducted at 148 Nissan and Datsun service outlets across India from August 17-24, 2017.
Nissan, known for its innovative and exciting products, today introduced its waterless washing solution for customers in India who get their car washed at Nissan service centres. After it is applied to car surfaces, the eco-friendly and innovative car wash material does not require any additional water to clean a car. The technique will save approx. 2.8 million litres of water during the eight-day campaign and approximately 130 million liters per year.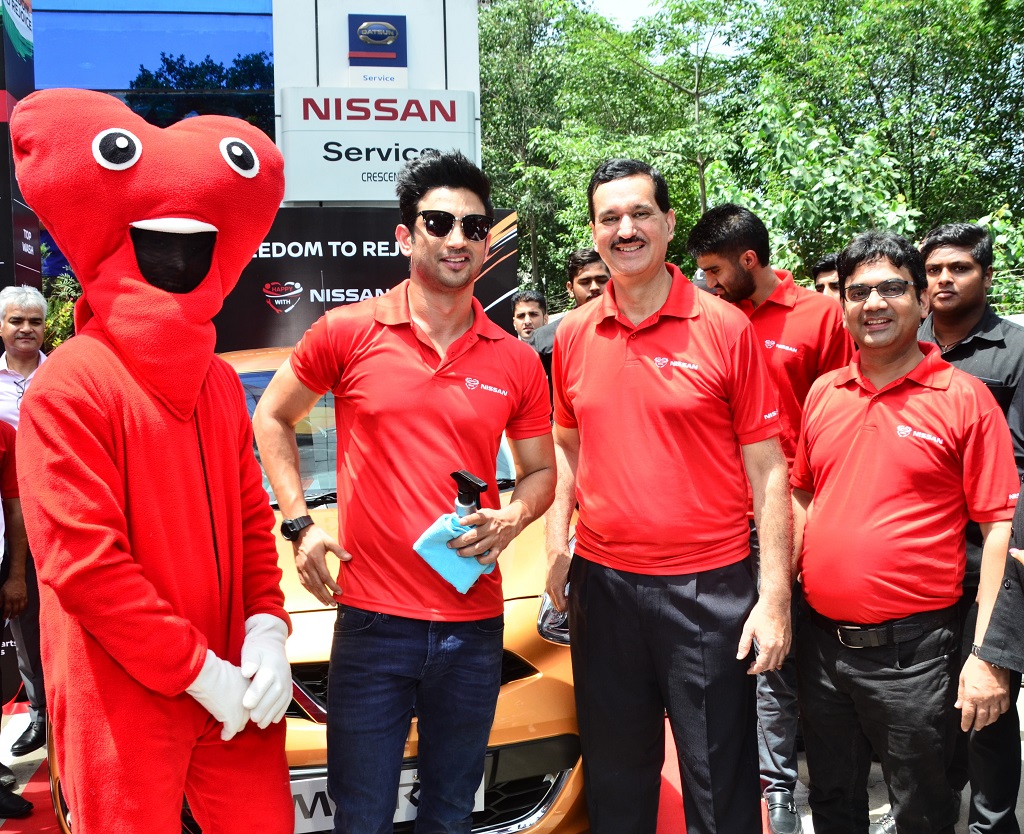 To mark the launch of the campaign, Arun Malhotra, managing director, Nissan Motor India Pvt. Ltd. said, "We are introducing our eco-friendly Waterless Car Cleaning solution as part of the seventh iteration of the customer-friendly 'Happy with Nissan' service campaign. These efforts are just a sample of ongoing efforts to provide a peerless ownership experience for our customers across India".
The Happy with Nissan campaign includes a 60-point free vehicle check-up, attractive discounts on accessories, and free top wash as well as customer-focused communications about the benefits of servicing and accessorizing their cars at authorised Nissan service centres.
Sanjeev Agarwal, vice president – aftersales, Nissan Motor India Pvt. Ltd. said, "Happy with Nissan gives us the chance to further connect with our customers. We are working hard to delight them with great aftersales service and a superior ownership experience. Nissan aims to always provide best-in-class customer service and is committed to bringing innovative and diverse services customized to meet our customers' unique needs."
Nissan also announced that it has partnered with Paytm to enhance its network with smooth and cashless transactions for customers
About Nissan Motor India Pvt. Ltd.
Nissan Motor India Private Ltd. (NMIPL) is a 100% subsidiary of Nissan Motor Co. Ltd. Japan. The company was incorporated in 2005 and offers innovative and exciting products across hatchback, MUV, SUV and sedan segments in India. Nissan together with its global alliance partner Renault set up a manufacturing plant and a Research & Development Centre near Chennai. Nissan in India has a portfolio of two brands, Nissan and Datsun.