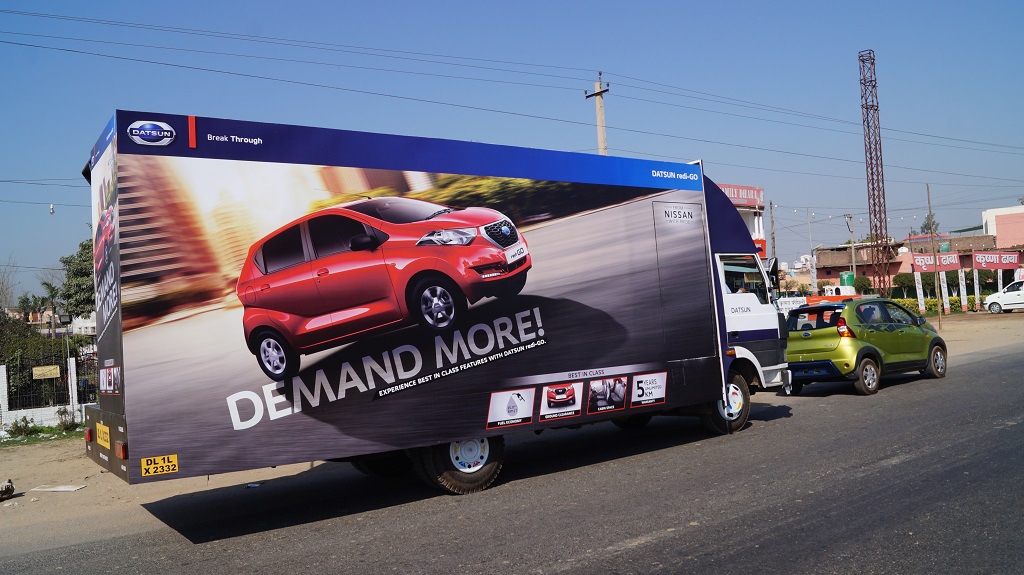 Specially designed canter to bring Datsun redi-GO cars to customers across key locations in Mumbai
Mumbai, India (27 March, 2017) — Taking forward the brand's promise of providing individual mobility, Nissan India's Datsun brand has rolled out the 'Datsun Experience Zone', a pan-India experiential activity for customers across 360 different locations in 27 cities.
A specially-designed canter experience van sporting Datsun brand livery will visit key locations in Mumbai to deliver a first-hand experience of the Datsun redi-GO car to the customers from March 27 to April 03, 2017.
The Datsun Experience Zone is a customer-focused activity aimed at familarising consumers to the Datsun brand and the immensely popular redi-GO. The vans will transform into a platform for interactions with customers, offering an emcee to introduce the redi-GO, distribute Datsun brand merchandise, and showcase the redi-GO's best-in-class features in addition to the chance to play a special motion sensor driving game with steering control projected on a giant LED wall screen.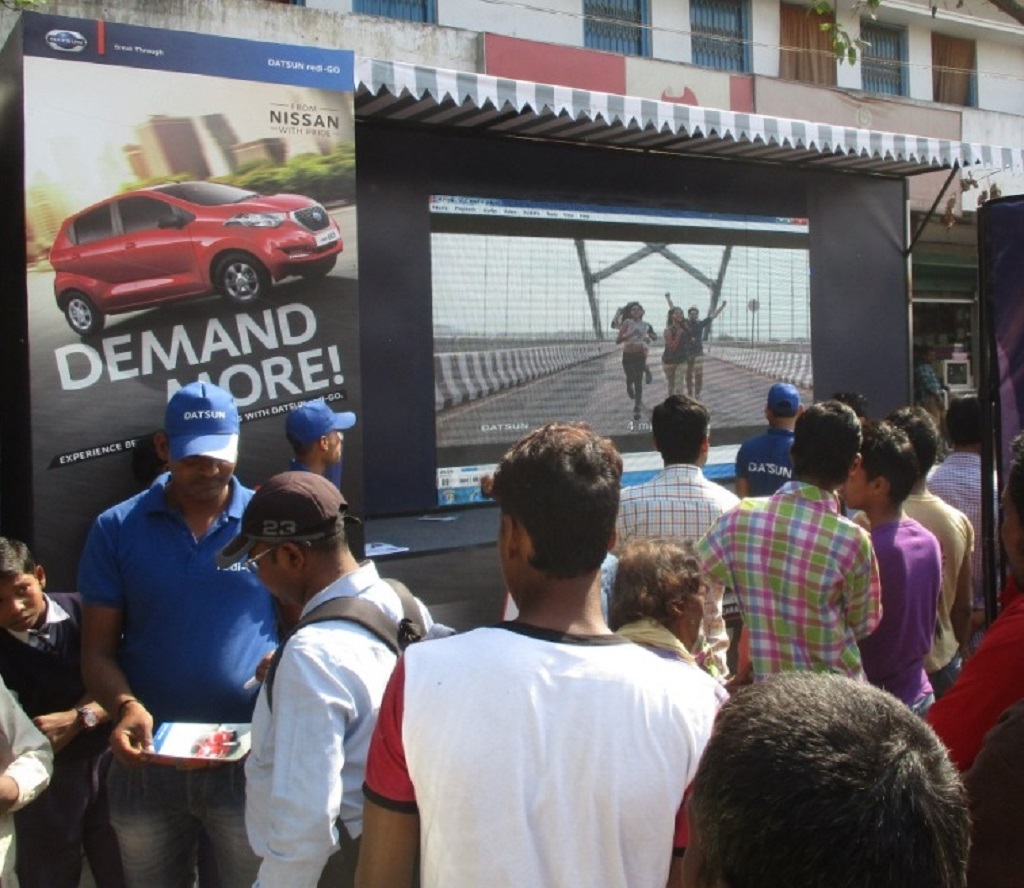 "Datsun Experience Zone" Tour – Key locations:
Mumbai
Dombivli
27-03-2017
Badlapur
28-03-2017
Karjat
29-03-2017
Panvel

30-03-2017

Khopoli

02-04-2017

Lonavala

03-04-2017
"At Datsun it is our endeavour to reach out to our first time car buyers through different ways. The Datsun Experience Zone is aimed to engage, showcase and help consumers experience the best-in-class features of the redi-GO with an upbeat atmosphere at a convenient place," said Arun Malhotra, Managing Director – Nissan Motor India Pvt. Ltd.
"Apart from having fun, they will also be able to get a first-hand look at the redi-GO's attractive styling and learn more about its best-in-class ground clearance, cabin space, and five-year unlimited kilometres warranty." added Malhotra.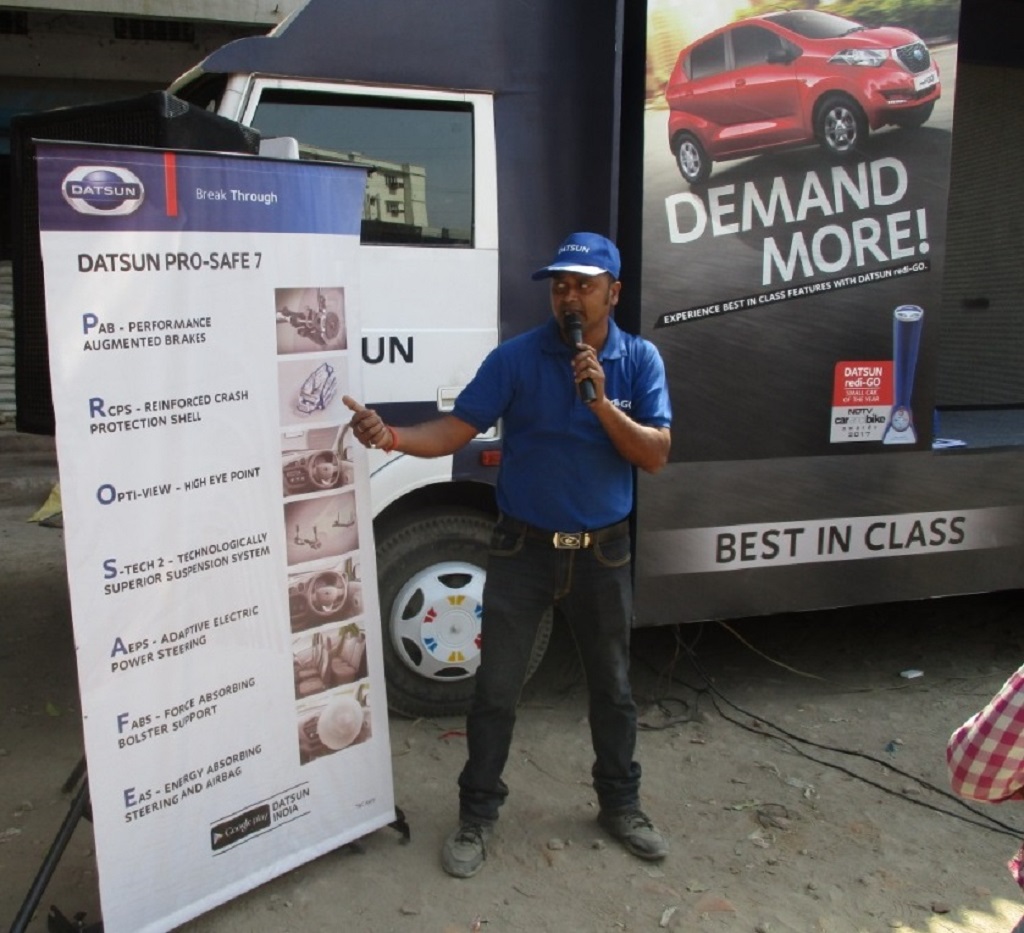 The Datsun redi-GO was launched in India in June 2016. It is an attractively priced, modern and highly capable vehicle that combines the roominess, agility and efficiency of an urban hatchback with best-in-class ground clearance (185mm) and the rugged looks of a crossover. Datsun redi-GO has won seven motoring awards in India to date in recognition of its product strengths and popularity. The accolades include two awards at the NDTV Car and Bike Awards 2017 (Small Car of the Year and the Brand Ambassador award), in addition to the viewer's choice award from The Auto Show / Car India and Bike India Awards 2017.
About Datsun
Nissan Motor Co., Ltd. announced the return of the Datsun brand, Nissan's third global brand, alongside Nissan and Infiniti, in March 2012. Datsun provides a sustainable motoring experience to optimistic up-and-coming customers in high-growth markets. Datsun represents 80 years of accumulated Japanese car-making expertise and is an important part of Nissan's DNA. The new Datsun brand stands for Dream, Access and Trust. The overall Datsun customer offer includes a worry-free ownership experience at competitive cost, accessible services, with transparent pricing, and dealership proximity.
Datsun History
Datsun originated in Japan as DAT-GO (the DAT-car) almost a century ago in 1914. The word DAT means 'lightning-fast' in Japanese but is also a reference to the first letters of family names of the three financiers who supported the business at the time: Den, Aoyama and Takeuchi. Using the same logic, it was promoted as Durable, Attractive and Trustworthy, or DAT for short.
In 1933, Nissan's founding father Yoshisuke Aikawa took over the business with a vision of "mobility for all". The introduction of a lightweight, economical yet resilient car to meet the aspirations of young Japanese people in the early 1930s was named the 'son of DAT' – Datson – which later changed to Datsun. Local engineering and mass-production made the founder's dream a reality.