Nissan GT Academy National Finals commence with selection of six national finalists
Six national finalists will proceed to Silverstone Race Came in August 2015
Over 10000 contestants participated this year through online and live events in four cities
Team India Mentor Karun Chandhok to host a one-day camp for the national winners
Nissan today announced the commencement of the GT Academy National Finals for India. The event, hosted over two days at Chennai's legendary MMSC Racetrack, saw the top 20 qualifiers from online and live qualification events compete for the top spots.
The winners are –
Abhishek Dwarknath
Anush Chakravarthi
Askhay Gupta
Dhruv Dayal
Jaideep Chahal
Shantanu Kallianpukar
The six winners of the second season of GT Academy in India will now move to Silverstone, UK for the ultimate race camp, where they compete with the finalists from Japan, Thailand, Indonesia and Philippines in the GT Academy Asia Championship.
One winner from here will then get a chance to undergo a driver development program and compete for Nissan at Dubai 24-Hours.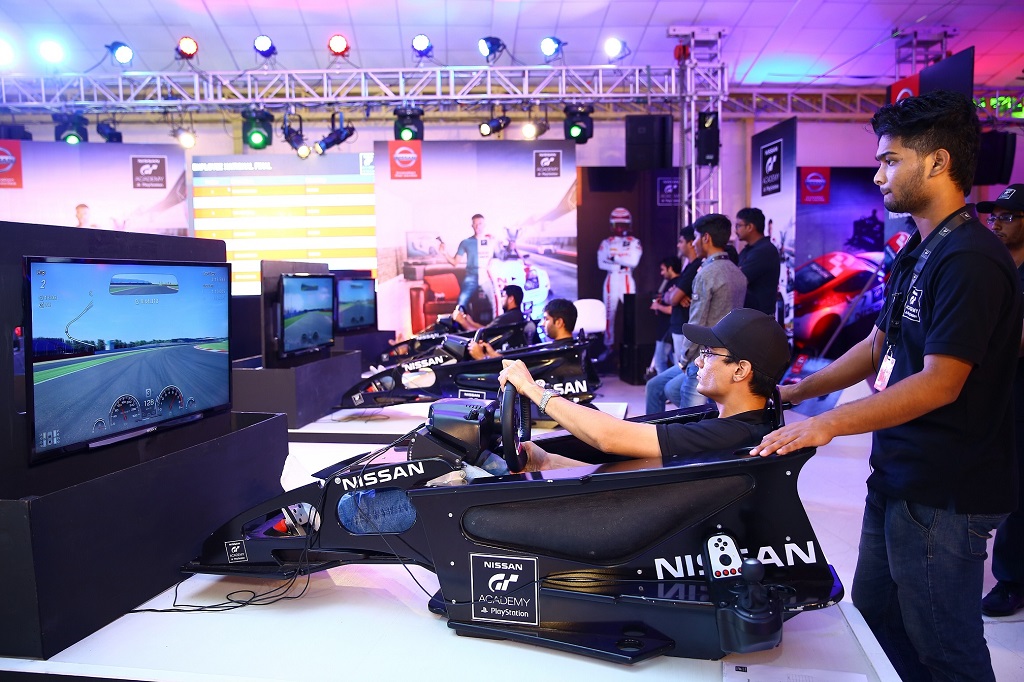 Nissan GT Academy kick-started the hunt for a racing driver in June this year, in association with Sony PlayStation.
Live Qualifying rounds took place in Delhi, Mumbai, Bangalore and Chennai, and picked up top twenty winners across the country based on the best time clocked by them on race simulators. The eleven winners from the Live Events joined nine  winners from the online game, who competed with their PlayStation3 and Gran Turismo 6 on the Sony Entertainment Network.
Celebrating the success of GT Academy in India, Guillaume Sicard, President – Nissan India Operations said, "I am very excited to see the growing enthusiasm in the country towards motorsports. In just a month's time, over 10000 participants competed in GT Academy 2015 with hopes of making it to the top spot."
"We set out with a target to democratize motorsports in India and are proud to give an experience to the finalists today at the racetrack. Our six winners are now ready for an international exposure at Silverstone and we will be happy if we can make a difference to their lives by fulfilling their aspirations", he added.
Announcing the winners at the National Finals, Mr. Arun Malhotra, Managing Director, Nissan Motor India Pvt. Ltd. said "GT Academy marks Nissan's commitment to India and its people to fulfil the dreams by providing them with unique opportunities. We are very happy that aspiring racers and gamers have taken full advantage of this opportunity and now stand to turn their dreams into reality."
The six winners will now spend a day with Karun Chandhok, mentor of Team India at GT Academy, who will help them prepare for the Silverstone Race Camp.
Karun, who was also one of the judges for the event, said, "I have always vouched for driver development programs that help budding racers. GT Academy is a wonderful initiative to enter motorsports, especially if you do not have the necessary backing. My next task is to bring the six winners today to a level where they can compete with other challengers at an international level."
Last year, gamers from all over India competed against each other in the race to the GT Academy final race camp. Six fastest contestants from the National Final in India then made it to Silverstone to compete with the winners from other regions. Abhinay Bikkani, one of the finalists from India last year, is currently racing in the Nissan Micra Cup in Canada and currently stands at the fifth position overall.
The 2015 GT Academy competition will be the biggest year yet for the virtual to reality competition. Gamers from up to 24 countries around the world will be able to enter, with GT Academy International and Asia reaching a staggering 2.2 billion potential entrants. Nissan and PlayStation are looking for the very best to progress from virtual racing to the real world of racing for Nissan.
About GT Academy 2015
 GT Academy is a collaboration between PlayStation® and Nissan that uses the virtual world of the Gran Turismo®6 game to unearth real-world racing talent. Now in its seventh year, GT Academy includes separate competitions for Europe (France, Italy, UK, Germany, Spain, Portugal, Belgium, Netherlands, Luxembourg, Hungary, Poland and Czech Republic), International group (Australia, Mexico, North Africa, Turkey and United States) and Asia (India, Thailand, Philippines, Indonesia and Japan).
The GT Academy qualification round will be part of a free Gran Turismo®6 update on PlayStation®3 (terms and conditions apply). The fastest gamers in each participating territory gain access to their region's National Final event. A number of competitors can also gain access via a series of Live Gran Turismo events organised locally. The National Finals add driving, fitness and a media element to the gaming.
From National Finals, the action moves onto the legendary Race Camp, where the competitors are put through their paces on track in Nissan sports cars under the watchful eyes of high profile judges and mentors. Winners from each competition will be invited to take part in the intensive Driver Development Programme. They could qualify for an international race license and race for Nissan professionally, with the chance to potentially join Nissan's elite Nismo Athletes.
Previous winners of GT Academy are now regular racing drivers. In 2015, Jann Mardenborough (UK, winner in 2011) will be racing in the World Endurance Championship for Nissan in the top LM P1 category and in GP3, a feeder series to Formula One, with the championship-winning Carlin team. Lucas Ordoñez (Spain, winner in 2008) will be racing in the Le Mans 24 Hours this year in the Nisan GT-R LM NISMO LMP1 entry, alongside Mardenborough. The 2014 Champions, Gaetan Paletou (Europe) and Ricardo Sanchez (International) are competing in the Blancpain Endurance Series with the Nissan GT Academy Team RJN.