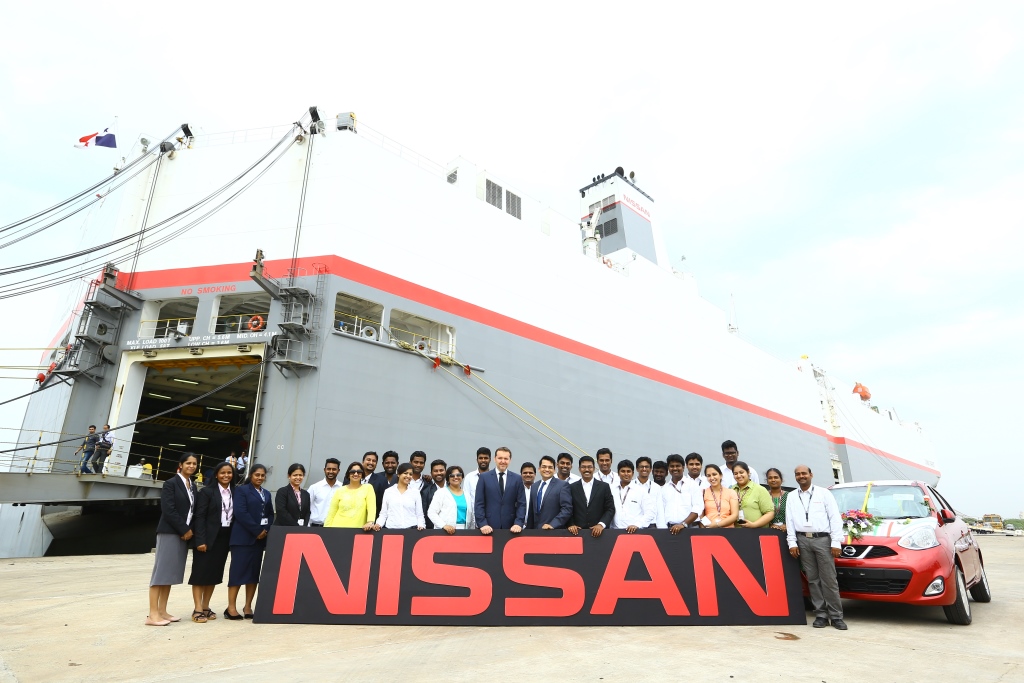 Nissan is India's second largest exporter in the passenger car segment
Nissan Micra is the most exported car from India in FY14
Nissan achieves exports milestone in India in record period of five years
In a record period of five years since the start of exports from India, Nissan has achieved a new milestone: exporting 500,000 cars to over 106 countries. In financial year 2014, Nissan was the second largest exporter of passenger cars fromIndia and Nissan Micra has been regarded as the most exported car.
Demonstrating its commitment to India, Nissan, along with its alliance partner, made significant investment of INR 45 billion in a world-class manufacturing plant at Oragadam, near Chennai. The manufacturing plant not only caters to the growing domestic demand but also leveragesIndia's competitive advantage as an export-oriented hub.
Commenting on the new milestone achievement, Mr. Guillaume Sicard, President, Nissan India Operations said, "India is a key strategic market for Nissan. We have major manufacturing and R&D operations which support us to be one of India's biggest exporters of cars. While exports help us in optimal utilization of our manufacturing capacity, it also helps showcase world-class Indian production quality on the global stage and expands the scope for widening the export base for India-built cars. Datsun Go which is developed and manufactured in India, is a good example of 'Made in India' and 'Made by India'."
Nissan entered into a strategic understanding with Kamarajar Port Ltd. (Ennore Port Ltd.) and has been the first car maker to use the Kamarajar Port Ltd. as the export gateway since 2010. Nissan has been exporting vehicles to various regions including Europe, Middle East, Latin America, Australia, New Zealand, Asia and Africa. While Nissan Micra constitutes 73% of exports from India, Nissan Sunny and Datsun Go are the other two export models from Nissan portfolio. Nissan started the exports of Datsun GO in 2014 to South Africa and Nepal.
For Nissan, India is not only a key hub for completely built units but also for parts supply. Nissan exports over 1800 types of manufacturing parts to 34 plants across 24 countries. Nissan India stands in the 2nd position in volume of shipping parts within the Nissan world.