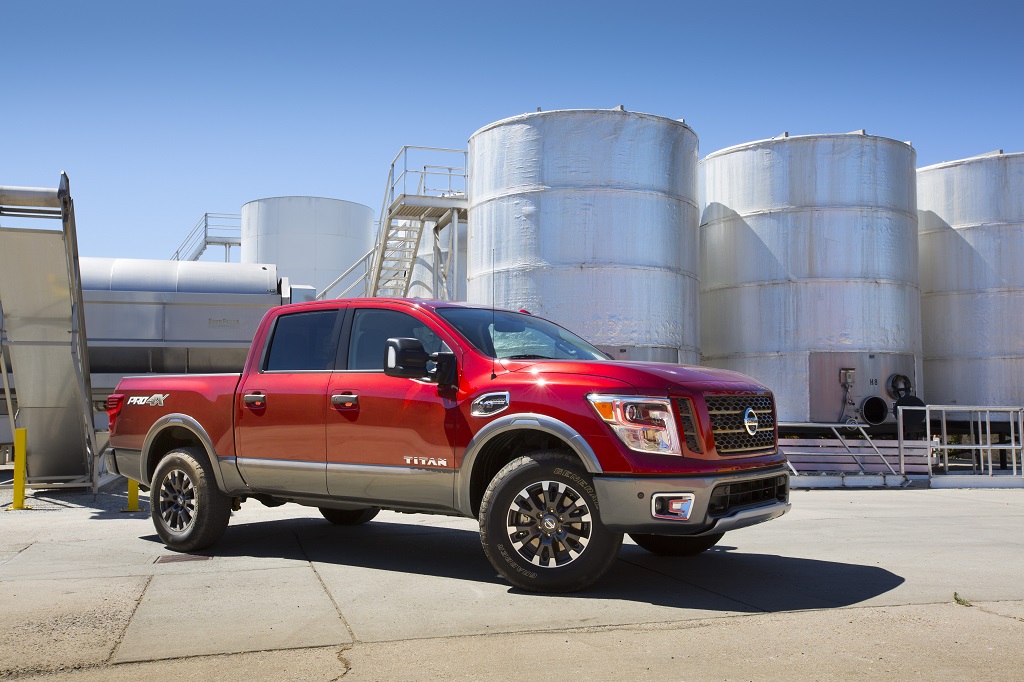 5-year/100,000-mile bumper-to-bumper warranty beats competitors' standard protection programs by two years and 64,000 miles
Includes powertrain warranty – helping give Nissan full-size truck owners added trust and peace of mind
Covers all 2017 TITAN Endurance® V8 gas and 2017 TITAN XD Cummins® diesel and Endurance V8 gasoline-powered models
New limited warranty matches that of all models of Nissan Commercial Vehicles, including NV Cargo, NV Passenger and NV200
NASHVILLE, Tenn. – Nissan today announced "America's Best Truck Warranty"* on its 2017 TITAN and TITAN XD full-size pickups – featuring bumper-to-bumper coverage of 5-years/100,000-miles, whichever comes first. The announcement is part of Nissan's "Year of the Truck" – a new product onslaught of pickups, SUVs and CUVs.
Vehicles covered by the new warranty – which includes basic and powertrain coverage – include all TITAN V8 gasoline-powered models and diesel and V8 gasoline-powered 2017 TITAN XD models, including both 4×4 and 4×2 drive configurations, in Crew Cab and recently revealed Single Cab models. The 2017 TITANs and TITAN XDs are scheduled to begin arriving at Nissan dealers nationwide later this month.
"We're pleased to now offer the same confidence-inspiring protection as our commercial vehicles for our entire range of 2017 TITAN and TITAN XD full-size pickups," said Fred Diaz, division vice president and general manager, North America Trucks and Light Commercial Vehicles, Nissan North America, Inc. "The new bumper-to-bumper coverage shows customers that Nissan stands behind the quality of its vehicles – including the ones that are subject to the hardest use."
Nissan introduced "America's Best Commercial Van Warranty" – also 5 years / 100,000 miles – in June 2014 as a demonstration of confidence in its expanding light commercial vehicle lineup. The results have been very positive, with Nissan NV Cargo and Passenger van sales up nearly 10 percent in 2016; NV200 cargo van sales have increased 17 percent through July.
"Nissan Commercial Vehicle models have experienced remarkable longevity, with some registering more than 500,000+ miles of relatively wear-free service**," added Diaz. "We think that extending the same coverage to our full-size pickups, whether used for personal or commercial use, is a game changer in the segment."
The all-new, category-busting TITAN XD was introduced for the 2016 model year, leading Nissan's all-out assault on the highly competitive full-size truck segment.
For the 2017 model year, Nissan adds an all-new TITAN half-ton pickup, powered by Nissan's new 390-horsepower 5.6-liter Endurance® V8 engine, to the expanding TITAN XD lineup. TITAN XD is currently offered in a Crew Cab body with a choice of a powerful Cummins® 5.0L V8 Turbo Diesel or the Endurance® V8. New TITAN XD and TITAN Single Cabs, the first single cab variants in TITAN history, join the lineup in late fall. A King Cab body configuration, along with a V6 engine, will follow at a later date.
"TITAN will ultimately be available in a total of three cabs, three bed lengths, three engines, 4×4 and 4×2 drive and S, SV, SL, PRO-4X and Platinum Reserve trim levels – covering about 85 percent of the total light pickup marketplace," said Diaz. "And each and every one of them will be covered by the new 5-year/100,000-mile bumper-to-bumper warranty – the best truck warranty in America."
For photography and information about the complete lineup of Nissan TITAN XD and TITAN full-size pickups, please visit www.NissanNews.com.
About Nissan North America
In North America, Nissan's operations include automotive styling, engineering, consumer and corporate financing, sales and marketing, distribution and manufacturing. Nissan is dedicated to improving the environment under the Nissan Green Program and has been recognized annually by the U.S Environmental Protection Agency as an ENERGY STAR® Partner of the Year since 2010. More information on Nissan in North America and the complete line of Nissan and Infiniti vehicles can be found online at www.NissanUSA.com and www.InfinitiUSA.com, or visit the U.S. media sites NissanNews.com and InfinitiNews.com.
About Nissan Motor Co.
Nissan Motor Co., Ltd., Japan's second-largest automotive company, is headquartered in Yokohama, Japan, and is part of the Renault-Nissan Alliance. Operating with more than 247,500 employees globally, Nissan sold 5.32 million vehicles and generated revenue of 11.38 trillion yen (USD 103.6 billion) in fiscal year 2014. Nissan delivers a comprehensive range of more than 60 models under the Nissan, Infiniti and Datsun brands. Nissan leads the world in zero-emission mobility, dominated by sales of the LEAF, the first mass-market, pure-electric vehicle. It is the best-selling EV in history with almost 50% share of the zero-emission vehicle segment. For more information on our products, services and commitment to sustainable mobility, visit our website at http://www.nissan-global.com/EN/.