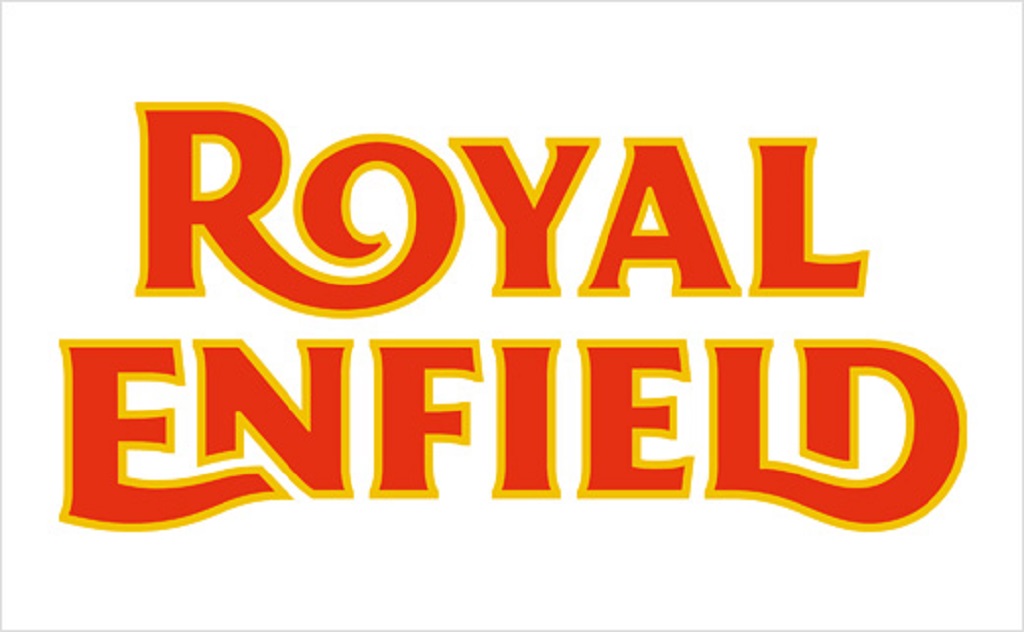 Sales performance
Royal Enfield continues 2016 with a strong sales performance and posted sales of sales of 50,682 motorcycles in combined domestic wholesale and exports in June 2016 recording a growth of 36 % over same period last year.
Vehicle sales
JUNE
YTD
2016
2015
Growth
2016
2015
Growth
DOMESTIC
49060
36597
34%
143329
104330
37%
EXPORTS
1622
744
118%
4154
2283
82%
TOTAL BUSINESS
50682
37341
36%
147483
106613
38%
Business Update
Royal Enfield accessories to be exclusively available on Flipkart
In its commitment to create an all-inclusive ecosystem of leisure motorcycling, this month Royal Enfield announced a collaboration with one of India's top e-commerce portals, Flipkart. The entire range of Royal Enfield apparel and accessories from helmets, riding gear, saddle bags, and head-gear to lifestyle products such as shoes, T-shirts and jackets will now be available on the e-commerce portal. In addition to this collaboration with Flipkart, Royal Enfield gear range is also available in India in most of its dealerships, the company's online store and also through its exclusive gear stores in New Delhi, Mumbai, Bangalore, Chandigarh, Amritsar and Pune. The collaboration with Flipkart will allow the brand to make the gear range easily accessible to a larger set of audience through Flipkart's wide customer base across the country.
Royal Enfield opens first exclusive stores in Manila
Royal Enfield announced the opening of its exclusive stores in the city of Manila, Philippines. The store in Manila has been set up by the Hardcore Brothers Custom Motorcycles, Inc. The 972 Sq.ft showroom in Royal Enfield's latest retail identity is now open  at 7462 Bagtikan Street, San Antonio Village, Makati City, Metro Manila. This is a part of Royal Enfield's nodal city approach and focused international thrust of leading and expanding the global mid-sized motorcycle segment (250-750cc).
Philippines is an important emerging 2-wheeler markets in the south east Asia that is largely under served in the mid-sized segment. With the commuter segment in Philippines forming almost the entire 2-wheeler industry, Royal Enfield presents a huge opportunity for the commuter market to move on to more evocative motorcycles.
Royal Enfield opened its first-ever Service Center at Leh
Strengthening its over half a century long relationship with Himalayas, Royal Enfield launched its first-ever Service Center at the Venture Third Pole, at Leh. The center situated at Leh-Manali highway is aimed at offering high quality service and differentiated experiences for the Royal Enfield customers. The service center is equipped with best-in-class set up & trained manpower to support adventurous riders and explorers on Royal Enfield motorcycles.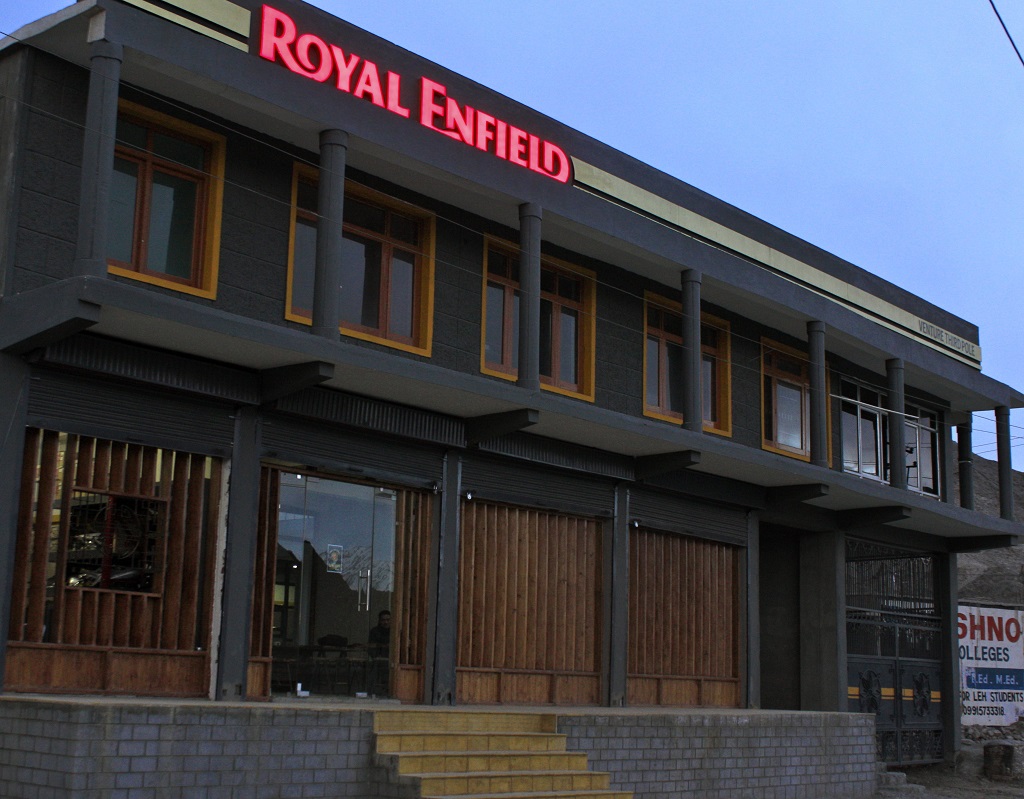 Rides and events
Royal Enfield showcases 'pure motorcycling' at Wheels and Waves festival at Biarritz, France
Royal Enfield displayed its full range of motorcycles along with two exclusive renditions called Mo' Powa' and Dirty Duck at the fourth installment of the Wheels and Waves festival; Europe's landmark surfing and motorcycling event, between 8th – 12th of June, 2016 in Biarritz, France. With its fine blend of motorcycle mechanics, vintage themes, surfing, art and music; Wheels and Waves is one of the most anticipated events in the custom motorcycling scene.
Additionally, a historic collection of the finest art from Royal Enfield's rich motorcycling heritage was on display at Docks de Pasajes for the limited duration of Wheels and Waves 2016 alongside a wide collection of motorcycle and surfboard art and photograph.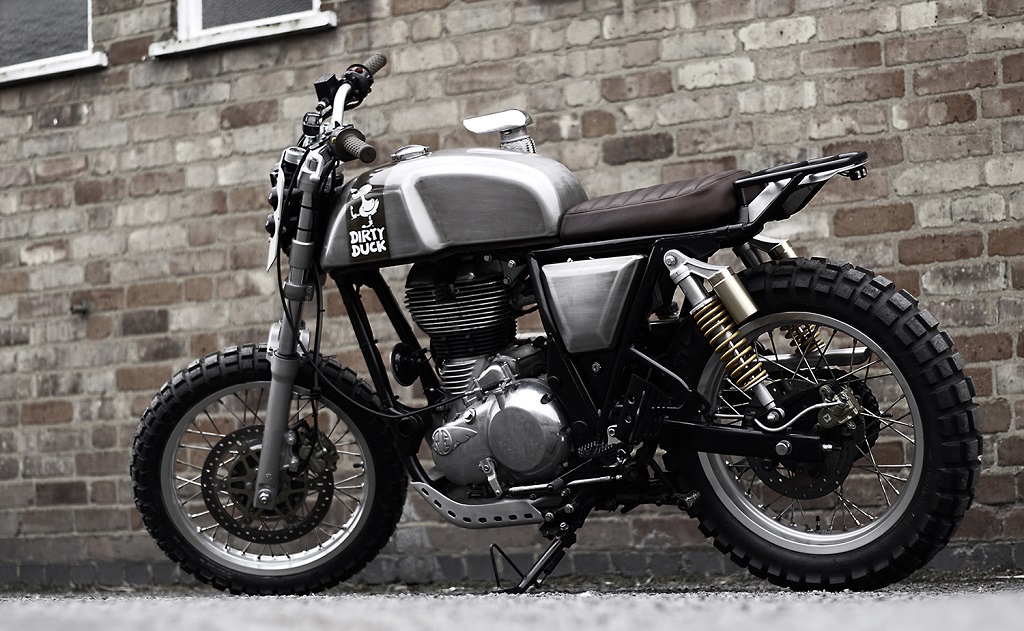 Customised Royal Enfield for Azzaro perfume launch at Cannes festival
A Royal Enfield Continental GT was custom designed for the launch of new Azzaro 'Wanted' perfume, at the Cannes Festival in France. The customised GT sported a chrome tank, front semi fairing and golden-silver front wheels covers, designed to resemble the lid of the perfume bottle. The motorcycle was spotted at the launch event in Cannes in the presence of the who's who of french celebs and media.
Watch out for…
13th Himalayan Odyssey to flag off on 9th July at India Gate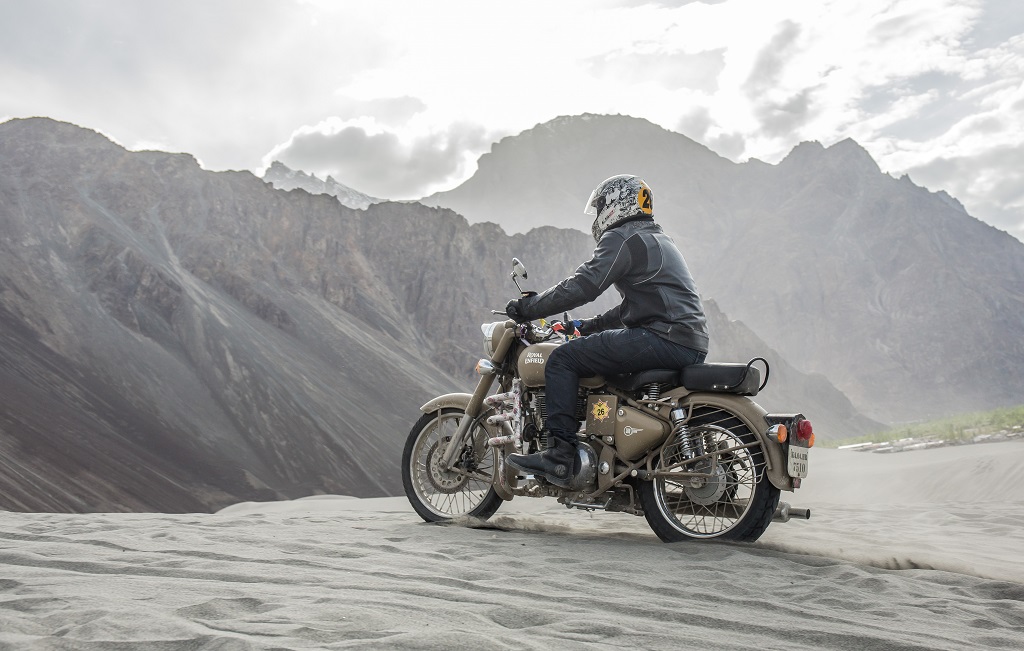 Royal Enfield is celebrating the 13th year of its one of the most sought after marquee rides Himalayan Odyssey, with a special an all-women's edition, HO-W. Both separate contingents of men and women riders will be flagged off together from the India Gate, Delhi on Saturday, July 09th at 7 AM. The men's contingent will have 82 riders and women's contingent will have 19 riders along with an all women support crew with technicians and a doctor. The 17 day adventure ride will traverse 2200 kms in some of the roughest terrains and highest mountain passes. The annual ride is an opening for those who seek to look beyond the obvious and venture into the unchartered territories exploring one of the most challenging terrains in the world.