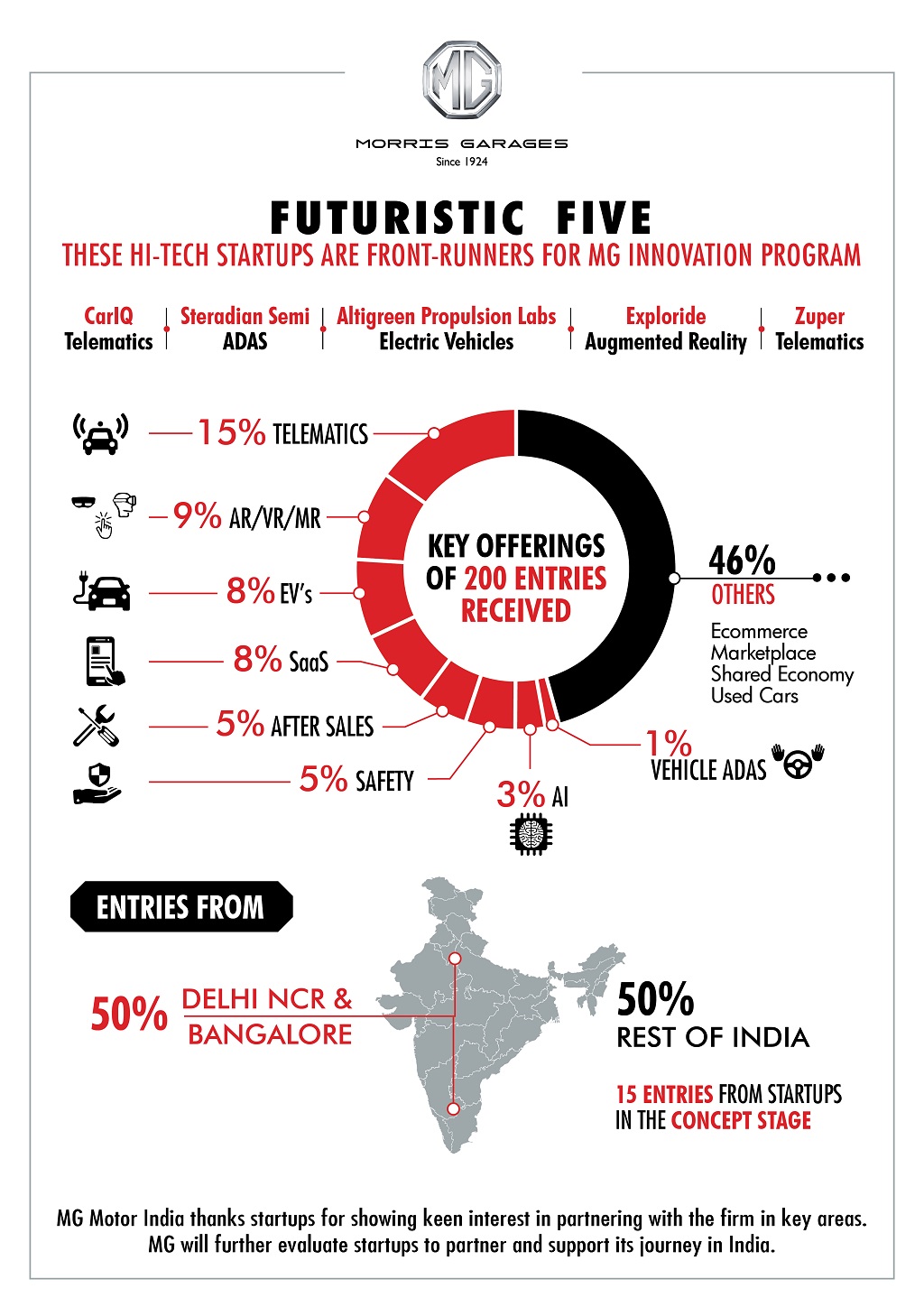 NEW DELHI, 12th December 2017: British carmaker MG Motor (Morris Garages) today announced that it has finalised 5 Indian startups under its innovation program, as it seeks to bring additional synergies to its automotive business. The startups are CarIQ, Steradian Semi, Altigreen Propulsion Labs, Exploride and Zuper.
MG Motor India received over 200 applications from startups in 20 days through the recently launched 'MG Drives Innovation' program. Among all the solutions offered by these tech startups, the telematics category garnered the highest submissions at 15 per cent.  This was followed by augmented reality, virtual reality & mixed reality (AR/VR/MR) at 9 per cent and electric vehicles at 8 per cent.
"It is truly encouraging to see the quality and range of ideas from startups here and the response has been truly overwhelming. At MG, we aim to foster a culture of constant innovation and it is heartening to see ground-up hardware and core product innovations from young teams across India. We are excited to evaluate the capabilities of these startups which will help us add value to our business," said Rajeev Chaba, President & Managing Director, MG Motor India.
The company had announced their "MG Drives Innovation" program, designed to identify, nurture and support the best in auto-tech and mobility solutions on 16thNovember 2017.  An eminent jury comprising of auto industry veteran Jayanta Deb; Dr.PS Nair, ex-ISRO, Head of Structures at Team Indus; Dr.Anil Wali, MD, FITT at IIT Delhi; Shailesh Vikram Singh, co-founder, Go Massive and Padmaja Ruparel, Co-founder and CEO of Indian Angel Network, apart from the MG Motor India leadership team, selected the 5 shortlisted startups.
The 5 startups will be showcased at the MG Innovation Lounge at TiEcon New Delhi on December 15 and 16, 2017. The company will also host a 'Mentoring Garage', wherein startups with relevant solutions can get feedback and advice from the leadership team.