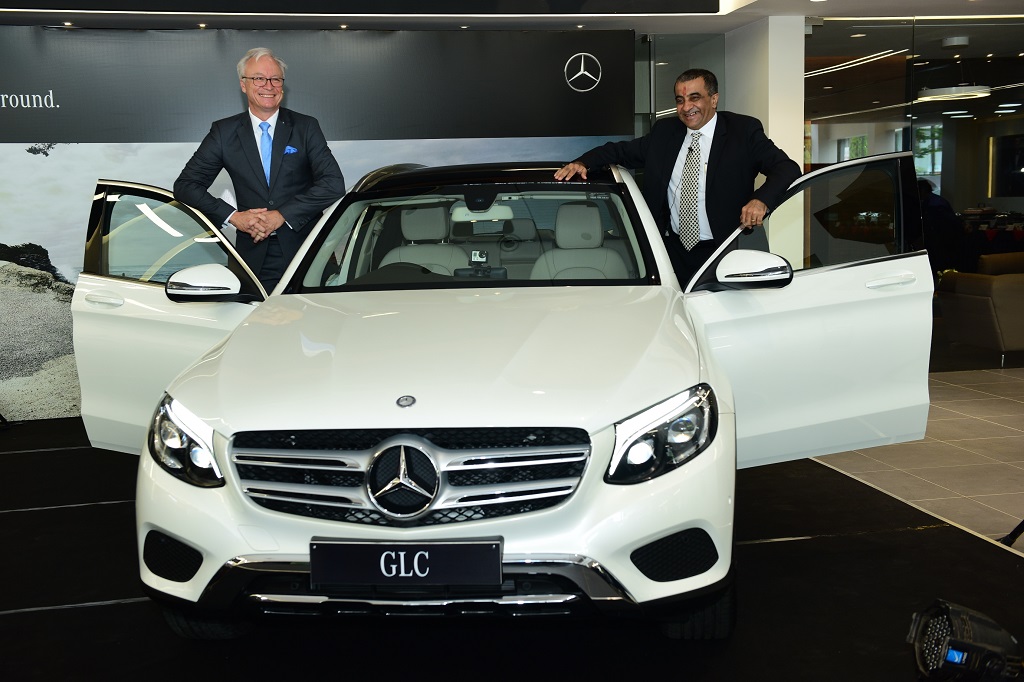 Mercedes-Benz ups the ante in luxury motoring, inaugurates the largest luxury car dealership in Vidarbha
Nagpur, a key industrial hub in Maharashtra, gets a brand new Mercedes-Benz showroom  Auto Hangar has been associated with Mercedes-Benz India for over 19 years and has been a leading partner for the Three Pointed Star in the key West market
The Western region contributes 36% to the overall sales of Mercedes-Benz in India
This state-of-the-art showroom will cater to Nagpur and the entire Vidarbha region that covers 12 districts | The workshop is located hardly 500 metres from the showroom
Total spread of 28,170 sq. ft. for both the outlets | 38 professionally trained staff at Auto Hangar (Sales +Service) to ensure the renowned Mercedes-Benz brand experience and hassle free vehicle ownership experience
The showroom has a 9 car display and can showcase the entire MercedesBenz range | The showroom was created in a span of 10 months | The workshop has 11 bays for maintenance and repairs
With the inauguration of this facility at Nagpur, Mercedes-Benz increases its network presence to 84 outlets across 40 cities which is the densest network in the luxury car market
India's largest luxury car maker Mercedes-Benz inaugurated a brand new state-of-the-art showroom in Maharashtra's emerging city of Nagpur. Auto Hangar, located in a prime location in Nagpur promises to be a luxury destination for luxury automobile enthusiasts across the growing customer base in the entire Vidarbha region. The luxurious dealership was inaugurated by Roland Folger, Managing Director & CEO, Mercedes-Benz India and Mohan Mariwala, Managing Director, Auto Hangar.
Speaking at the inauguration, Roland Folger, Managing Director & CEO, MercedesBenz India commented, "Nagpur is an important industrial city with a strong growth record and the market is increasingly emerging for luxury cars, in particular. The evergrowing customer base for Mercedes-Benz in Nagpur and the Vidharba region has reinstated our confidence in the market, resulting in the creation of a world-class dealership like Auto Hangar, Nagpur. At Mercedes-Benz, our endeavor continues to pursue a customer centric approach and this has been pivotal in the impeccable trust and loyalty that Mercedes-Benz enjoys today. We are confident that this spectacular sales outlet will emerge as the definitive luxury car destination for all luxury automobile aficionados in Nagpur. Auto Hangar Nagpur will also create an unparalleled luxury car ownership experience to our esteemed patrons not only in the city, but also to the entire region of Vidarbha."
Mr. Folger further elaborated, "Our philosophy for the year of 2016 is 'Winning', and we will be launching a total of 12 new products and inaugurating 10 new outlets, in existing and new markets. We have been associated with Auto Hangar for nearly 2 decades now. This incredible fact is a substantiation of our mutually admirable journey, here in India. We are confident that our commendable partners will help us in soaring greater heights with this largest luxury car showroom in Vidharba. Mercedes-Benz has always believed in the growth story of India and the company has been adding value to the narrative of strengthening our brand presence in emerging markets in India."
Auto Hangar is spread across an area of 12,590 square feet, which promises to be a one-stop luxury destination for luxury automobile enthusiasts. There is a 9 car display and consists 15 professional sales consultants to ensure a hassle free buying experience. The showroom has an exclusive customer lounge, Mercedes Café, Mercedes Collections and merchandise counter. Auto Hangar is located at Plot No C43-1, Central MIDC Main Road, MIDC Hingna, Nagpur. The workshop is approximately 500 metres from the showroom, which is well-equipped with 11 Bays and 23 trained staff for maintenance and repairs. Spread across a lavish 15,580 sq ft. it is located at Plot No C-40/B, Central MIDC Main Road MIDC Hingna, Nagpur  (Maharashtra – 440 028 )
Mohan Mariwala, Managing Director, Auto Hangar commented, "We are pleased to be proud partners of Mercedes-Benz India, for almost 2 decades now. Our amazing journey with the Three Pointed Star reaches another great milestone with the inauguration of this marvelous showroom in Nagpur. Nagpur is a thriving economic city situated in the heart of India. The location of the city along with the burgeoning demand for luxury products and services has convinced us to fortify our market presence in this region. This showroom will cater to 12 districts in the entire region of Vidarbha, and with this, we aim to grow closer to our loyal patrons and brand enthusiasts. At Auto Hangar, it will continue to be our persistent endeavor to make customers for life through our superlative brand experience and unwavering commitment to service excellence. While our fascinating showroom will ensure a wholesome luxury brand experience, our stateof-the-art workshop will ensure that our valued patrons enjoy a seamless ownership experience for their precious Three Pointed Star."
Mercedes-Benz has the most widespread network of any luxury car maker in India, with 84 outlets across 40 cities. The network expansion drive will continue this year with the inauguration of 10 new outlets. The network expansion is well strategized bringing the company closer to the established customers, potential patrons as well as offering all visitors the luxury of the Mercedes-Benz world.