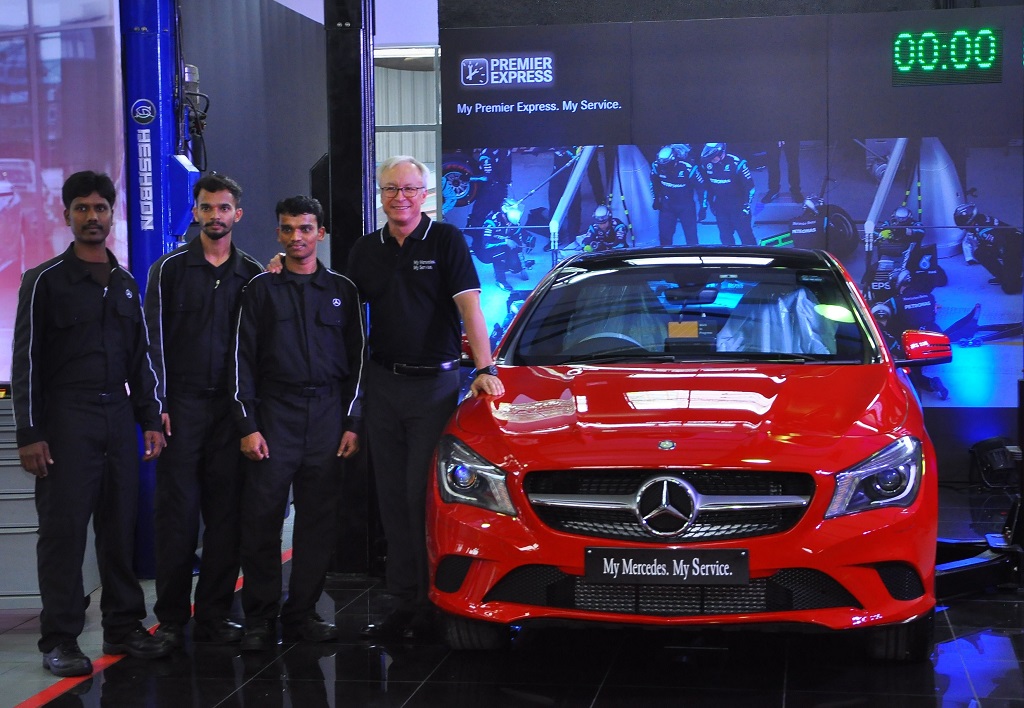 With a host of 'India First' initiatives, promises to make after-sales service, the new differentiator in luxury car segment
 'My Mercedes-My Service' comprises of 3 pillars: Digital Service Drive, Premier Express Service and innovative service products which offers lowest ownership costs for customers in the luxury segment
 India is the only country outside USA to have the Digital Service Drive
 First in Indian automotive industry: Service updates through video call, easy Online Service Booking with real time availability of time slots at any dealership across network
 First in luxury car segment: Connectivity to the workshop through video call during pick-up and drop
 First in luxury segment in India: Motorsports' pit-stop inspired 'Premier Express Service' with fastest service experience of Mercedes-Benz
 Segment First: Star Care: Only luxury car manufacturer to provide 3 years warranty as standard
 To introduce Star Ease package with coverage up to 10 years or 200,000 kms for new customers
 Service packages also available with unlimited mileage coverage; another first in automotive industry in India
 First in Indian luxury car segment: 'Flexi service packages' – customer can buy at any point till 4th year of ownership and for the available duration and mileage
 Largest service network for a luxury car maker: Mercedes-Benz has the largest service network comprising 52 outlets spread across 40 cities
 Record service in a year: In 2016 alone, Mercedes-Benz India After-Sales is expected to service an impressive 160,000 cars
 Every 54 seconds, 1 Mercedes-Benz Car is serviced across India
 Mercedes-Benz India had a total of 1600 training man hours alone in H1 2016, towards training its after-sales teams at dealership across India.
India's largest luxury car makeuhr, Mercedes-Benz launched one-of-its kind, in-novative service programme, 'My Mercedes- My Service'. With the launch of this pro-gramme, Mercedes-Benz aims to completely redefine the after-sales experience by digit-izing service process and create an unparalleled benchmark in the luxury car service do-main. 'My Mercedes-My Service' programme comprises industry first initiatives like 'Digi-tal Service Drive', 'Premier Express Service' and innovative 'Service Products'. These ini-tiatives aim at enhancing the customer's ownership experience manifold, thus making af-ter-sales experience the new differentiator in the luxury car segment. 'My Mercedes-My Service' was rolled-out by Roland Folger, Managing Director & CEO, Mercedes-Benz India; Santosh Iyer, Vice-President, After-Sales, Mercedes-Benz India and Sharath Vijayaraghavan, Executive Director, Sundaram Motors.
Roland Folger, Managing Director & CEO, Mercedes-Benz India commented, "Though product introductions will remain important, we increasingly believe that service excellence and hassle free ownership experience will determine the long-term success of an automotive brand, even in the luxury car segment in India. At Mercedes-Benz, we strongly believe that a delightful, exclusive and outstanding service experience is pivotal in winning customers' loyalty. We are ready to comprehensively transform the after-sales experience for our customer with the launch of 'My Mercedes-My Service' programme. It boasts of multiple first initiatives and is a definitive step towards meeting the myriad de-mands of today's new age customers which makes them fans of the brand. After-sales is a key element in our growth strategy in India and we are confident this initiative will only fortify our formidable customer trust and service reputation created over decades."
Mr. Folger also stated, "Mercedes-Benz service experience is highly customer oriented and aims to be efficient, transparent, nominally priced and most importantly fast, to retain the loyalty of our new age patrons. 'My Mercedes-My Service' promises to transform the after-sales experience with never-seen-before initiatives, not only in the luxury car seg-ment, but also across the entire automotive sector in India. Be it digitizing our entire ser-vice process through the Digital Service Drive or launching the Premier Express Service programme, these novel initiatives are aimed at providing a whole new experience to our discerning patrons. Additionally, comprehensive service packages like the Star Care, Star Care+ and Star Ease under this programme will provide an absolute hassle free experi-ence of owning a Mercedes-Benz vehicle.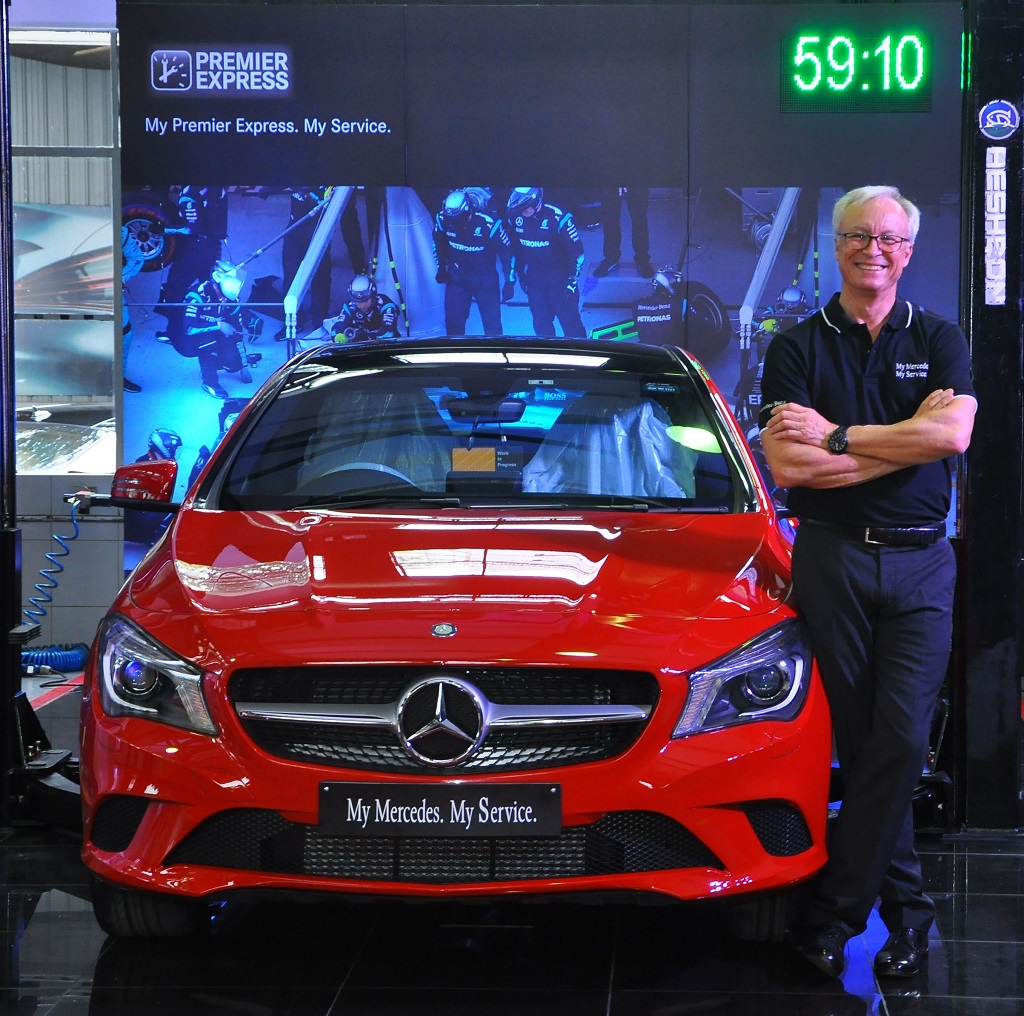 1. Digital Service Drive: A key pillar of 'My Mercedes-My Service' umbrella, the 'Digital Service Drive' is a unique initiative offering higher transparency, enhanced convenience and time saving measures to the esteemed customers of the brand. The key objective of launching the unique 'Digital Service Drive' is to enhance the ownership experience of the customer resulting in brand loyalty. This initiative also aims to strengthen overall operational efficiency and reduce turnaround time for the customer. Automating the communication channel to ensure end-to-end visibility is also achieved through 'Digital Service Drive'. The key elements of Digital Service Drive comprise:
Key elements: Paperless, convenient and time saving customer interaction processes through usage of iPads by Service Advisors | Transparent communication through vehicle status information through automated Pre-Service, In-Service, Post Service SMS | Feed-back and estimate on e-mail | In-person communication with the use of video calls to aid higher transparency | Service at doorstep concept which is transparent like an actual visit to the workshop through the use of iPads by drivers with expert advice through video calls
Mercedes-Benz India. E-3, MIDC, Chakan. Tal: Khed. Pune- 410501, India. Tel: +91 2135 673000 / 395000, Fax: +91 2135 673953
| Convenient online booking with real time slot availability for nationwide service appoint-ment booking
Consumer benefits: Faster turnaround time for servicing | Convenience from the comfort of home | Transparent communication enabling trust | Complete peace of mind and has-sle free experience
Mercedes-Benz India has already got an overwhelming response from the customers across the markets where 'Digital Service Drive' is piloted since the last three months.
2. Premier Express Service: Premier Express Service is a novel initiative from Mercedes-Benz which enables complete servicing of a Mercedes-Benz in a little over two hours. This innovative concept is brought to life with dedicated infrastructure within the service center comprising dedicated bays, two post lift, dedicated tools & equipment and dedicated special tools like brake pad and disk test gauge, brake caliper tool, oil filter cap etc. There is also a dedicated team for 'Premier Express Service' comprising one Team Leader and two Certified Maintenance technicians. The total time estimated for Premier Express Service is for over two hours from welcoming the consumer to issuing of Gate Pass after performing the maintenance job. This service is available across all metro cit-ies. Premier Express Service, however, excludes major service and repairs, warranty re-pairs or service on specialty AMG vehicles.
Customer benefits: Premier Express Service aims at reducing the average service time for maintenance of vehicles drastically, thus reducing the turnaround time. Further there is reduced effort for the customer as she/he has to travel to the service center only once for the service of the vehicle.
3. Star Ease New Service Package: 'My Mercedes-My Service' initiative is also highly value-driven as it introduces a new service package for the Star Ease programme which reduces the cost of maintenance relieving the customers of any expense related worries. The exclusive features of the Star Ease package are multifold.
Mercedes-Benz India. E-3, MIDC, Chakan. Tal: Khed. Pune- 410501, India. Tel: +91 2135 673000 / 395000, Fax: +91 2135 673953
Star Ease Compact Plus: It now has more options to choose from. It will now be offered for 3 years or 30,000 kms, 3 years or 60,000 kms, 4 years or 40,000 kms, 4 years with 80,000 kms and also 5 years or 100,000 kms. Star Ease Compact will be offered with 2/3/4 and even 5 year with Unlimited Mileage. Mercedes-Benz India will also introduce a stand-alone package for 10 years or 200,000 kms for new car customer only.
Added benefits of new Service Package: New 'Compact' package comes without mile-age restriction. There will be a package coverage up to 5 years for existing customers and up to 10 years or 200,000 kms for new customers. There will also be a complimentary Premier Express Service offered to the customer.
Mercedes-Benz commands the distinction of having the densest network among luxury car manufacturers in India. Mercedes-Benz is present across 40 Indian cities with 84 out-lets. Mercedes-Benz Road Side Assistance is also provided to customers spread across an incredible 953 cities. The most stringent standard is adhered to in each of these service facilities as per the guidelines from Mercedes-Benz, Germany. Mercedes-Benz also delivers the power of knowledge to people whom it matters; there is an impressive 1600 hours of training provided for the dealer's staffs, in H1 2016.