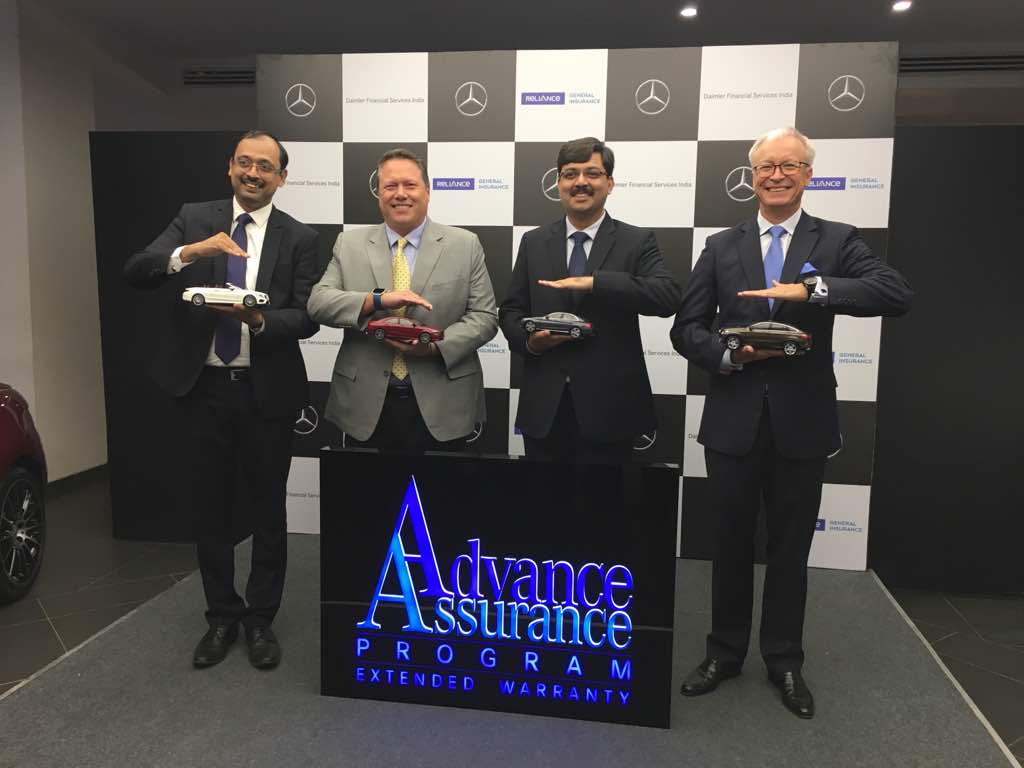 'Advanced Assurance Programme' will be offered in collaboration with Reliance General Insurance and Daimler Financial Services India
'Advanced Assurance Programme', Mercedes-Benz India's second after-sales initiative launched in 2017, will be launched with 3 periodic ownership options: 4th year | 4th & 5th year | 4th, 5th and 6th year
The programme boasts of a host of customer benefits and value addition comprising unlimited mileage warranty, flexibility of purchase anytime within the first three years of operation
The new extended warranty programme has pan-India serviceability across any Mercedes-Benz dealership
'Advanced Assurance Programme' also reduces the extended warranty price significantly compared to existing programmes. The cost of Insurance under 'Advanced Assurance Programme' will be as low as INR 33,000 for the A-Class and INR 1,98,000 for the S-Class
Introduction of an innovative 'Online Calculator' which assists the customer by simplifying the purchasing process even further 
Mumbai, May 16, 2017: The country's largest luxury car manufacturer, Mercedes-Benz in collaboration with Daimler Financial Services India and Reliance General Insurance, today launched a unique extended warranty product- 'Advanced Assurance Programme', aimed towards a hassle free vehicle ownership experience for its discerning customers. Mercedes-Benz customers, who currently avail the extended warranty program up to 4th year of operation, will now be offered an extended warranty up to 6 years with 'Advanced Approved Programme'. This unique insurance product was launched by Mr. Roland Folger, MD & CEO, Mercedes-Benz India, Mr. Fred Weick, MD & CEO, Daimler Financial Services India and Mr. Rakesh Jain, MD, Reliance General Insurance India.
Continuing its endeavour of providing the Best Customer Experience to its discerning patrons, the launch of the 'Advanced Approved Programme' promises to drive tremendous value to a new as well as an existing customer. This unique product will enhance the vehicle ownership experience even further beyond the standard warranty tenure of 3 years. Advance Assurance program will be available in 3 options, namely 4th Year, 4th & 5th Year and for 4th, 5th, and 6th Year.
Commenting on the launch of 'Advanced Assurance Programme, Mr. Roland Folger stated, 'My Mercedes My Service' was launched last year with the objective of creating a new benchmark in the luxury car industry, whereby the customer gets to enjoy service excellence and the lowest cost of ownership for their cherished Mercedes-Benz vehicle. With an aim of providing complete peace of mind for patrons, Mercedes-Benz has introduced innovative service packages and flexible Finance & Insurance programmes from its group company, Daimler Financial Services. With the launch of 'Advanced Assured Programme' today, we have furthered deepened our customer commitment and offered yet another reason to buy a Mercedes-Benz. We are confident that the numerous benefits associated with 'Advanced Assurance Programme' will drive complete peace of mind for our discerning patrons and offer them an unparalleled ownership experience."
Fred Weick, Managing Director & CEO, DFS India commented, "Daimler Financial Services India remains Mercedes-Benz's preferred financial partner and has been offering truly innovative Finance & Insurance products for the brand's customers for the last five years. Insurance business remains one of our key strengths and the launch of 'Advanced Assurance Programme' in collaboration with Reliance General Insurance is a reiteration of our commitment to creating the best customer experience.
The 'Advanced Assurance Programme' packs a host of unique benefits and values, and promises to become yet another preferred product from our portfolio."
Mr. Rakesh Jain, CEO, Reliance General Insurance said, we are delighted to be exclusive partners with Mercedes-Benz, a brand that stands for the aspiration, performance and perfection, in this initiative. This partnership reiterates our commitment to offer a wide range of customized products offering protection and deliver exemplary experience to customers at every stage of their product life cycle.
Key features of Advanced Assurance Programme:
'Advance Assurance Program' introduces numerous benefits and features for the customer that become applicable after the completion of the standard 3 year warranty (2 year standard warranty + 1 year STAR CARE).
Varying periodic options: Advance Assurance program will be launched with 3 periodic ownership options, namely, 4th Year, 4th & 5th Year and 4th, 5th, and 6th Year.
Flexibility: These extended warranty programmes can be purchased any time before the completion of the 3rd year of ownership. There is also an exit clause available with these programmes where a customer can exit if he wishes to within the standard warranty period.
Attractive Pricing: The 'Advanced Assurance Programme' significantly reduces the extended warranty price when compared to the existing programmes. The 'Advanced Assurance Programme' for the all New LWB E-Class for instance is Rs. 66,000 which is 18% lesser than the existing extended warranty programmes.
The aggressive pricing is a result of high product confidence and in-depth knowledge of the Indian driving behaviors using big data analysis, and reinforces Mercedes-Benz's low cost of ownership proposition.
Unlimited mileage: Advanced Assurance Programme features unlimited mileage warranty and sold to non-commercial customers only. These programmes are also transferable to the second and subsequent owners.
Serviceability: Serviceability of the vehicle under this programme is pan-India.
'Assured Advance Programme' Online Calculator:
The innovative online calculator introduced with 'Advanced Assurance Programme' and available at the Mercedes-Benz India's official website (www.mercedes-benz.co.in) allows customers to calculate the price based upon the selected Model and Age. It also allows the customer to view the prices for the selected model across all age and segment in the same screen. Additionally, the email functionality of the calculator allows the customer to get a quick estimate of the product as per the selection.
The online calculator will drive immense value to a customer enabling her/him to get price estimation for his selected product of choice, even before contacting the dealership.
About Mercedes-Benz India:
Established in 1994, Mercedes-Benz India Pvt. Ltd. pioneered the luxury car market in India and boasts of more than 130 years of cutting edge innovation in the luxury automobile industry globally. Set up in 2009, Mercedes-Benz India's world class production facility is spread over 100 acres in Chakan near Pune. Since June 2015, Mercedes-Benz India also commenced production from its new expanded production facility located in the same premises.
The production facility now carries an investment of INR 1000+ crores and has the largest installed production capacity for any luxury carmaker in India. Mercedes-Benz India also has the largest network spread amongst any luxury carmaker, with presence in 41 Indian cities through 89 outlets. Through the exclusive AMG Performance Centres located in 5 metros including Delhi, Mumbai, Hyderabad, Bangalore and Pune; the AMG performance sub-brand of Mercedes-Benz also boasts of a strong retail network presence in the country.
Mercedes-Benz India's flagship programme, 'My Mercedes, My Service' launched in 2016, aims to completely redefine the after-sales experience by digitalizing service process and create unparalleled benchmark in the luxury car service domain. The launch of 'Mercedes-Benz Approved Tyres' in February 2017, is also integral to the 'My Mercedes, My Service' campaign. 'My Mercedes, My Service' aims at enhancing the customer's vehicle ownership experience manifold, making after-sales experience as the new differentiator in the luxury car segment. With the use of big data and in-depth knowledge of the driving pattern of Indian customers, Mercedes-Benz has been able to drive successfully, low cost of ownership for its customers.
Mercedes-Benz India product portfolio comprises the locally produced Mercedes Maybach S 500, S-Class, E-Class, C-Class, CLA luxury sedans and the GLA, GLE and the GLS luxury SUVs.
The CKD GLC was the 9th product added to Mercedes-Benz's local production portfolio. Completely Built imported cars portfolio includes the A-Class, B-Class, CLS, E-Class Cabriolet, S-Class Coupé, C-Class Cabriolet, S-Class Cabriolet and the S 600 Guard a range of other Guard vehicles etc. The product portfolio also comprises the iconic off-roader Mercedes-AMG G 63 as well as a wide range of other Mercedes-AMG performance cars like the AMG CLA 45, AMG C 63 S, AMG S 63 Coupe, AMG S 63 Sedan, AMG GLA 45, AMG GLE 43 Coupe, AMG GT S sports car, AMG SLC 43 and AMG C 43.
The long wheel base new E-Class is Made in India, for India, the first new generation car to be locally produced since market launch. India is the first country to get an RHD version of the LWB E-Class in the world.
Mercedes-Benz India registered the quarterly sales of 3650 units in the January–March 2017 period despite facing multiple market challenges. In 2017, 'One Team, One Goal' will be Mercedes-Benz's philosophy, towards achieving best customer experience. The company will have fascinating product introductions, innovative luxury retail experience, value driven finance programmes and innovative after-sales service experiences. With 'One Team, One Goal' philosophy, Mercedes-Benz India will continue the 'winning' momentum it has created for itself in the diverse Indian market.
About Reliance General Insurance
www.reliancegeneral.co.in
Reliance General Insurance, a part of Reliance Capital, is one of the leading general insurance companies of India.
The Company offers a well-rounded and comprehensive bouquet of products including Motor Insurance, Health Insurance, Travel Insurance, Home Insurance and also offers customized solutions to meet the protection needs of each customer.
Reliance General Insurance offers its products and services to retail, corporate and SME clients, through a wide network of over 20,000 intermediaries spread across 500 locations in India.