A complete adrenalin rushing package that puts to test the prowess of a Mercedes-Benz vehicle; conducted under controlled environment and guidance of qualified experts
StarDrive Experience combines essential elements of driving experience with simulation of critical road situations; combines Mercedes-Benz 'spirit of innovation' with a genuine spirit of fun
StarDrive Experience is conducted by a team of driving experts with professional experience of 12-15 years. The driving expert team has been trained by German experts from Mercedes-Benz driving team
StarDrive Experience in association with Daimler Financial Services and Mobil 1 is in its fourth year and will be  organized in Ahmedabad, Gurgaon, Hyderabad, Calicut, Pune, Mumbai and some more cities
Over 2400 participants in 2012 and more than 7500 participants across 19 cities since its inception in 2010, StarDrive Experience has been one of Mercedes-Benz India's most successful experiential marketing properties
More than 8,000 participants are expected to participate at StarDrive Experience 2013
Following the overwhelming response received for "StarDrive Experience" conducted across the country for the last three years, Mercedes-Benz India today flagged off its signature experiential marketing program, here at Nashik. This exciting driving extravaganza now in its fourth year is specially conceptualized by Mercedes-Benz to highlight the unparalleled safety features and cutting edge technology that is trademark of each Mercedes-Benz vehicle. StarDrive Experience offers prospects and customers an opportunity to understand the handling of critical road situations in a safe and controlled environment.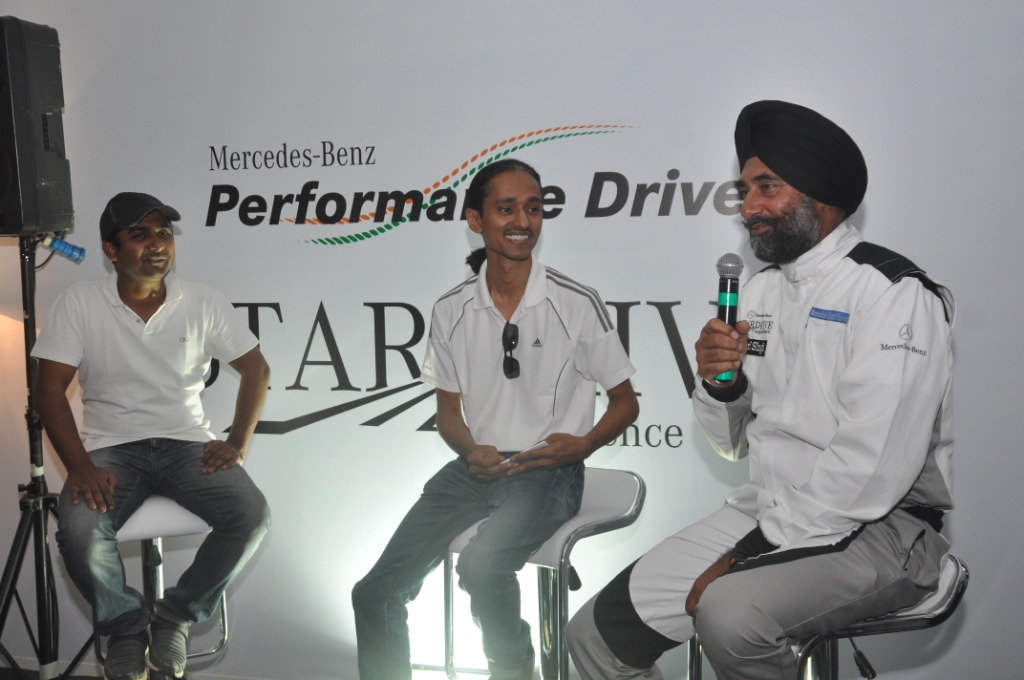 Mercedes-Benz India has been pioneering unique customer engagement initiatives like StarDrive experience, which has received a very encouraging response since its inception from our discerning customers, and has set an industry benchmark to be widely emulated in the industry. This exclusive drive experience puts to test the power and performance of the Mercedes-Benz product range, with the likes of the dynamic off-roaders; the ML-Class and the GL-Class and the flagship sedans the C-Class and E-Class. This provides an opportunity to the prospects and discerning customers of Mercedes-Benz, an understanding of the handling of critical road situations in a very safe and controlled environment. Through the simulations, the different dynamics of the vehicles namely safety, agility and performance in both off-road and on-road conditions are brought to the fore. The participants could experience the tangible benefits of world-class safety technologies like Pro-Engineering Package, Airmatic Package, 4ETS, Downhill Speed Regulation (DSR) etc. during the driving program. Also on display will be Mercedes-Benz's new B-Class, the scintillating sports car SLK-Class and the beautiful E-Class cabriolet.
Speaking at the inauguration of this initiative, Manas Dewan, General Manager, Corporate Communications, Mercedes-Benz India commented, "The StarDrive Experience which is in its fourth year is Mercedes-Benz India's one of most successful and avant-garde marketing engagement. The overwhelming popularity of StarDrive Experience over the years is a testimony to the fact that Mercedes-Benz customers are fascinated by the brand experience of the Three Pointed Star. 2013 is the year of offensive by Mercedes-Benz and fascinating brand experience to customers is a key element in that offensive. We started the year on a very positive note and through various benchmarking engagements like StarDrive Experience, we expect to keep the momentum going throughout the year."
Mr. Dewan further added "Mercedes-Benz India's aim is to enable its customers to personally experience the unmatched safety and technology aspects of our cars besides additionally offering them an opportunity to further hone their driving skills. Combining the vital fundamentals of driving experience with simulation of critical road situations, the StarDrive Experience embodies Mercedes-Benz's spirit of innovation with an element of fun, reiterating the Mercedes-Benz philosophy of "Best or Nothing."
Mercedes-Benz has always lead the way in introducing newer technologies globally as well as in India. One of the overriding principles driving the brand's innovation and technology has been Customer safety. Over the years Mercedes-Benz has introduced various revolutionary technologies ranging from essential occupant protection system (PRE-SAFE), Neck-Pro, PARKTRONIC to the latest addition – Attention Assist System that have created a benchmark in terms of passenger safety in the automobile industry.
Raymond Wong, CEO – ExxonMobil Lubricants Private Limited, India, the sponsor partner for this event, said: "We have always felt privileged for holding on to a strong association with Mercedes Benz. Through Mercedes-Benz StarDrive Experience, we are aiming to deliver the participants a unique driving experience through various tough simulations to showcase the power, agility, unparalleled safety features and engineering technology of these cars. ExxonMobil provides Mercedes-Benz with Mobil 1 lubricant technology, expertise and support to develop next-generation lubricants for car engines and gearboxes. The world's leading synthetic motor oil brand, Mobil 1, features anti-wear technology that provides performance beyond conventional motor oils and exceptional protection against engine wear, under normal or even some of the most extreme conditions. Mobil 1 flows quickly in extreme temperatures to protect critical engine parts and is designed to maximize engine performance and help extend engine life."
Mr. Sidhartha Nair, Managing Director, Daimler Financial Services India, commented, "Mercedes-Benz StarDrive Experience is a memorable customer experience which showcases the technological prowess of Mercedes-Benz cars & proves its leadership in high-end automotive technologies.  StarDrive provides the opportunity for customers to experience the DNA of Mercedes Benz cars – sporty, safety, innovative technology, comfort and performance. Mercedes-Benz Financial is pleased to be associated with this initiative."
Mercedes-Benz Financial provides innovative and customer friendly finance solutions, focused at increasing sales of Mercedes Benz cars. The aim is to identify the best ownership solution for our customers by offering differentiated products and services via leasing, financing & insurance. Association with events like Star Drive gives MB Financial a great opportunity to interact with customers & showcase our offerings.
The fourth edition of the StarDrive Experience 2013 started with Nashik and will travel across the country including Ahmedabad, Gurgaon, Hyderabad, Calicut, Pune, Mumbai and some more cities. Participants at the StarDrive Experience can share their exciting experiences with their family & friends through the Wi-Fi enabled iPads installed in the high end Star Lounges – an exclusive hospitality area which is created for the participants of StarDrive by Mercedes-Benz. StarDrive Experience is an Avante Garde initiative by Mercedes-Benz India and is in association with Daimler Financial Services and Mobil 1.This is a part of Mercedes-Benz India's strategy to increase its engagement with customers and patrons across the country.