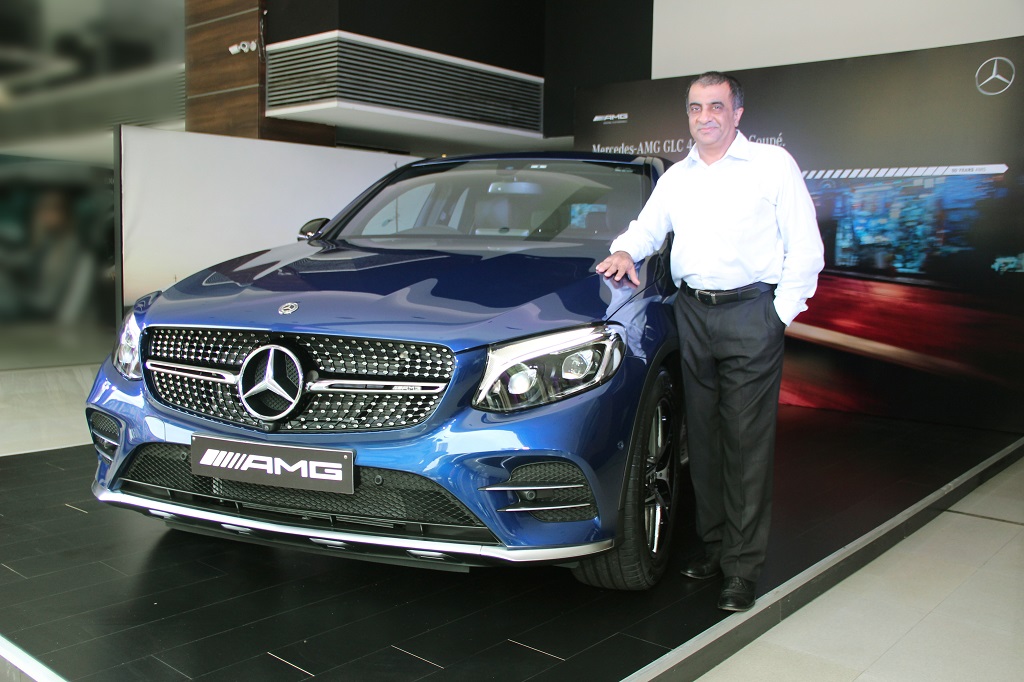 Mercedes-Benz AMG GLC 43 4MATIC Coupé unveiled at AMG Performance Center,  Auto Hangar Mumbai
Auto Hangar has been giving its customers a world-class sales and after sales experience over last 20 years with Mercedes-Benz brand in India
The GLC 43 4MATIC Coupé is the 8th product launched by the brand in 2017
The GLC 43 4MATIC Coupé priced at INR 74.80 Lakhs (Mumbai)
Mumbai, July 24, 2017: Auto Hangar, an authorized dealer for Mercedes-Benz India on Sunday unveiled GLC 43 AMG 4MATIC Coupé. GLC 43 combines a sporty, elegant design with the brand's hallmark 'Driving Performance' and the dynamic advantages of an SUV, top of the class fuel efficiency, powerful performance and full range of safety features.
Auto Hangar has an exclusive AMG Performance center in Mumbai, Navi Mumbai and Thane region with its showroom located at Auto Hangar-Andheri, Auto Hangar-Prabhadevi and Metro Motors-Huges roads and workshops located at Huges roads, Lower Parel, Worli and Andheri East. The Dealership aims to achieve success with the help of the professional team who works relentlessly to deliver 100% Customer Satisfaction. Auto Hanger has state of the art facilities at their workshop to provide customers with seamless experience during their car service. The dealership is a one stop service destination and has been designed to provide a superior experience to customers.
Speaking on the occasion, Mr. Mohan Mariwala Managing Director, Auto Hangar, said, "We are proud to grow together with Mercedes-Benz. The GLC 43 AMG is a superior car and I am sure it will be much loved by our customers. With AMG performance center at Prabhadevi in Mumbai we will provide a unique experience to our valued customers."
With this launch, Mercedes-Benz India also commemorated the global success of its performance brand–AMG, which completes 50 successful years in 2017. This awe-inspiring SUV Coupé embodies superlative driving performance, agility and stays true to the legacy of the three powerful letters- AMG
Key Highlights
Black exterior mirror housing
Contoured power domes on the bonnet
LED high performance headlamps in their distinctive design and iconic "eyebrow" styled daytime running lamps
AMG exterior body styling
Front splitter in silver chrome in the AMG front apron
AMG Diamond radiator grille with centrally positioned Mercedes star, typical of a coupé with single louvre
The GLC 43 4MATIC Coupé combines a sporty, elegant design with the brand's hallmark 'Driving Performance' and the dynamic advantages of an SUV
The GLC 43 4MATIC Coupé is the second performance SUV Coupé from Mercedes-Benz in India (after the Mercedes-AMG GLE 43 Coupe), it is a product without a predecessor
The GLC 43 4MATIC Coupé's brute performance is powered by an AMG enhanced 3-litre V6 bi-turbo engine producing 270 kW (367hp) and a torque of 520 Nm | The NANOSLIDE® coating of the cylinder liners is used in the Formula 1 engines of MERCEDES-AMG PETRONAS
The new GLC 43 4MATIC Coupé sprints from 0-100 km/h in a mere 4.9 seconds
The SUV boasts of 5 AMG DYNAMIC SELECT transmission modes including 'Sport Plus' and suspension designed for enhanced driving performance
With the AIR BODY CONTROL suspension, the GLC 43 4MATIC Coupé is also suitable for excursions into unpaved terrains
The standard-fit AMG Performance 4MATIC all-wheel drive combines optimum traction, hallmark AMG vehicle dynamics and maximum driving pleasure
Direct and with clear feedback: speed-sensitive sports steering: The speed-sensitive sports steering has a variable ratio in the GLC 43 4MATIC Coupé | Steering power assistance is adjusted in the two stages "Comfort" or "Sport".
Mercedes-AMG GLC 43 4MATIC Coupe is Mercedes-Benz's 10th AMG product in its diverse performance car portfolio in India
Short chronology of 50 glorious years of the iconic AMG brand:
The company founded by Hans-Werner Aufrecht and Erhard Melcher in 1967 is celebrating its 50th anniversary in 2017
Brand positioning: In the course of this half century, Mercedes-AMG has further consolidated its position as an extremely successful sports car and performance brand with numerous successes in motorsport and the development of unique road-going vehicles
Today, as a wholly owned subsidiary of Daimler AG, the Affalterbach-based company represents the sporting spearhead of the Group
For each of the now around 1600 employees, the focus will be on the brand promise of "Driving Performance", which unites the core strengths of AMG: cutting-edge technology and a passion for dynamic, emotionally appealing products
In 1971, AMG became famous overnight, with the red-painted AMG 300 SEL 6.8
The plant in Affalterbach was founded in 1976
From 1988, AMG not only constructed Mercedes-Benz 190 E racing cars, but was also responsible for their deployment in the German Touring Car Championship (DTM)
Collaboration with Mercedes-Benz began in 1990
The C 63 AMG, launched in 1993, was the first vehicle on the market to result from the collaboration agreement with Daimler-Benz
In 2001, the newly developed 5-speed automatic transmission in the C 32 AMG was paired with the 3.2-litre supercharged V6
In 2005, Mercedes-AMG became a wholly owned subsidiary of Daimler AG.
Unveiled in 2009, the Mercedes-Benz SLS AMG was the first vehicle to be developed entirely in-house by the sports car and performance brand.
AMG branched into motor racing with the SLS AMG GT3 in 2011
Unveiled in 2014, the Mercedes-AMG GT model series was the second sports car to be developed entirely in-house by Mercedes-AMG in Affalterbach
With almost 70,000 units, Mercedes-AMG set a new sales record in 2015
AMG started into the anniversary year with record figures under its belt, delivering almost 100,000 vehicles in 2016
Electric sunroof
Glass roof comprising individual glass element, finished in heat-insulating safety glass
PRE-SAFE® closing function
Rain closing: If it starts to rain, the sliding sunroof automatically moves to the raised position
Increased ease of operation thanks to obstruction sensor and PRE-SAFE® closing function
Obstruction sensor: If the system detects an obstruction, it automatically stops the closing process and moves the roof back a little individual ventilation of the interior with fresh air due to a variety of opening positions
LED Intelligent Light System
For the best possible visibility on country roads and motorways, when cornering and on bends, the LED Intelligent Light System automatically adapts to the lighting and driving conditions. All headlamp functions use LEDs
Sporty characteristics: The interior design
3-spoke multifunction sports steering wheel in black nappa leather, with flattened bottom section | Instrument cluster with dial in chequered-flag look
Media Display with 21.3 cm screen in diagonal
Brushed stainless steel sports pedals with rubber studs | AMG floor mats with "AMG" lettering | Upholstery in ARTICO man-made leather with AMG Line seat upholstery layou
AMG Instrument cluster with multifunction display
2 large round dials: speedometer on the left and rev counter on the right in a chequered flag design | Speedometer with full-scale reading of 280 km/h
2 bar graphs for fuel level and coolant temperature respectively at the bottom of the dials | Dials in a tube look with individual glass and chrome surround
Central colour multifunction display with 21.3 cm screen diagonal | ECO display to encourage a fuel-efficient driving style |Display of the gliding icon in overrun mode
Seating – Sports seats for driver and front passenger
Seats in ARTICO man-made leather / DINAMICA microfibre – black with designo red seat belts.
AMG Line seat upholstery layout with upholstery in ARTICO man-made leather / DINAMICA microfiber
Upper section of dashboard in ARTICO leather
Electrically adjustable front seats with large range of adjustment
4-way lumbar support for driver and front passenger
AMG Driving DYNAMIC SELECT
The AMG DYNAMIC SELECT variable dynamic control system assigns fundamentally different characteristics to the five transmission modes of Individual, Comfort, Slippery, Sport And Sport+ which the driver is able to select using a rotary control on the center console. The system networks all the control systems, generating different driving experience parameters. The names speak for themselves: Sport and Sport+ turn the Mercedes-AMG GLC 43 4M Coupé into a sporty, dynamic vehicle with pronounced longitudinal and lateral dynamics.
AMG speed-sensitive sports steering 2-stage
Precise, agile handling thanks to direct ratio and optimized response time
AMG-specific tuning of the manual torque for a sporty driving sensation
Speed-dependent steering with variable steering support electronically adjusts the steering effort to the driving speed and ensures optimum steering response and characteristics at all speeds
The reduced steering angle required improves both precision when cornering and comfort, e.g. when cornering in city traffic
Peppy Performance with an edge
The GLC 43 4MATIC Coupé features a powerful AMG-enhanced 3.0-liter V6 biturbo engine, churning out an output of 270 kW (367 hp) with 520 Nm of Torque. The SUV Coupé sprints from 0-100 km/hr in just 4.9 seconds! The NANOSLIDE® coating of the cylinder liners is also used in the Formula 1 engines of MERCEDES-AMG PETRONAS. Especially tough and, therefore, wear-resistant, this coating also reduces friction, thereby contributing to higher efficiency. The performance SUV Coupé exudes a sporty performance exhaust including backfire sound with a braking System with optimized brake cooling system. The dynamic SUV Coupé comprises the 9G-TRONIC automatic transmission that enables efficiency, comfort and dynamism of an entirely new dimension. Its high efficiency helps to reduce fuel consumption and enhances performance.
AMG sports suspension based on AIR BODY CONTROL
Added agility, more neutral cornering behavior and higher traction
Full-support multi-chamber air suspension system
The four-link front axle is fitted with special steering knuckles and load-bearing joints
All components have been optimized in terms of rigidity
The elastokinematics of both axles have been designed to be more rigid
Three-chamber air suspension system with a sporty spring/damper set-up and continuously variable damping adjustment
AMG Sports braking syste
Sports braking system with internally ventilated composite brake discs
Perforated on front axle, 360 x 36 mm in size, with 4-piston fixed calipers
320 x 24 mm on rear axle with single-piston floating brake calipers
The silver-painted brake calipers with black "AMG" lettering on the front axle lend the braking system a high-quality, sporty character.
Safety, assistance systems and convenience features
The Mercedes-AMG GLC 43 4MATIC Coupé is one of the safest vehicles in its segment. It comes with comprehensive safety equipment associated with all four phases of the integral safety concept from Mercedes-Benz, the components of which build on each other.
ATTENTION ASSIST
Tyre pressure monitoring system
Adaptive Braking – an integrated braking system
Hill-Start Assist
PRE-SAFE®
All round safety with 7 airbags, including dual stage airbags for driver and front passenger
Parking package with 360°camera
COMAND Online system
Ambient Lighting
THERMATIC automatic climate control
Cost of ownership
The comprehensive Star Ease (Compact Plus) package for the new AMG GLC 43 Coupe is as below:
3 year / 60000 kms – Rs. 245,000 + taxes
4 year / 80000 kms – Rs. 370,000 + taxes
Extended warranty under the Advance Assurance program for the AMG GLC 43 Coupe starts at Rs. 151,800.
About Auto Hangar
Auto Hangar group is a company owned by the J.V. Mariwala Group, with a strong presence in the food ingredients, spices and spice extraction industry. Auto Hangar, is our first venture outside this industry, established by Mr Mohan Mariwala, after his return from the US on completion of his formal education and extensive training in automobile industry.   Mr. Mohan Mariwala who heads Auto Hangar group has a tremendous experience in automobile industry, with zeal and enthusiasm for the automotive technology and goodwill in the car service dealership business. His vision is to take Auto Hangar group to the pinnacle of success, through service excellence, leading by example, integrity, innovation and commitment.