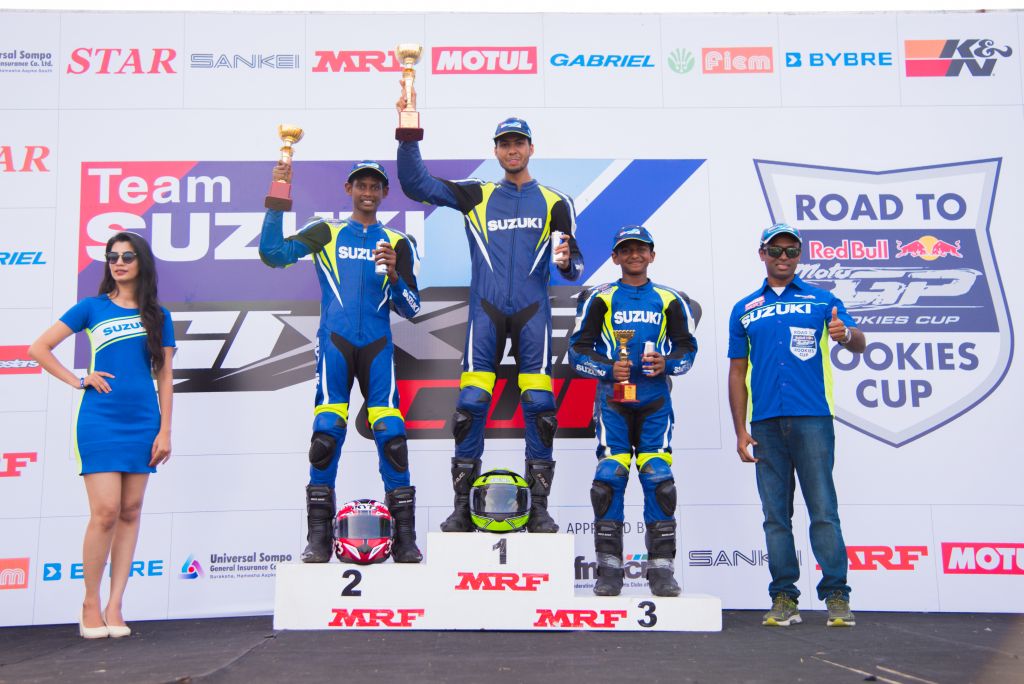 We write to you from Chennai, where Suzuki Motorcycle India concluded yet another fun filled weekend of exciting motorcycle races with the 3rd round of the Suzuki Gixxer Cup 2016 in conjunction with the second and final round of the Red Bull Road to Rookies Cup 2016.
As the season has progressed since the first round in June, the riders have become more accustomed to their race machines. This being the second round hosted at the Madras Motor Race Track this year, provided for some stiff competition in all Novice / Rookies and Open category races with many bunches fighting it out for podiums and all the way down to the top 10 at times!
The Open Category had 2 very interesting races with Meka Vidhuraj in top form as he took top place on the podium both times. Although it wasn't an easy fight for him each time, with a fight between 3 strong contenders for the podium. In Race 1, he won against Rajinikanth and Prabhu with less than a second gap. In Race 2, it was even closer with a hair line advantage of just 0.015s ahead of Vivian Gladwin and Rajinikanth, all 3 riders within 0.1s of each other at the finish line!
The Novice Category had a busy 3 races over the weekend, with Joseph Mathew proving his mastery over his fellow riders by winning all 3 races in his class! The rest of the podium spots were taken by the 4 contenders – all shuffling between Antony Peter, Amarnath Rajan, Clinton Cordeiro and Alan Fernando – which brought 2 new riders to the podium for this round!
The Red Bull Road to Rookies Cup had its 2nd and final round of races this weekend. 2 of the 3 races were won by Aaron Gunawerdena from Sri Lanka, with Sachin Choudhary coming 2nd in 2 races and winning the 3rd race by a country mile! The 3rd spot was taken by AS Alexander on 2 occasions and S Varoon, who fought competitively throughout all 3 races, adding to the excitement!
This round culminated in a thrilling yet tough decision for the team over at Suzuki Motorcycle and Red Bull India to choose the one lucky rider who gets to represent India at the Rookies Cup Qualifying in Spain later this year! After some careful observation and analysis of the riders' performance, mature attitude and improvement graph over the last 2 rounds and 2 training sessions, the unanimous decision was in Sachin Choudhary's favour! Needless to say, the young Rookie was thrilled and at a loss for words!
The results for all races are as below:
Rookie Race 1
Laps: 4
1st: Aaron Gunawardena 8:57.368
2nd: Sachin Choudhary 9:20.422
3rd: AS Alexander 09:21.865
Best Lap: Aaron Gunawardena 2:11.549 (101.6 kmph)
Novice Race 1
Laps: 4
1st: Joseph P Mathew 8:58.965
2nd: Antony Peter 9:04.755
3rd: Clinton Cordeiro 9:21:862
Best Lap: Joseph P Mathew 2:11:998
Open Race 1
Laps: 6
1st: Meka Vidhuraj 13:42.516
2nd: Rajinikanth B 13:43.453
3rd: Prabhu V 13:44:238
Best Lap: Rajinikanth B 2:13.497 (100.2 kmph)
Rookie Race 2
Laps: 4
1st: Aaron Gunawardena 9:03.310
2nd: Sachin Choudhary 9:10.101
3rd: AS Alexander 9:34.239
Best Lap: Aaron Gunawarden 2:11:591 (101.6 kmph)
Novice Race 2
Laps: 4
1st: Joseph P Mathew 9:08.007
2nd: Antony Peter 9:09.585
3rd: Alan Fernando 9:25.974
Best Lap: Joseph P Mathew 2:13.143
Open Race 2
Laps: 6
1st: Meka Vidhuraj 13:32.811
2nd: Vivian Gladwin 13:32:826
3rd: Rajinikanth B 13:32:993
Best Lap: Vivian Gladwin 2:12:862 (100.6 kmph)
Rookie Race 3
Laps: 4
1st: Sachin Choudhary 9:01.111
2nd: AS Alexander 9:22.302
3rd: S Varoon 9:24.414
Best Lap: Sachin Choudhary 2:13.124
Novice Race 3
Laps: 4
1st: Joseph P Mathew 8:59.288
2nd: Antony Peter 9:00.965
3rd: Amarnath Rajan 9:12.665
Best Lap: Joseph P Mathew 2:12.512 (100.9 kmph)
Sachin will be heading to Spain in October 2016 for the Rookie Cup Qualifying, and will be the first Indian to ever reach this level of the Red Bull Rookies Cup – Road to MotoGP! Team Suzuki Motorcycle India and Red Bull India will conduct some advanced training sessions for Sachin this month before his departure!
The next round of the Suzuki Gixxer Cup moves to the north and is hosted from the 29th September to 2nd October 2016 at the famous Buddh International Circuit, Greater Noida. This time, the Indian National Motorcycle Racing Championship is joined by the Asian Road Racing Championship and their entire grid lineup, so be prepared for some international racing action!