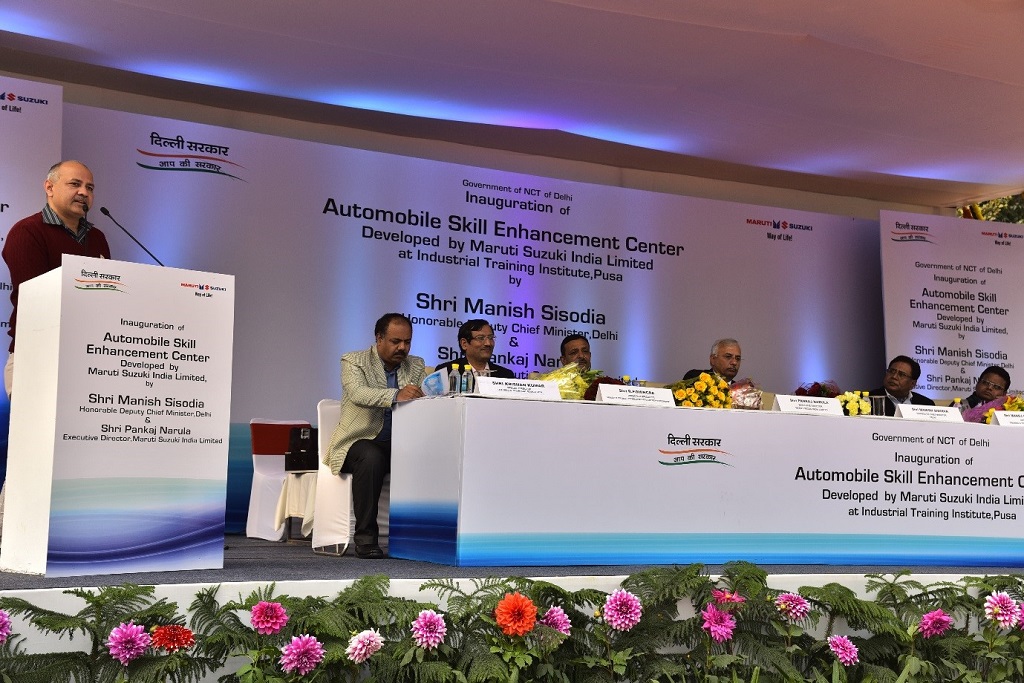 1To contribute to GOI's progressive, Skill India, initiative
To benefit 100 students each year; first batch to pass out in July 2016
New Delhi, Jan 27, 2016: India's leading passenger vehicle maker, Maruti Suzuki India Limited (MSIL) today took an important step in scaling up its efforts in skill development.
Shri Manish Sisodia, Hon'ble Deputy Chief Minister, Delhi today inaugurated the new Auto Body Repair (ABR) and Auto Body Paint (ABP) workshops at ITI PUSA, Delhi. Present on the occasion were Mr. Pankaj Narula, Executive Director (Service), MSIL, Mr. Lokpal, Principal, ITI PUSA and other senior members of the Govt. of Delhi.
The Auto Body Repair (ABR) and Auto Body Painting (ABP) facilities are set-up at the Automobile Skill Enhancement Center (ASEC) – developed by MSIL – which is spread over an area of 6000 sq ft. Maruti Suzuki has invested a total of Rs. 85 lakh in upgrading and setting up the ASEC, ABR and ABP facilities at the institute. Additionally the Company will invest around Rs. 15 lakh on exclusive trainers and training aides required on an ongoing basis, annually.
Speaking on the occasion, Mr. Pankaj Narula, Executive Director (Service), MSIL said: "Auto Body Repair and Auto Body Painting are very niche areas. With the specialized training programme and state-of-the-art facilities, we aim to equip the institutes to offer relevant skills to the students. On completion of the course the students are ready for employment, will be able to perform and excel in this specialized area of car service and repair. Also, with the growth in number of vehicles on roads, quality repair and maintenance offers a major employment opportunity. Students can enrol and benefit from these ASECs."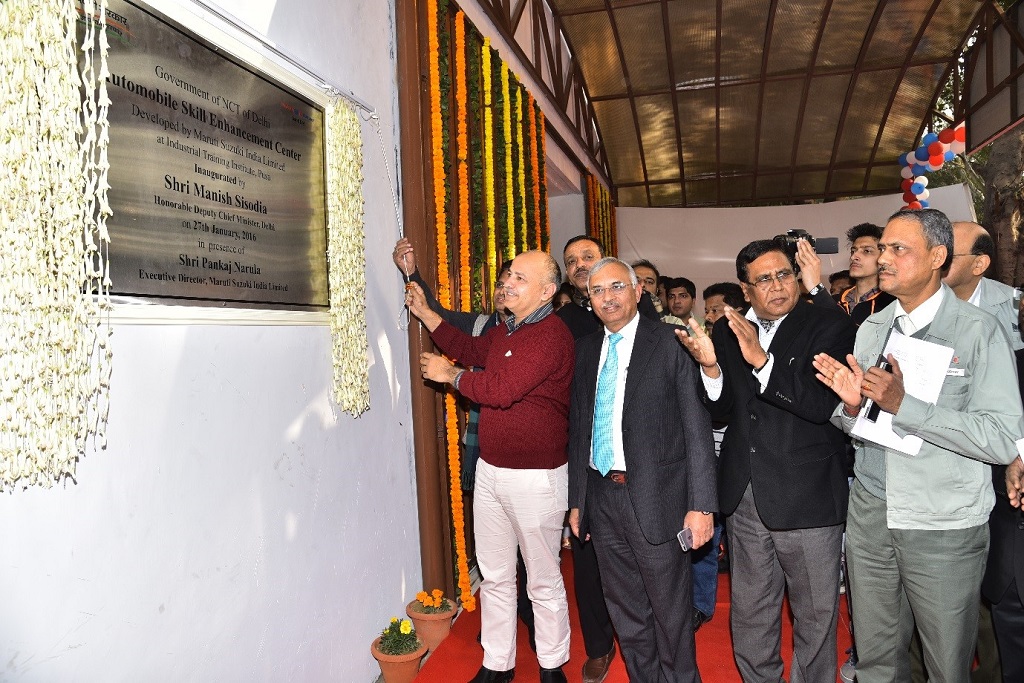 The model Auto Body Repair (ABR) and Auto Body Painting (ABP) workshops at ITI PUSA will be equipped with latest training tools and equipment to provide practical training. Along with these the Company will be providing dedicated full-time trainers to assist with the practical training in body repair and painting. The Company will also forge partnership with local Maruti Suzuki service workshops and MSIL's paint vendors to upgrade skills of ITI students and make them job-ready.
The two specialized courses — Auto Body Repair (ABR) and Auto Body Painting (ABP) – under car service and repair are being offered for the first time by ITI PUSA in Delhi and are recognized under SCVT. Both the courses are customized and designed by Maruti Suzuki. This initiative is set to cater to the huge demand of skilled manpower in denting and painting workshops.
Key highlights
·         First such initiative by Maruti Suzuki, in Delhi, to develop Auto Body Repair (ABR) and Auto Body Paint (ABP) facilities in ITI
·         To benefit 100 students each year
·         Start of course: August 2015
·         First batch of 66 students to pass out in July 2016
·         MSIL overall investment Rs. 85 lakh, plus Rs. 15 lakh per annum
The one year course of ABP and ABR started in August 2015 with a batch of 66 students. These students will pass out in July 2016.
Maruti Suzuki & Skill Development:
Maruti Suzuki has been very active in the area of skill development.  For this the Company has a successful system of developing I.T.Is and has two major approaches of ITI support programs:
Adopt the I.T.I and take care of its holistic development (adopt all trades)
Have a focused approach to promote automobile skill training
In the first approach, the Company is working with 29 I.T.Is in partnership with state governments. The support provided to each ITI depends on its individual needs. In general, the Company offers support in infrastructure improvement, faculty training, exposure to manufacturing facilities, training in acclaimed Japanese work practices like 5S, kaizen and 3G and soft skills like personality development and team work
In the second approach, it creates a pool of employable youth by working intensively with students learning the automobile trade. Annually, over 5500 youth from 86 I.T.Is are benefitted from this program and are employed in dealer service workshops of Maruti Suzuki and other automobile service workshops.
Scaling up its efforts, Maruti Suzuki has started an initiative to set up Automobile Skill Enhancement Centers (ASEC) at 50 Government-run Industrial Training Institutes that will train 3100 youth annually.