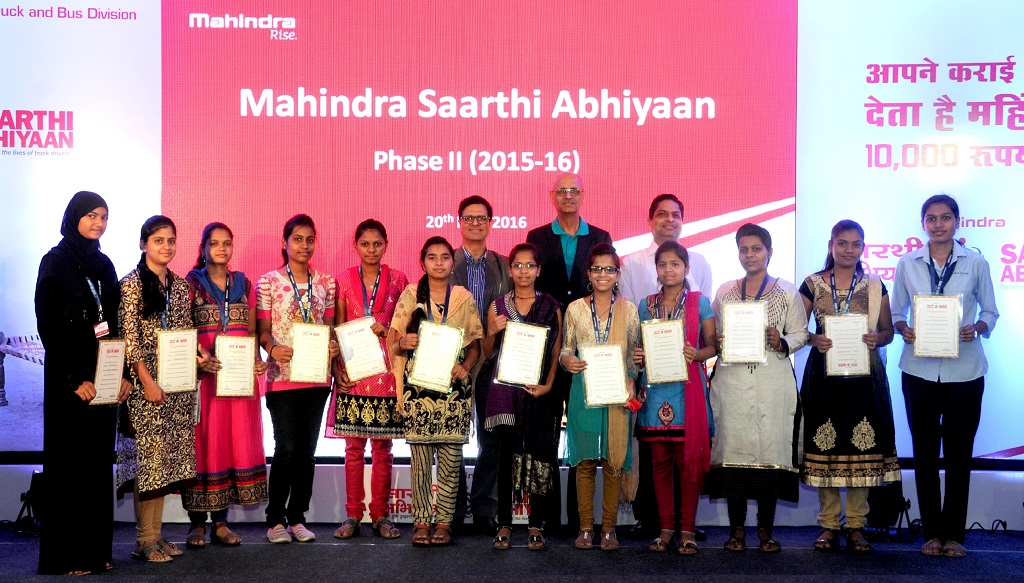 Mahindra Saarthi Abhiyaan, a CSR project launched by Mahindra Truck and Bus has been well received
In its second phase in F-2016, the Saarthi Abhiyaan Scholarship program was launched in 17 transport hubs including Indore, Korba, Lakhisarai, Muzaffarpur, Bahadurgarh, Sonipat, Sitapur (Lucknow), Moradabad, Sankagiri, Trichy, Namakkal, Kodad, Tandur, Ratnaul, Sangli, Kolhapur and Pune
14 girls from Pune and its neighbouring areas were felicitated with 10,000/-
Till date, 2,408 girls have been awarded scholarships in the past 2 financial years
Mahindra Truck and Bus Division (MTBD), a part of the USD 16.9 billion Mahindra Group, felicitated 14 girl children of its truck drivers through the Mahindra Saarthi Abhiyaan. Launched in January 2014, this special program is committed to making a contribution by transforming the lives of truck drivers' girl children in India and ensuring them their right to higher education.
Mahindra is one of the first commercial vehicle manufacturers to pioneer this initiative and felicitate the selected candidate with a scholarship of Rs.10,000/- along with a certificate in recognition of their achievement. The first celebration hosted in Pune felicitated 14 girls in the company's headquarters in Chinchwad.
Speaking on the occasion Mr. Nalin Mehta, Chief Executive Officer – Mahindra Truck and Bus Division, Mahindra & Mahindra Ltd., said, "True to its philosophy of driving positive change within the transport ecosystem, we are striving to improve the lives of drivers at the grass root level, as they are one of the most important stakeholders in our business. There are more than 70 lakh truck drivers in India today and I look forward to the day when every truck driver's daughter will be highly educated and self-sufficient. Mahindra Saarthi Abhiyaan, is a pioneering effort and a salute to these drivers who inspite of all odds, have shown great mettle in educating their children, especially their daughters."
The Background
Before embarking on this project the Executive Committee undertook need assessment within the truck driver communities across India, to understand what help MTBD could offer. A survey was undertaken with drivers from Mumbai, Hyderabad, Chennai, Barbil, Ahmedabad etc., and it revealed that the average age of a truck driver in India is 38 years, with an average monthly salary of Rs. 12,000/-.
His family consists of 2 children who go to Municipal Schools with an average expense of Rs. 12993/- per year on education. Hence the amount of Rs.10000 was decided on for the scholarship. Further analysis showed that it was endemic to dissuade the girl child from further education due to many socio economic reasons. Within the driver community, out of 100 girls only 20% attain their Secondary Education and 10% make it to Higher Secondary education.
The process
With the help of NGOs and through a direct contact program, by executing road shows in prominent dhabas on highways, branding at Transport Nagars and direct field activations, the project was successful in garnering more than 1,300 applicants from transport hub locations and impacted a total of 1,800 drivers. MTBD chose leading consultants PwC to ensure a proper process was followed including set guidelines and authenticated documentation.
The Felicitation Ceremony
Mahindra and Mahindra is one of the first Commercial Vehicle manufacturers to have developed this unique way of recognizing drivers. The company has planned to felicitate each girl selected for this scholarship in the presence of prominent personalities and the management team from Mahindra by giving each of them a Demand Draft of Rs.10,000 and a certificate in recognition of this achievement. A pan India initiative, the first celebration was hosted in Pune today with 14 girls being felicitated at the company's headquarters in Chinchwad.