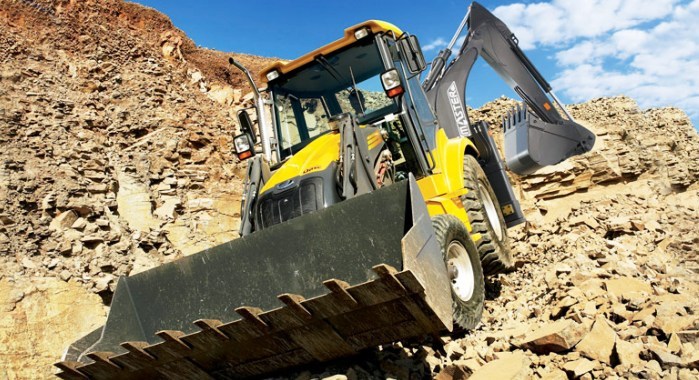 Kozhikode, December 16, 2016 : Mahindra Construction Equipment, a part of the USD 17.8 billion Mahindra Group, today inaugurated Chambayil Motors, a full range dealership with sales/service/spares facility, in Kozhikode, Kerala. Located conveniently in the Vaidyarangodi, near Ramanattukara, this new facility is part of the company's strategy to expand its retail presence in important markets across India. Spread over 2000 sq. ft area with showroom and state of the art workshop facilities, this dealership will sell the complete range of Mahindra construction equipment's such as the Back Hoe Loaders, Front End Loaders, etc.
Well-equipped to handle enquiries for sales, service and spares requirements for Mahindra construction equipment, Chambayil Motors will also feature spares and services at customer site any time in territory of North Kerala. Along with the sales and service facilities, the dealership will also provide facilities such as easy finance, exchange facility, quick repair amongst others. With a focus on customer satisfaction and customer delight, this full range dealership will have a dedicated sales team and will provide the best in class services to the customers.
Purshothaman L, Zonal Manager – Sales & Customer Care, Mahindra Construction Equipment said, "Being a customer-centric company, it has always been the company's endeavor to provide its customers with best-in-class sales and service experience. The inauguration of Chambayil Motors in Kozhikode is in line with the company's expansion strategy for North Kerala which is an important market."
"The addition of these well-equipped dealerships with world class infrastructure and service facilities will ensure last mile sales and service connectivity to the customers," he added.
L Selvam, Manager Sales, Mahindra Construction Equipment said, "Mahindra has the most fuel efficient Back hoe loader in industry with highest productivity in 83 HP range. The moto of the new dealership is 24x7x365 service. For customer assistance there is a centralized toll free number 1800-209-9879."
Rahul and Vishnu are partners of M/s Chambayil motors who have renowned names in the industry. The facility was inaugurated by VKC Mommed Koya, Honorable MLA and noted industrialist. The occasion was also graced by P V Ganagdharan, KTC Group and Director, Mathrubhoomi and PV Nidhish, President, Malabar Chamber of Commerce. On the occasion, both the partners assured all existing and future customer for best in class services at reasonable price always from their dealership at 24x7x365 because of available team of able technicians.