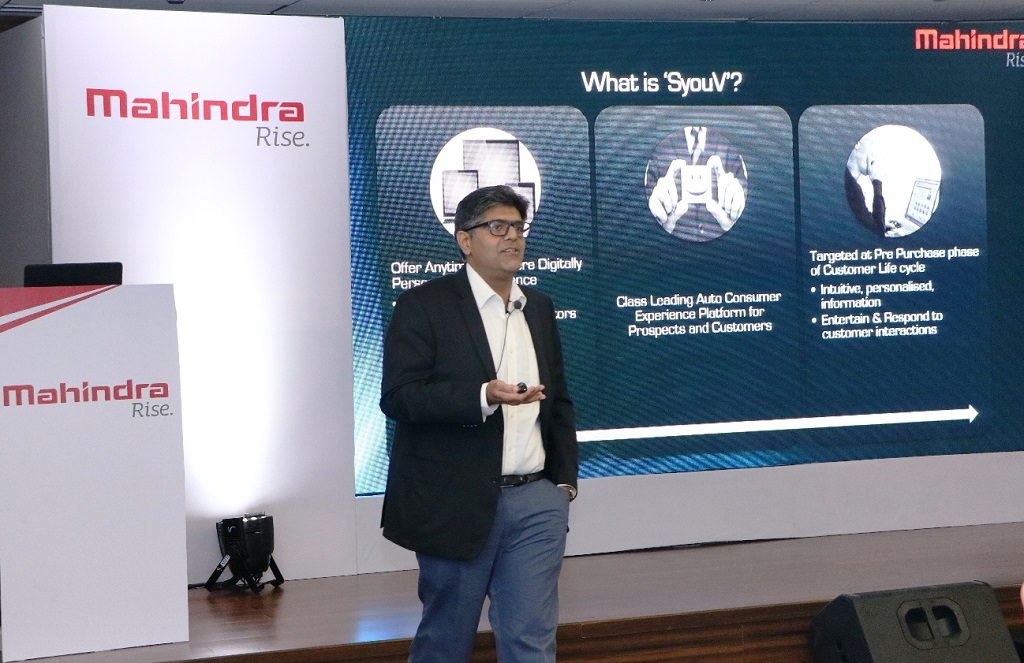 Part of its comprehensive digital engagement strategy to take customer ownership experience to the next level
 Set to transform customer experience at pre-sales, sales and post sales stages
First Indian automotive company to leverage integrated digital platforms to engage with customers throughout the ownership lifecycle
Augurs change in the way a customer interacts with Mahindra
Mahindra & Mahindra Ltd. (M&M), India's leading SUV manufacturer, today launched two new age digital platforms – SYOUV  and With You Hamesha. This is part of the company's comprehensive digital strategy to enhance the overall ownership experience of its automotive prospects and customers at all the points of the customers' journey, including pre-sales, sales and post sales.
With this, Mahindra becomes the first Indian automotive company to leverage integrated digital platforms to provide its customers with a class leading experience throughout the entire ownership lifecycle. SYOUV is a one stop solution to address customer needs in the pre-purchase phase. This platform effectively addresses the customer's pain points when he is researching the vehicle and is in the exploration phase. In the sales phase, Mahindra focuses on customer convenience through multiple e-commerce tie-ups, thereby making the process of vehicle booking convenient with the click of a button. The usage of tablets and kiosks for product explanation further takes the entire vehicle purchase experience a notch higher. The With You Hamesha platform will ensure a superior vehicle service experience to its customer through the click of a button and make the whole process seamless, transparent and hassle free.
The company has partnered with Microsoft, Dassault Systemes and Socheers Infotech for SYOUV, its pre-sales digital engagement platform and with Extentia Information Technology, Hungama and HNS Technologies for the WITH YOU HAMESHA platform.
Speaking about this digital journey, Veejay Ram Nakra, Senior Vice President, Sales and Customer Care, Automotive Division, Mahindra & Mahindra Ltd. said, "At Mahindra we are committed towards providing a delightful customer experience at every step – from the time the customer gets into touch with us till the time of purchase and throughout the entire ownership lifecycle. Today, digitization is disrupting many businesses and is a key differentiator in terms of customer experience. SYOUV and With You Hamesha platforms are the two key pillars of our digital strategy and I am sure it will set a new benchmark in the industry in elevating customer experience. Our endeavor is to provide a superlative experience to both our prospects and valued customers and take their engagement experience with us to the next level."
Mahindra has been the pioneer in enhancing customer experience with many firsts to its credit – such as multiple ecommerce tie-ups for sales of its automotive products, thereby providing customers with the convenience to book their vehicles anytime, anywhere. Other firsts include the use of tablets and kiosks for making a vehicle sales demonstration and incorporating features such as Talk to Experts at showrooms to clarify customer queries. The SYOUV platform will further fortify Mahindra's engagement in the pre-sales stage by providing class leading customer experience. The new generation With You Hamesha platform provides class leading customer convenience in the ownership phase. These initiatives are all industry firsts and will truly benefit the customer and empower him with the 3 Cs of Convenience, Clarity and Customized experience.
Mahindra's Digital Initiatives at Pre-sales, Sales & Post-sales Stages
A new platform, Mahindra SYOUV is the core offering under the pre-sales category, which currently features XUV500. The platform addresses the challenges that today's consumers face, as they need to visit multiple websites for researching and seeking information about cars, since no single source of information addresses all queries. SYOUV, is a smart platform which makes personalized recommendations, basis the customer's actions on the platform. Key features of the platform include 'Collaborative Exploration' which allows for collective customisation of vehicles along with friends on Facebook or email, Users can also share their dream SUV on leading social media websites, 'Talk to Expert' – allows one to connect with an expert to get real time responses through audio/ text chat, 'Digitally personal' – recommends relevant events, articles, videos etc. and '3D discovery' – enables customers to view salient features of a vehicle in a rich 3D format. Conceptualized by Mahindra in collaboration with Microsoft, it aims to provide SUV enthusiasts and aspirants an immersive experience across all gadgets, including tablets and mobile phones, thereby motivating them to test drive their vehicle of choice
Under the digital initiatives for enabling sales, Mahindra has installed tablets and kiosks across most of its dealer network, and is in the process of expanding it to the remaining outlets in the country. Aimed at assisting customers to make suitable buying decisions, these gadgets offer realistic visual depictions of Mahindra vehicles, with various options related to accessories, colours etc. Mahindra has also tied-up with various e-commerce websites in order to expand its reach to customers, and allow for online booking of cars.
'With you Hamesha'(WYH) is Mahindra's digital platform for its existing customers and aims to sustain their satisfaction levels by constantly offering various online services. The platform has undergone a complete digital transformation and offers customized & convenient experience to the customers with a whole lot of transparency. The new avatar of WYH is a versatile platform that offers range of services – a single dashboard view of a customer's vehicle and service history, the convenience to book a service from anytime or anywhere as per one's requirements, create a job card and get an online service estimate, track the service of one's vehicle and receive instant notifications, online video connect with a relationship manager to get live updates and the option to pay one's service expenses online and get the vehicle delivered at a certain address