Flagged off Bicycle and Bike Rally
Enters Guinness Book of World Records for the 'Largest number of people attending a Road Safety Awareness Rally'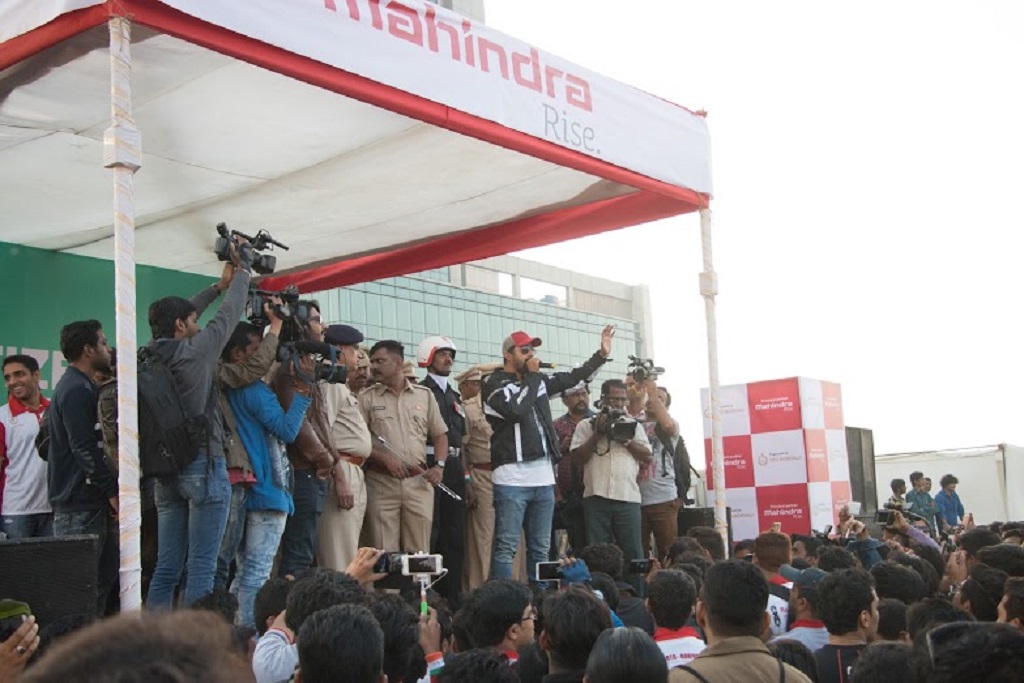 Mumbai, February 3, 2016: Mahindra & Mahindra Ltd. (M&M), India's leading SUV manufacturer, partnered with DRTO-Borivali to flag off the Bicycle & Bike Rally on 31st January, 2016. An initiative to create awareness about road safety, the Bicycle & Bike Rally is an extension of National Road Safety Week 2016 and carries forward its theme of – Road Safety: Time for Action. With the number of participating bikes being 11,707, the rally entered Guinness Book of World Records for the 'Largest number of people attending a Road Safety Awareness Rally'.
The Bicycle & Bike Rally was flagged off from R2 Grounds, Bandra Kurla Complex at Bandra East and it was flagged in at SRPF Parade Grounds at Goregaon East. The Bicycle and Bike Rally witnessed strong support from the general public, government officials and celebrities alike.  Honourable Minister of Industries, Shri Subhash Desai was the Chief Guest of the event. Also present were Deputy Commissioner of Traffic Police, Shri. Chavan, Vijay Kalra, Chief of Manufacturing Operations, Automotive Division, M&M Ltd. and celebrities such as Ranvijay Singh, Dino Morea, Singer – Shaan, RJ – Malishka, Singer – Bhoomi Trivedi, Mr. India Mr. International and Mr. World – Annop Singh Thakur, Pulkit Samrat, amongst other dignitaries.
Celebrities such as Ranvijay Singh, Dino Morea and others chose to promote road safety while riding astride a Mahindra Mojo. The MOJO, comes equipped with the largest in class 320mm front disc and 240 mm rear disc brakes coupled with Pirelli Diablo Rosso II tubeless radial tyres that ensures a safe ride. The celebrities spoke about the perils of rash driving, disobedience of road rules and defaulting on road safety measures regardless of whether one is riding a bike or driving a car.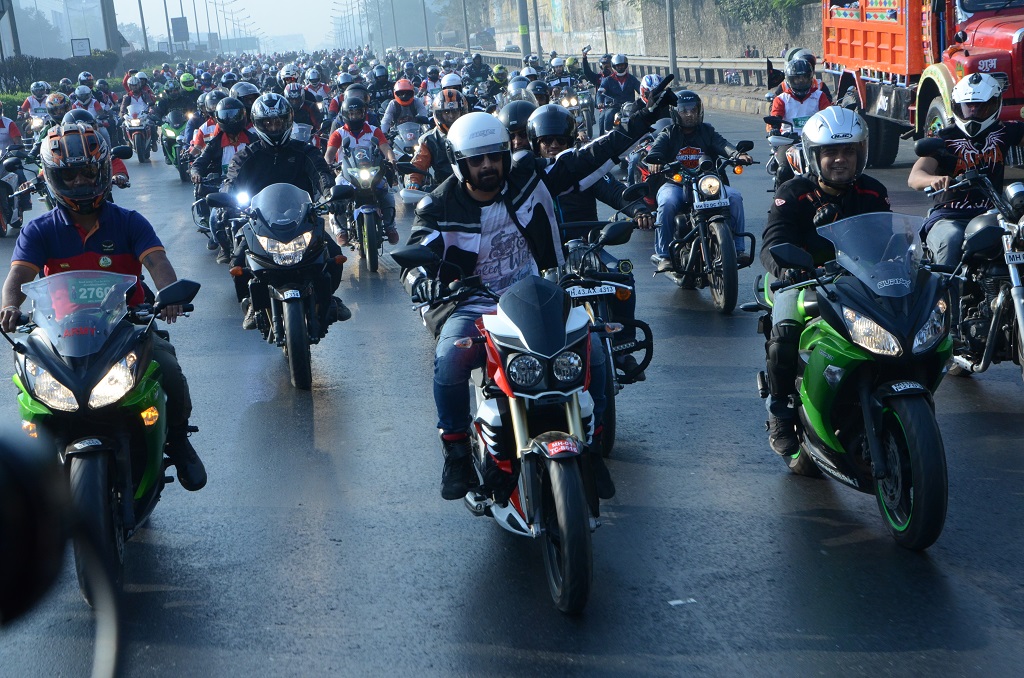 Speaking on the occasion, Vijay Kalra, Chief of Manufacturing Operations, Automotive Division, M&M Ltd. said, "As responsible corporate citizens, we at Mahindra are committed towards making India's roads safer and hence we are delighted to partner with DRTO-Borivali for the Bicycle and Bike Rally. Today, most accidents are caused due to driver's negligence and improper road etiquettes. As a leader in SUV segment, it is our endeavour to educate people about road safety. Going forward we expect safety to be imbibed as an inherent value."
Mr. Ravi Gaikwad, Chief of DRTO-Borivali said, "The issue of road safety is a serious problem facing the nation today with the number of fatalities steadily rising every year. While we have been taking various measures to bring down the number of fatalities, with a large conglomerate such as Mahindra understanding the social responsibility and coming forward to morally support this cause under CSR, I am confident that our joint initiative will help raise road safety awareness levels and we would like to continue to have this event every year. This is the best event organised under CSR by a Corporate in India and I am sure one of the only CSR event to be recorded in the Guinness Book"
Earlier, under the aegis of the National Road Safety Week, Mahindra has undertaken various activities through its vast network of dealership workshops pan India such as, road safety awareness for dealer staff, drivers' education program, creating awareness amongst school children through video presentation on "Safety Technology in Automobiles". In addition to this, M&M is also creating awareness drives through rallies by school children and tie ups with local traffic police and local RTO.
On an average, 56 road accidents occur and 16 lives are lost every hour in India. The nation witnesses around 500,000 road accidents each year and 150,000 deaths. Most accidents are caused due to the negligence on part of those driving and the pedestrians. Such unfortunate accidents can be avoided with better road safety initiatives.
About Mahindra
The Mahindra Group focuses on enabling people to rise through solutions that power mobility, drive rural prosperity, enhance urban lifestyles and increase business efficiency.
A USD 16.9 billion multinational group based in Mumbai, India, Mahindra provides employment opportunities to over 200,000 people in over 100 countries. Mahindra operates in the key industries that drive economic growth, enjoying a leadership position in tractors, utility vehicles, information technology, financial services  and vacation ownership. In addition, Mahindra enjoys a strong presence in the agribusiness, aerospace, components, consulting services, defence, energy, industrial equipment, logistics, real estate, retail, steel, commercial vehicles and two wheeler industries.
In 2015, Mahindra & Mahindra was recognized as the Best Company for CSR in India in a study by the Economic Times. In 2014, Mahindra featured on the Forbes Global 2000, a comprehensive listing of the world's largest, most powerful public companies, as measured by revenue, profit, assets and market value. The Mahindra Group also received the Financial Times 'Boldness in Business' Award in the 'Emerging Markets' category in 2013.