Mumbai, Februray 1, 2017: Mahindra & Mahindra Ltd. (M&M Ltd.), India's leading SUV manufacturer, today announced its auto sales performance for January 2017 which stood at 39,303 vehicles compared to 43,789 vehicles during January 2016.
The Passenger Vehicles segment (which includes UVs, Cars and Vans) sold 20,096 vehicles in January 2017 as against 22,088 vehicles during January 2016. The company's domestic sales stood at 37,042 vehicles during January 2017, as against 40,693 vehicles during January 2016.
Exports for January 2017 stood at 2,261 vehicles.
Commenting on the performance for January 2017, Pravin Shah, President & Chief Executive (Automotive), M&M Ltd. said, "The auto industry continues to see mixed reactions and some of the segments including the rural market and the commercial vehicles category continue to face challenging times. Going forward we expect the announcements made at the National Budget today will positively impact the economy and also the industry, especially in view of the emphasis and the allocations made for rural, agri and infrastructure. We are confident that this will lead to a spur in demand".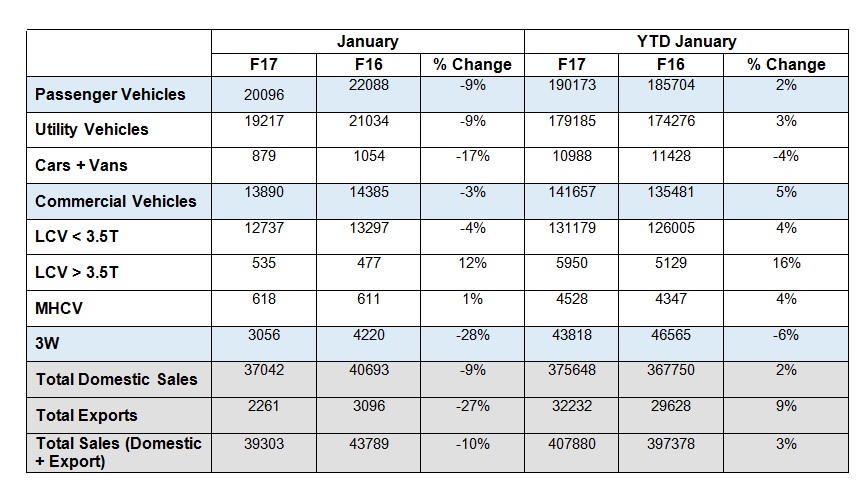 About Mahindra
The Mahindra Group is a USD 17.8 billion federation of companies that enables people to rise through innovative mobility solutions, driving rural prosperity, enhancing urban living, nurturing new businesses and fostering communities. It has a leadership position in utility vehicles, information technology, financial services and vacation ownership in India and is the world's largest tractor company, by volume.  It also enjoys a strong presence in agribusiness, components, commercial vehicles, consulting services, energy, industrial equipment, logistics, real estate, steel, aerospace, defence and two wheelers. Headquartered in India, Mahindra employs over 200,000 people across 100 countries.