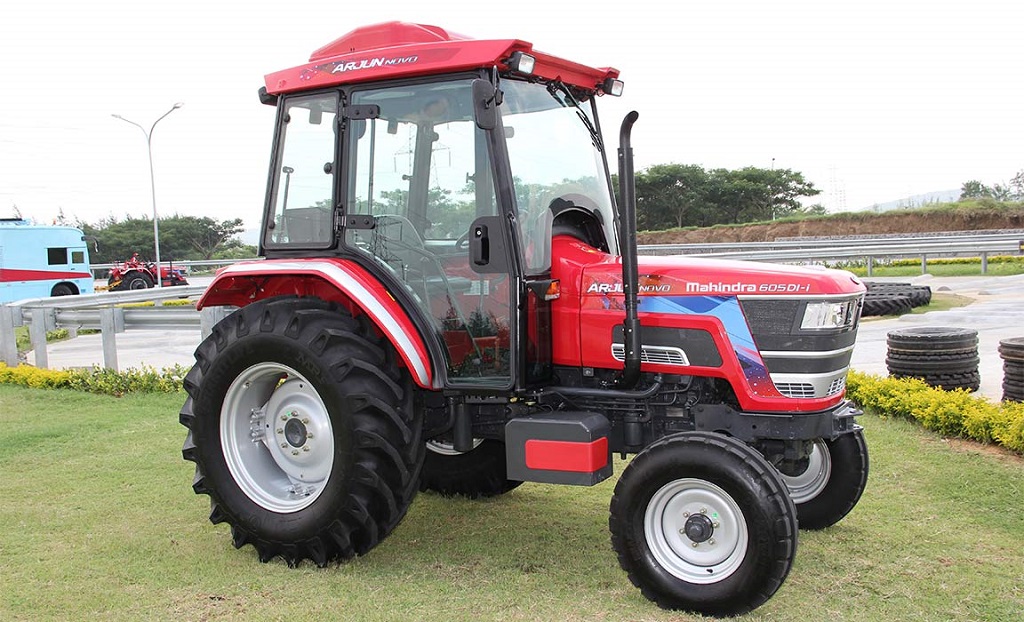 Introduces era of 24×7 Connected Telematics Technology in Tractors
• First OEM in India to offer a cloud-based technology platform for tractors
• Set to improve efficiency and productivity of farmers, thereby enhancing the experience of tractor ownership & earning potential
• Benefits include live tractor tracking, alerts and online real time reports
February 15, 2017, Chandigarh: Mahindra & Mahindra Ltd. (M&M Ltd.), a part of the US $17.8 billion Mahindra Group, has introduced DiGiSENSE, a revolutionary connected vehicle technology solution in its leading tractor brand, Arjun Novo. This will enhance productivity of the farmers using Arjun Novo and will also provide them with a new ownership experience. DiGiSENSE technology will be available in the 57HP – 605DI-i Arjun Novo.
Mahindra, thus, becomes the first OEM in India to offer a cloud-based technology platform in the tractor category.
DiGiSENSE will empower tractor owners to access vital information about their tractors remotely, on a real time basis. This technology will benefit farmers significantly to improve their efficiency and productivity, enhancing their earning potential.
According to Ravindra Shahane, Vice President – Marketing, Farm Division, Mahindra & Mahindra Ltd," Today the need to stay connected is a basic necessity for farmers who need to monitor their tractors and improve productivity. With the introduction of DiGiSENSE, we have become the first Indian OEM to introduce a connected vehicle technology in our leading tractor – the Arjun Novo, for the convenience of our customers. I am confident that this will further revolutionize the way our farmers will interact with their Mahindra tractors, leading to higher productivity and prosperity."
Digitization is emerging as a key differentiator to increase productivity and the connected vehicles technology is one such manifestation. Developed by Mahindra, DiGiSENSE is the first of its kind technology platform which is multi-application and multi-product enabled. This unique technology connects the owner to his tractor and enables him to control its usage and prevent misuse. It is a smart application that will empower customers to digitally build knowledge 24X7 about the performance and location of their tractors. Farmers can now avail of live tractor tracking, while remote diagnostics and reports will enable them to monitor the tractor's health and productivity parameters.
Key Features of DiGiSENSE applicable for Arjun Novo:
DiGiSENSE is a technology platform enabled by a Telematics device installed in the Arjun Novo tractor. Data is sent from the device to the Mahindra server via mobile network. The same data is processed and sent back to the customer on his mobile app and web-application on laptop/computer in real time, thereby allowing the customer to access important information and benefit from it. The DiGiSENSE technology will enable the following:
• Geo fencing & live tractor tracking: Farmers can now secure their tractors in the area defined by them on Google maps. The Farmer will receive an alert when the tractor drives out of the fenced area and he will also receive an alert when the tractor drives inside the fenced area. This is similar to having a virtual tractor lock.
• Alerts: These are SMS notifications about critical parameters of tractors which allows customers to monitor and take corrective actions in situations such as Low fuel alert, Battery not charging, Clutch override, High engine temperature, Air filter clog and High Engine rpm alert
• Reports: This allows customers to access online and real time reports through the website on their laptop/computer about the usage of engine rpm on an hourly basis as well as other vital information on the vehicle usage and alerts.
About Arjun Novo
Developed specifically for the 50 – 60 HP segment, the Arjun Novo delivers uniform and consistent power with minimum RPM drop in all application and soil conditions. It also possesses high lift capacity hydraulic systems, making it suitable for numerous farming and haulage operations. An ergonomically designed operator station, low maintenance and best-in-class fuel efficiency in the category are some of the key highlights of this technologically advanced tractor. A leap in technology and innovation, the Arjun Novo has many technological innovations and industry firsts to its credit. In the two years since its launch, the Arjun Novo has been well accepted by farmers looking for a powerful and technologically advanced tractor
• New Generation, Technologically Advanced Engine to Boost Productivity & Performance
The Arjun Novo features the technologically advanced, new generation Mahindra engine that provides best-in-class productivity and efficiency:
 Most powerful engine, with high torque and a backup torque of 33%
 4 cylinder engine with inline FIP
 Delivers full power at 2100 RPM
 Most fuel efficient tractor in the category
 Best in class cooling system, with the biggest air cleaner and radiator
 Provision for front PTO Drive
• High-tech Advanced Synchromesh Transmission
With an advanced Synchromesh Transmission and wide range lever, the Arjun Novo provides a superior farming experience across all speed ranges. It facilitates an effortless driving experience and is way ahead of its competitors.
 15 forward and 15 reverse gears – maximum number of gears as compared to any other tractor in India, to facilitate superior farming
 Speed ranging between 1.69 kmph and 33 kmph
 Independent PTO with best PTO HP in the sub 60 HP segment
 540 RPM with the options of 540 economy and 540 reverse
 Biggest, most reliable, long life clutch
 Effective oil immersed triple disc brakes
• Advanced Precision Hydraulics
Owing to its Advanced Precision Hydraulics, Arjun Novo is the best-in-class in lifting impossibly heavy weights.
 Advanced high precision hydraulics
 2 holes- bell crank – to suit various soil conditions
 Best in class lift capacity of 2,200 kg
 Highest pump flow for quick lowering – 40 lpm
 Ease of attaching implements – making it suitable for a wide range of applications, including land preparation/development, sowing, ploughing, tilling, harrowing, planting among others. It is compatible with rotary tiller, MB plough, TMCH, potato planter, digger, rake, baler and mulcher and shredder
• Utmost Comfort & Convenience The operator area of this ergonomically designed tractor makes it one of the most comfortable tractors in the category. Additionally, with top notch convenience features installed, the Arjun Novo, ensures effortless farming and makes it easy for long hours of fatigue free operation on the fields.
 Full flat platform tractor
 Comfortable seating with 4 way adjustable deluxe seat
 Advanced ergonomic controls such as suspended pedals
 Stylish Instrument Cluster with auto diagnostic indicators
 Car-like combination switch
 Increased style quotient with high powered wrap around head lamps
 Twin position single button bonnet opening (55 degree and 80 degree opening) – first time in the category
 Option of air-conditioned cabin
• Mahindra Arjun Novo is available in 49, 52, 57 HP points. Also available in 4WD, Shuttle Shift, Creeper features in 57 HP model
About Mahindra
The Mahindra Group is a USD 17.8 billion federation of companies that enables people to rise through innovative mobility solutions, driving rural prosperity, enhancing urban living, nurturing new businesses and fostering communities. It has a leadership position in utility vehicles, information technology, financial services and vacation ownership in India and is the world's largest tractor company, by volume. It also enjoys a strong presence in agribusiness, components, commercial vehicles, consulting services, energy, industrial equipment, logistics, real estate, steel, aerospace, defence and two wheelers. Headquartered in India, Mahindra employs over 200,000 people across 100 countries.