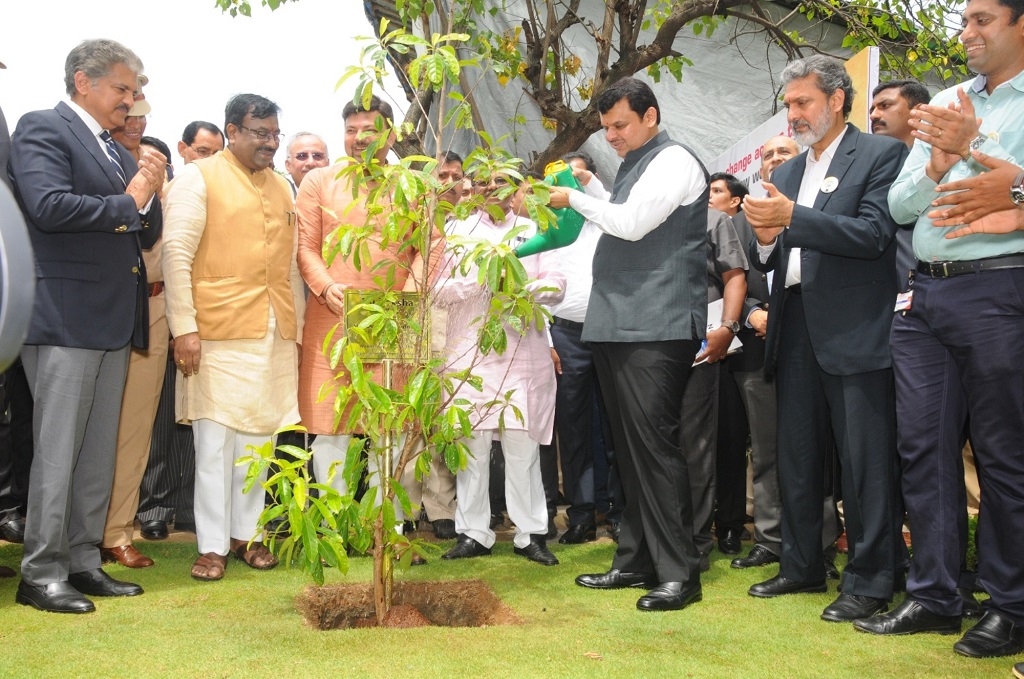 –      Honorable Chief Minister of Maharashtra, Devendra Fadnavis planted the 13 Millionth tree, a Rudraksha sapling, at Worli
–          Planting trees help generate livelihood opportunities, capture carbon and combat climate change.
–          Reaffirms its commitment to the environment; Mahindra will continue planting 1 million trees every year.
Mumbai, July 5, 2017: The Mahindra Group, one of India's leading business houses, today reaffirmed its commitment to the environment with the planting of the 13 millionth sapling under the aegis of its Mahindra Hariyali programme. The Chief Minister of Maharashtra, Shri Devendra Fadnavis, Forest Minister Shri Sudhir Mungantiwar and Anand Mahindra, Chairman, Mahindra Group came together to plant a Rudraksha sapling at the Adhya Shankaracharya Garden in Worli, Mumbai.
Mahindra Hariyali was launched on October 2, 2007, the Group's 62nd Founders' Day, with the aim to add 1 million trees to India's green cover every year. Since then, Mahindra Hariyali has gained the momentum of a movement with employees as well as other stakeholders like customers, vendors and dealers undertaking tree plantation drives across the country, ensuring that the annual goal of 1 million trees has often been surpassed over the past decade.
"Climate is a reality and in Maharashtra we have been experiencing droughts across the State. If one compares the tree cover in a small country like Germany which is 33%, in Maharashtra it is just 21%. As part of our mission to give Maharashtra a new green cover, we plan to plant 50 crore trees in the next two years and thus plan to take the State's cover to 33%. In keeping with Mahindra's number of trees planted, in the next one year, we plan to plant 13 crore trees. We intend to plant fruit trees to not just aid tree plantation, but also provide alternative livelihoods to the farmers," said Honourable Chief Minister of Maharashtra, Shri Devendra Fadnavis, as he planted the 13 millionth sapling.
"I remember planting the very first sapling at the launch of Mahindra Hariyali a decade ago and I am delighted to see this programme take on the size and scale that it has achieved today. We are in the midst of a man-made crisis and it is our duty to strengthen Nature's hand to help tackle climate change and meet the commitments of the Paris Agreement. The Mahindra Hariyali programme forms part of our contribution to the cause," said Anand Mahindra, Chairman, Mahindra Group.
Congratulating Mahindra Group on this milestone of planting 13 million trees, Minister of State for Finance & Planning and Forest Department, Shri Sudhir  Mungantiwar stated, "I am delighted that a corporate like Mahindra has not just focused on profits, but has also given equal importance to the planet. It is noteworthy that a corporate like Mahindra has already begun work on greening of the State. I invite individuals and corporates to come forward and contribute to Mission Maharashtra's greening efforts and whole heartedly support and participate in our Namami Chandrabhaaga Project."
"From transforming an arid hilltop in Nashik to helping Adivasi farmers in the Araku Valley supplement their income through fruit trees, and making a difference in drought-prone Vidarbha, this programme has had a far-reaching impact which will be felt for generations to come. Today is also an occasion to recognise the efforts of all those employees who have translated intention into action with their incredible efforts over the past ten years, which has resulted in 13 million trees being added to the country's green cover," said Rajeev Dubey, Group President (HR & Corporate Services) & CEO (After Market Sector) Member of the Group Executive Board, Mahindra & Mahindra Ltd.
The world's forests, along with its oceans, absorb enormous amounts of carbon dioxide released into the atmosphere. The trees are the lungs of the Earth and protecting them is crucial to fight global warming. India has vast amounts of land classified as forests which have little tree cover. Reforestation of these lands will help India meet the commitment it has made in the Paris Accord and significantly tackle climate change.
Ten years ago, Hariyali began as an effort to enhance India's green cover. Every tree is helping combat climate change and this Hariyali tribe is growing every year. Today, there is one Hariyali tree for every 100 people in India and the Hariyali tribe has 3.6 times the total amount of trees in Mumbai including those at the Aarey Colony.
About Mahindra (www.mahindra.com)
The Mahindra Group is a USD 19 billion federation of companies that has a leadership position in utility vehicles, information technology, financial services and vacation ownership in India and is the world's largest tractor company, by volume. It also enjoys a strong presence in agribusiness, components, commercial vehicles, consulting services, energy, industrial equipment, logistics, real estate, steel, aerospace, defence and two wheelers. Headquartered in India, Mahindra employs over 200,000 people across 100 countries.