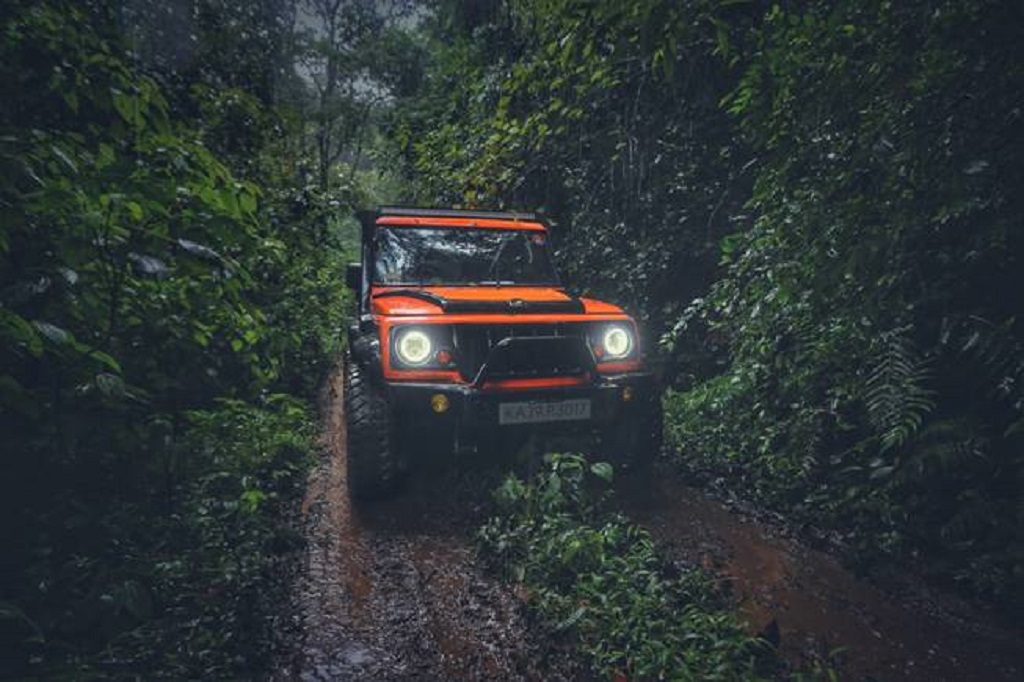 4th Mahindra Great Escape of Season 7, held under Mahindra Adventure umbrella brand
Promotes the spirit of off-roading and demonstrates the tough and rugged DNA of Mahindra vehicles
Winners of the Off-Roading Trophy will compete in the grand finale of the 'Mahindra Off-Roading Trophy 2018' at the Mahindra Adventure Off-Road Training Academy, Igatpuri.
August 20, 2017, Sakleshpur: The 142nd edition of the Mahindra Great Escape – one of India's most popular off-roading adventures, concluded successfully in Sakleshpur, with nearly 100 SUV's  from Mahindra's stable manoeuvring the challenging route. This Great Escape saw participation from Mahindra customers from Sakleshpur and other neighbouring area like Bengaluru.
Set amidst the tea plantations and thick foliage, Sakleshpur offered a challenging setting for a day of fun-filled off-roading. Incessant rains further made the off-road environment more stimulating making the route and obstacles slippery and challenging. Sakleshpur Great Escape provided the perfect playground for participants to test their 4×4 vehicle.
The event was flagged from Kadamane Estate in Saklespur and saw participation from the entire gamut of Mahindra vehicles including the Scorpio, Bolero and the extreme off-roader – the Mahindra Thar CRDe 4×4 – each representing the company's tough and rugged DNA. These iconic Mahindra SUVs negotiated the arduous terrain and challenging obstacles and discovered what it is like to be in the lap of nature.
The drive gave customers a chance to explore the natural terrain of Sakleshpur and also witness the capabilities of Mahindra's tough and rugged SUVs.
The Off-Road Trophy competitors got a chance to demonstrate their off-road driving skills through different stages of obstacles. The competitors tackled a set of three obstacles which was carefully crafted under the Mahindra Adventure team's expertise. From steep inclines and descends to traversing over slippery boulders, each obstacle was challenging. The Off-Road Trophy participants competed fiercely in their regional rounds to be selected for the grand finale at Igatpuri, Maharastra, the winner of which will take home a new Thar.
Results:
Stock winner 
1st place – Jose J Cheeramkuzhy
2nd place – Gagan Karumbaiah
Modified winner 
1st place – Ajith Kumar
2nd place – Sahad N K & Nanaiah
Ladies category
1st Place – Sapna Gurkar
The winners from Sakleshpur Great Escape, will join winners from the Lonavala, Ahmedabad and Goa Great Escape and other upcoming Great Escapes like Dehradun, Wayanad, Chandigarh, Bhopal and Shillong to compete against each other in the grand finale of the Off-Roading Trophy at Igatpuri.
About Mahindra Adventure
A unique concept to showcase the tough and rugged DNA of Mahindra vehicles, Mahindra Adventure functions as an umbrella brand with a series of self-drive overland adventure expeditions organized under its banner.
Mahindra Adventure was launched as an independent entity for all adventurous activities, in 2011, headed by Bijoy Kumar Y, Chief of Adventure Initiatives. He is a motoring enthusiast and the erstwhile editor of a popular motoring magazine.
The Mahindra Adventure calendar comprises a series of experiential marketing events throughout the year such as the popular off-roading event, the Great Escape, several Challenges (sporting events in keeping with the company's promise of providing adrenaline pumping challenges), Multi-Day Special Escapes, such as the Monastery Escape (10 days), Royal Escape (6 days), the Authentic Bhutan ( 8 days), Himalayan Spiti Escape (7 days), Authentic Myanmar Thailand (12 days) & Authentic North East Escape (Meghalaya, Assam & Arunachal Pradesh- 10 days).
To spread the DNA of off-roading, the Mahindra Adventure team has also recently launched the Mahindra Adventure Off-Road Training Academy in Igatpuri to encourage off-roading amongst the adventure seekers.
Mahindra Adventure Off-road Training Academy is 28-acre facility, India's first dedicated facility providing a one stop solution to learning everything about a Mahindra 4WD vehicle and how to use it to its full potential. Through this, we hope to leverage the brand's off-road heritage, showcase the vehicles abilities and give the participants the confidence to explore the limits of the vehicles. Custom-made Mahindra Thars equipped with radio sets are exclusively used as training vehicles at the facility.
About Mahindra
The Mahindra Group is a USD 19 billion federation of companies that enables people to rise through innovative mobility solutions, driving rural prosperity, enhancing urban living, nurturing new businesses and fostering communities. It has a leadership position in utility vehicles, information technology, financial services and vacation ownership in India and is the world's largest tractor company, by volume.  It also enjoys a strong presence in agribusiness, components, commercial vehicles, consulting services, energy, industrial equipment, logistics, real estate, steel, aerospace, defence and two wheelers. Headquartered in India, Mahindra employs over 200,000 people across 100 countries.