Introduces multi day expeditions, Kashmir to Kanyakumari (drive across the length of India) and Authentic Bhutan (an epic drive through the Land of the Thunder Dragon)
Continues with popular Great Escapes, multi day Expeditions and Challenges (Off-Road and Time Speed Distance rally)

Mahindra & Mahindra today unveiled the Mahindra Adventure calendar for Season 6. A unique concept to showcase the tough and rugged DNA of Mahindra vehicles, Mahindra Adventure serves as the umbrella brand for a series of adventure and motor sports events.
Mahindra Adventure unleashes its spirit of adventure by hosting a series of events spread through the year;
Great Escape, continues to be the off-roaders' choice to test the endurance of Mahindra's 4×4 vehicles on diverse terrain. We continue with 10 locations across India – winners from these rounds get to compete for the coveted Mahindra Off-Roading Trophy.
New Multi-Day Escapes, such as Kashmir to Kanyakumari, an epic 15 day drive from Srinagar to Kanyakumari via Dharamshala, Kumbhalgarh, Little Rann, Goa and Munnar, Authentic Bhutan, a beautiful 8 day drive through the Himalayan kingdom have been added.
Other drives like Authentic North East (a 10 day drive through Guwahati- Dirang- Tawang- Kaziranga- Shillong), Spiti Escape (7 day drive through Chandigarh- Narkanda- Sangla- Nako- Kaza- Manali), Monastery Escape (a 10 day drive through Delhi- Manali- Jispa- Sarchu- Leh –Srinagar), Royal Escape (a drive through Rajasthan for 6 days through Bikaner- Jaisalmer- Jodhpur- Pushkar- Delhi) & Wild Escape (4 day drive to various wildlife sanctuaries like Pench- Kanha- Tadoba) will continue to run. These multi-day escapes celebrate incredible India and the sub-continent by traversing exotic and unexplored locations, helping bring the concept of an 'Adventure Driving Experience' to a larger audience.
Mahindra Challenges like the Club Challenge – the celebrated 2-day championship for Off-Road Clubs across the country & Monsoon Challenge, a 3-day TSD (Time Speed Distance) rally are also planned, in keeping with Mahindra Adventure's promise of providing adrenalin pumping challenges.
Mahindra Adventure will continue to promote the tough and rugged DNA of Mahindra vehicles through off-road training provided at the Mahindra Adventure Off-Road Training Academy at Igatpuri. Batches will be held every month to share knowledge on the basics of off-roading and also provide a hands on experience to off-road enthusiasts with advanced technical skills.
Speaking on the occasion, Mr. Vivek Nayer, Chief Marketing Officer, Automotive Division, Mahindra & Mahindra Ltd. said, "After the successful run of Mahindra Adventure Season 5, we are all geared up to unleash a series of Adventure initiatives throughout the year that promise greater thrills for the urban adrenaline seekers. With two new exciting multiday expeditions being added to this year's calendar, we are now expanding further into unchartered territory, covering all parts of the country and beyond."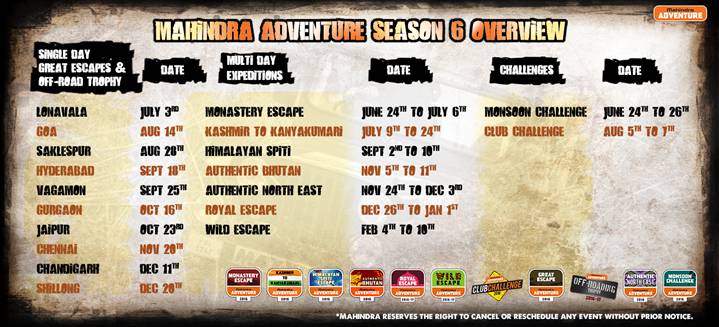 About the Mahindra Adventure Initiative
A unique concept to showcase the off-roading capabilities of Mahindra vehicles, Mahindra Adventure functions as an umbrella brand with a series of adventure and motor sports events organised under its banner.
The Mahindra Adventure calendar comprises a series of events throughout the year such as the popular off-roading event, the Great Escape, several Challenges (sporting events in keeping with the company's promise of providing adrenaline pumping challenges), Multi-Day Escapes like Monastery Escape (Delhi -Manali – Jispa – Sarchu – Leh – Srinagar for 10 day), Royal Escape (Rajasthan drive for 6 days), Wild Escape (4 days drive to various Wild Life sanctuaries), Authentic North East (10 days) & Spiti Escape (7 days).
Mahindra Adventure also enters official teams in some of India's most popular motorsports events.
To spread the DNA of off-roading, the Mahindra Adventure team continues to hold off-road courses at the Mahindra Off- Road Training Academy, India's first and only dedicated off-road training centre. Located in the hills around Igatpuri, Maharashtra, the off-road training academy provides an off-roader's dream landscape of close to 30-acres.
For more information please visit www.mahindraadventure.com