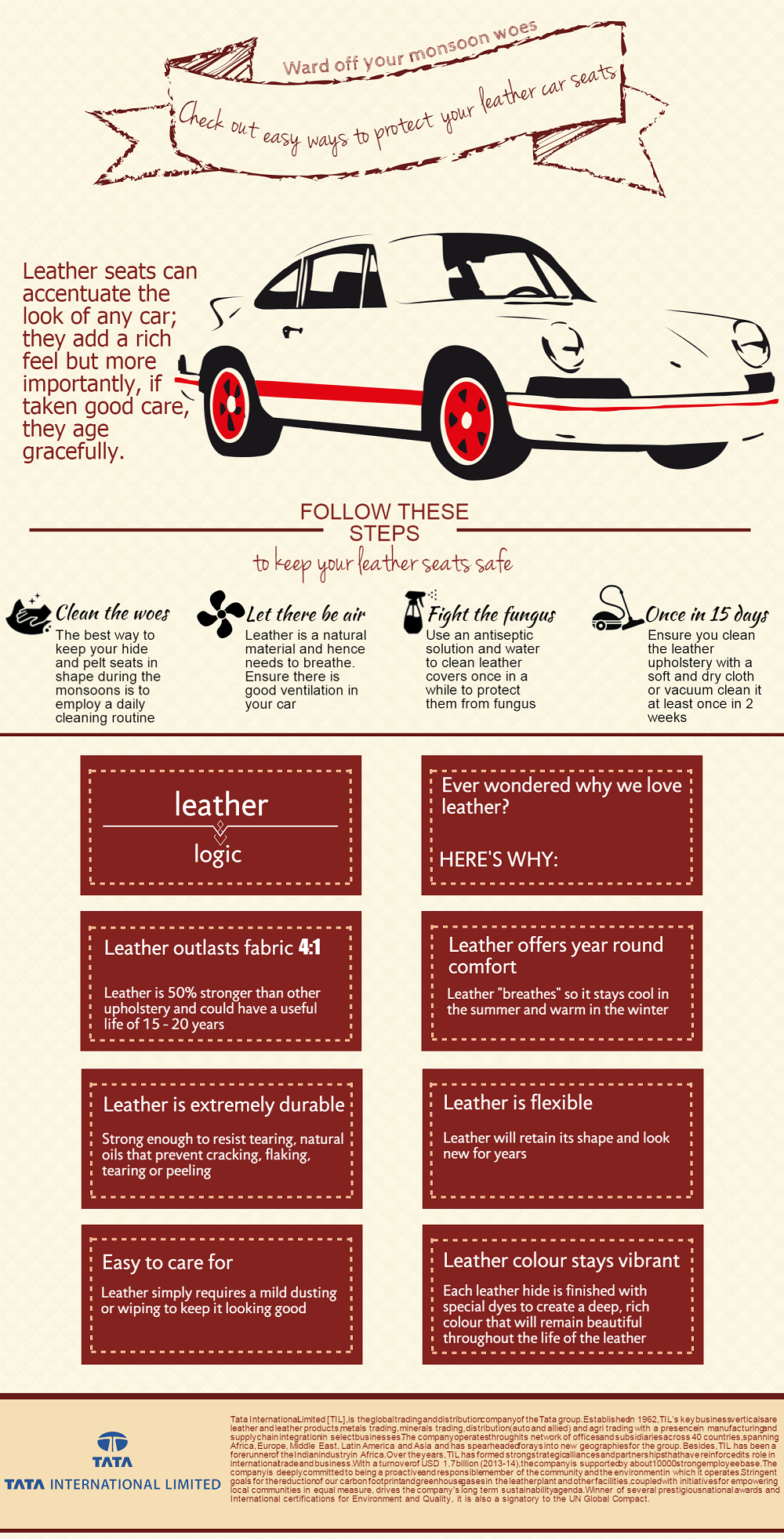 Once every few years a car owner is faced with this question: What should the car seats wear—fabric, leather or something else? Leather has the look, touch and feel that can far surpass fabric be it synthetic substitute,. Leather seats add class to a car—they enhance the look, imbuing the vehicle with a rich, cozy feel. But most important, if well cared for, leather ages gracefully, as well.
Leather as an option wins outright—for good reasons:
Leather outlasts fabric by at least 10 years
Leather is very durable
Leather offers comfort through the year
Leather is easy to care for
Leather is fashionable and spells class
Choosing leather over fabric is leather logic! If you are a discerning car owner who follows leather logic, Tata International will guide you on how to revel in the richness of leather.
Tata International is a pioneer of the Indian leather industry, and a leading exporter of finished leather and leather products known for consistent quality and craftsmanship, offerings tailor-made for clients with specific requirements and end products. Tata International understands concerns about the premature ageing of leather seats during volatile temperatures of various seasons and the moist, musty monsoons.
A few simple steps will keep your seats as good as new… for years.
Spray – Spray antiseptic, diluted in water, on your seats each month to keep away fungus
Wipe – Wipe your seats regularly with a clean, soft piece of cloth so that the seats retain their sheen
Breathe – Keep your car ventilated, the leather needs to breathe. Leather is a natural material that needs to breathe to stay young and fresh. Sure, it ages with time. But help it to age gracefully
Repeat – Ensure repetition of these steps regularly and consider vacuuming the upholstery occasionally
About Tata International
Tata International Limited [TIL], is the global trading and distribution company of the Tata group. Established in 1962, TIL's key business verticals are metals trading, distribution (auto and allied), leather and leather products, minerals trading and agri trading with a presence in manufacturing and supply chain integration in select businesses. The company operates through its network of offices and subsidiaries across 39 countries, spanning Africa, Europe, Middle East, Latin America and Asia and has spearheaded forays into new geographies for the group. Besides, TIL has been a forerunner of the Indian industry in Africa.
TIL has a  joint venture with GST Auto Leather, a global producer of leather products with expertise in research, development, and manufacture and sale of automotive and performance leather. TIL manufactures automotive leather at its facilities in Dewas and both partner companies leverage their technical and marketing strengths to deliver world-class products to global customers.
With a turnover of USD 2.2 billion (2014-15), the company is supported by about 10000 strong employee base across 39 countries.
The company is deeply committed to being a proactive and responsible member of the community and the environment in which it operates. Winner of several prestigious national awards and International certifications for Environment and Quality, it is also a signatory to the UN Global Compact.