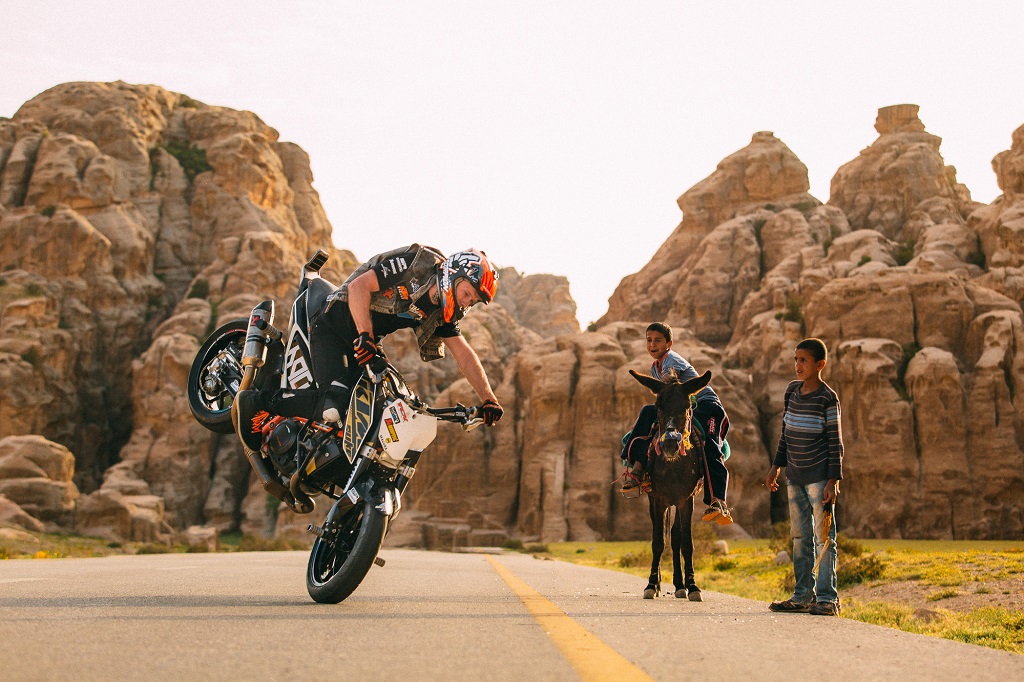 Rok Bagoroš is the first stunt rider in the world to perform his tricks 432 meters below sea level – and the first to leave  his tyre tracks in the ancient and majestic city of Petra.
If you're wondering what Rok Bagoroš and David 'DC' Coulthard were doing together in Jordan, read on. If you don't have a clue what Indiana Jones, Matt Damon, Lawrence of Arabia and one of the best stunt riders in the world have in common, read on. If you can't imagine what does it take to perform 432 meters below sea level, definitely read on.
So what sort of fatal attraction brought Rok Bagoros to Petra … besides his name? Read and Ro(c)k on!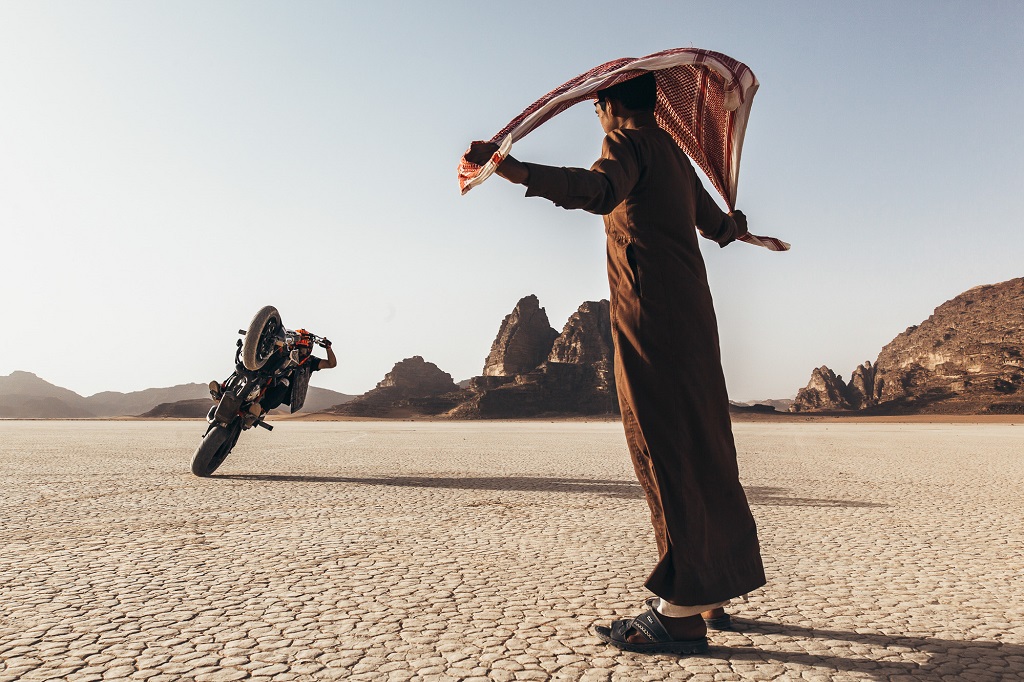 Who is Rok Bagoroš?
Some would say he is a stunt rider; KTM's official stunt rider to be more precise. Some would say he's  an artist. And some would describe him as a motivational speaker and a role model. Rok Bagoroš would recognize himself in all these descriptions. His success comes from  stubbornness,  desire, clear vision, rare talent and endless hours of hard work. 'Dream big, and never give up'  is the motto of the Slovenian stunt & freestyle rider  who has recently returned from an adventure which touched him like no other.
A spark became a fire when a 15-year-old was surfing on the Internet and spotted Chris Pfeiffer, the best stunt rider of all time. He  knew there and then what he wanted from life. He bought himself a scooter, overhauled it and started to ride in front of his school. First on the rear wheel, shortly after that on the front wheel and then …  straight to the Principal's office for a little educational chat.
Rok has always had a very personal and quite complicated relationship  with his bikes. Neither of them has respected the other's boundaries.  Rok performed his first wheelies in a neighbourhood parking lot,  but  by  2010 he has was performing all over Europe and had achieved his first victory in Bordeaux. Soon after that, while performing in Germany, he was discovered by KTM. A few weeks later he signed his first big contract and became a professional stunt rider; at the age of  21. Rok is also known to the general public for his breath-taking videos which attract millions of views on You Tube, his brand of clothing and his helmet and motorcycle designs.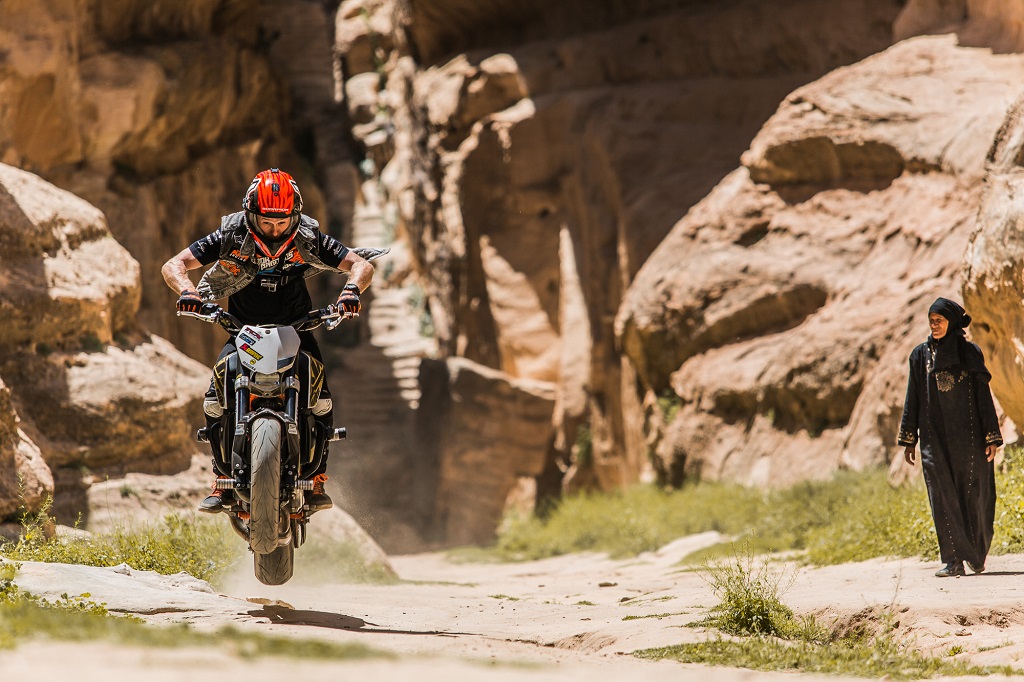 Back to Jordan
The bigger the goal, the fewer  the shortcuts. Almost 90 e-mails were needed to convince the Jordanian  authorities to allow Rok's stunt motorcycle, a KTM Duke 690 specially adapted for stunt riding, to enter  the country.
The Kingdom of Jordan was the fifth and final country after Germany, the Netherlands, Turkey and Israel to be visited by the KTM's athlete on his last tour. His stop in Jordan was part of Red Bull's  F1 Showrun, a global campaign designed to present the ultimate race car to  F1 fans in countries that don't have a Grand Prix. It reaches an audience that otherwise would have no access to these fabulous machines. Before landing in Oman and than in Jordan, the Showrun Team had driven through cobbled city streets in Europe and across baking deserts in the Americas. As part of its World Tour the car has conquered the highest road in the Himalayas, skated on frozen rivers in Canada and drifted across golden Caribbean beaches.
The drivers who took this beast of a car out into the streets and highways of the Middle East  were Pierre Gasly and David Coulthard. Slovenian Rok Bagoroš added his daring tricks and contagiuos charisma to the show in Amman and on the shores of the Dead Sea while the spectacular Jordanian Royal Falcons dominated the skies. 
A Few Minutes Magic (Worth All The Sacrifices)
"Behind-the-scenes is a story in its own right," says Deadline Bagoroš. "The longest and most exhausting story. An enourmous amount of paperwork is needed to put on  the kind of show that we gave In Jordan . There's my garage:  RokON. My mechanic Denis to fix my Duke – almost wrecked during my latest show. And me, at the computer, sending mail after mail. If you  enter a country with more than just the Lonely Planet and a pair of boxers things get complicated –  and you need a myriad of licenses. When the engine is ready the shipment is made and we'll get it into the next country with the help of KTM. Only then can I sit on an airplane! As a professional freestyle rider I experience moments of truly magical happiness and satisfaction when the crowd goes crazy. But these are fleeting moments compared to the hours of reality: bruises, sprains, fatigue and bureaucratic obstacles. Nevertheless, I'm convinced that the special moments are absolutely worth the effort. This is what makes life  exceptional. If it means years and years of practicing a certain trick, I'll do just that. " explains Rok Bagoros, a role model to youngsters for his thinking, his perseverance, his entrepreneurship, his creativity and his work: the promotion of sport – and big dreams.
Treasure Hunt
Jordan's ethereal beauty and its famous hospitality have long attarcted film makers.  Recently  the desert sands of Wadi Rum hosted Ridley Scott and his team. During the shooting of The Martian the great Matt Damon experienced how it feels to be the only person on the planet. Rok stepped into the Martian's boots and explored the wadi with his Duke, making his final pit stop in Petra where the spirits of Nabateans and Indiana Jones live on.
"It's hard to describe the  feelings I've experienced  driving through the places where the Nabateans once lived. Their flute music was  playing constantly in my head, giving me the shivers. I felt welcomed when rushing through the High Valle  and the Duke showed his offroad pedigree despite being designed  for the  street. In future I'll  spend even more time in the Middle East.  I was surprised by the huge number of petrol-heads who were as enthusiastic about my bike as the roar of the F1car  and the two guys behind the steeering wheel. I met David Coulthard a few years ago through the project,  'Wings for Life', which will take place on Sunday, 8th May. It's  really cool to see him again." said Rok, summing up described his own Jordanian treasure hunt.
The master of two wheels is currently in Slovenia, shooting his biggest freestyle project so far. But soon he'll wake up in a hotel room in a foreign  city. He'll  know that he's  there  for a show –  but he'll still need some time to figure out in which part of the globe his alarm clock is ringing.