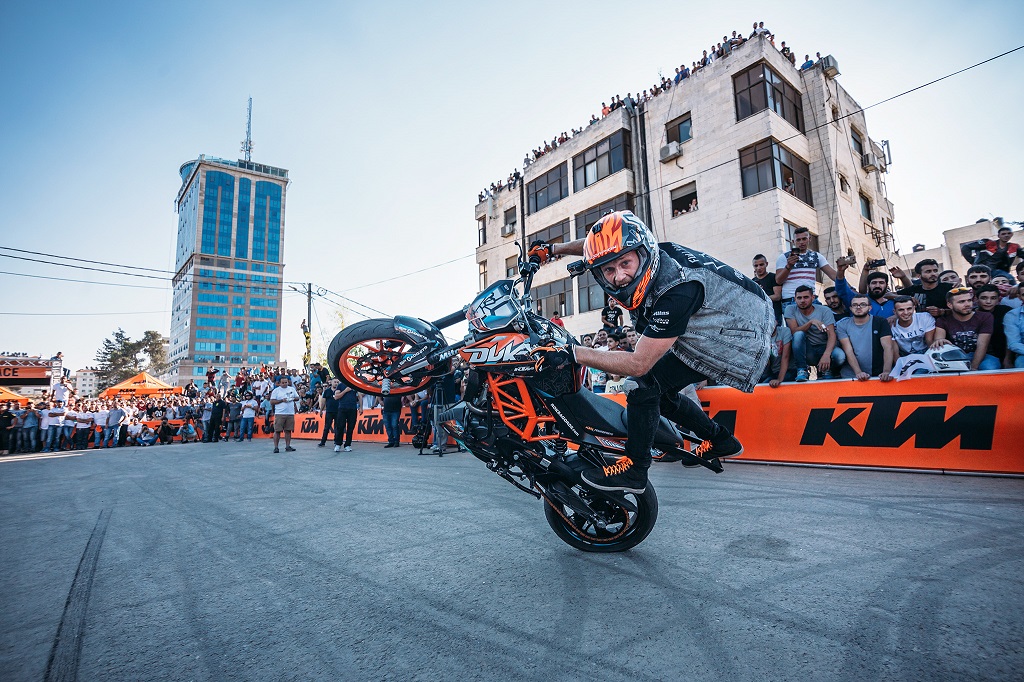 KTM Duke Stunt Rider Rok Bagoros Performed in Palestine

Peace & Love & RokON!
Rok Bagoros is the first motorsport athlete in the world to perform his tricks in Palestine, the first one to leave his tyre tracks in Bethlehem and the first one to unite the Palestinian and Israeli 2-wheel aficionados. The moral of the story? Sport knows no boundaries – sport is love!
In the predominantly Muslim Town of Ramallah in the West Bank of Palestine, Rok Bagoros had the time (and show) of his life – he performed before six thousand fans and pumped up the volume of the city with 300 Palestinian riders by his side.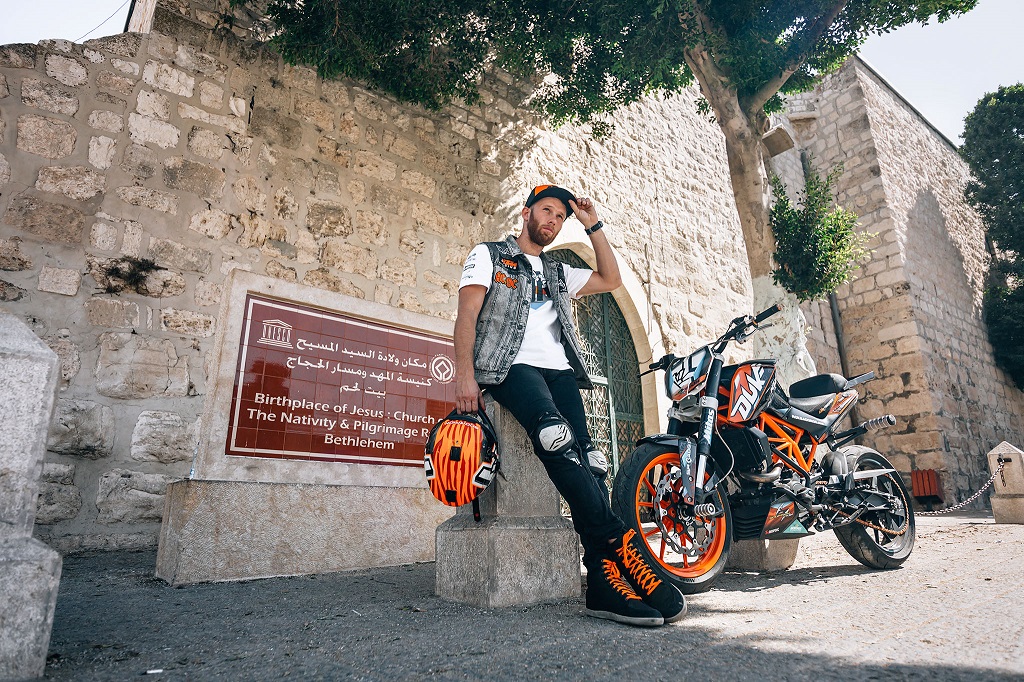 When Rok Bagoros visited Israel this May and performed his spectacular RokON show, his Palestinian followers left messages of intolerance on his social networks. It was not an easy time for Rok, but fortunately, the KTM motorbike manufacturer decided to expand his production to the Palestinian area. The disappointment experienced by Palestinian motorsport aficionados in May turned into joyous racing brought to Palestine by the Slovenian Rok Bagoros.
300
"When I go performing abroad, I usually know what to expect, but I hadn't got the faintest idea what to expect in Palestine. I didn't see one single rider on the road from the Tel Aviv airport to Ramallah! The following day, a severe traffic jam was blocking the road leading to the venue, from which the caravan of riders was supposed to start off after Ramallah. I've already reconciled myself to the fact that there won't be more than 30 riders. Suddenly, however, they began appearing from all directions and riding between cars. At the end, about 300 riders generated tremendous excitement all over Ramallah – as if we were trying to tell the world we don't care for political disputes and we believe in a better tomorrow!
Sport, Music and Everything That Connect
When the show started, people climbed to the top of neighbouring buildings and street lamps to get a better view. It was like being in a beehive. The spectators handed their babies into my arms and photographed me with them. The DJ mixed my music with their traditional one – and the crowd went mad! The Palestinians' hateful comments on my photos after my performance in May in Israel really affected me, but this is over now. Healthy competition is one thing, but hatred is completely different. I'm glad that the former triumphed," said the 27-year-old rider from Radenci.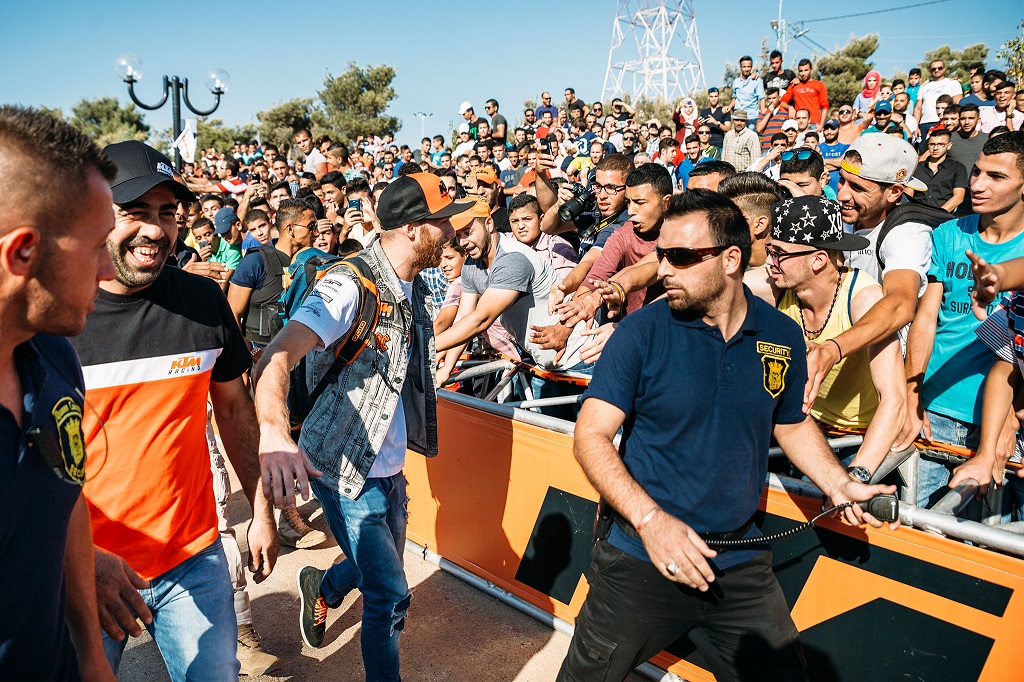 To Bethlehem, Jericho and Jerusalem
Tired after the day's adventures (as many as ten security guards watched over him), Rok collapsed into the hotel bed. The following day, however, he took his stunt bike KTM Duke 690 out to visit Bethlehem, the birthplace of a wise man, reformer and saviour, Jesus Christ. Next, Rok visited Jericho, the world's lowest lying city, and the Israeli part of Jerusalem, where he realised that the show has "crossed the border" as people stopped him on the streets. "I felt like I was literally driving on the history of humankind. I love the cracked earth, the stones and the thousand-year-old olive trees, which give you new strength. There's really something special about these places."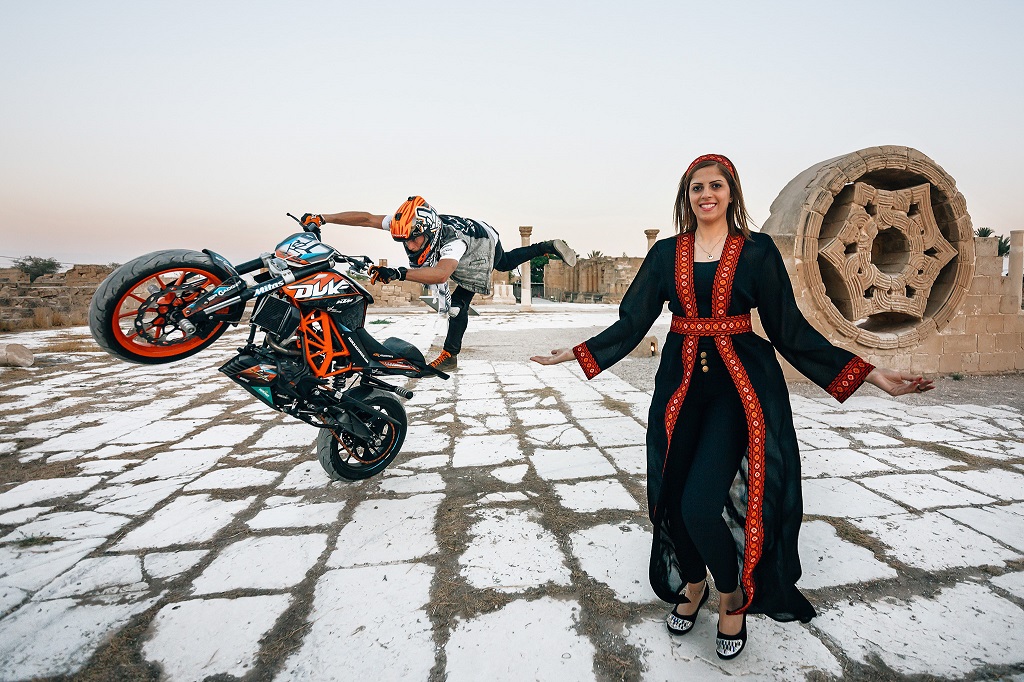 The Show Will Rock On
Rok Bagoros does not only perform at significant events abroad as a guest, but he also has his own show and other related events. Even though he has had his five minutes of fame, he is already thinking about new projects while keeping his feet firmly on the ground. His visit to Palestine left him with wonderful feelings; he made new connections and got the opportunity to eat his favourite food – hummus. His greatest wish for the next motor rally in Palestine is to see a female rider there. That would be a step forward…