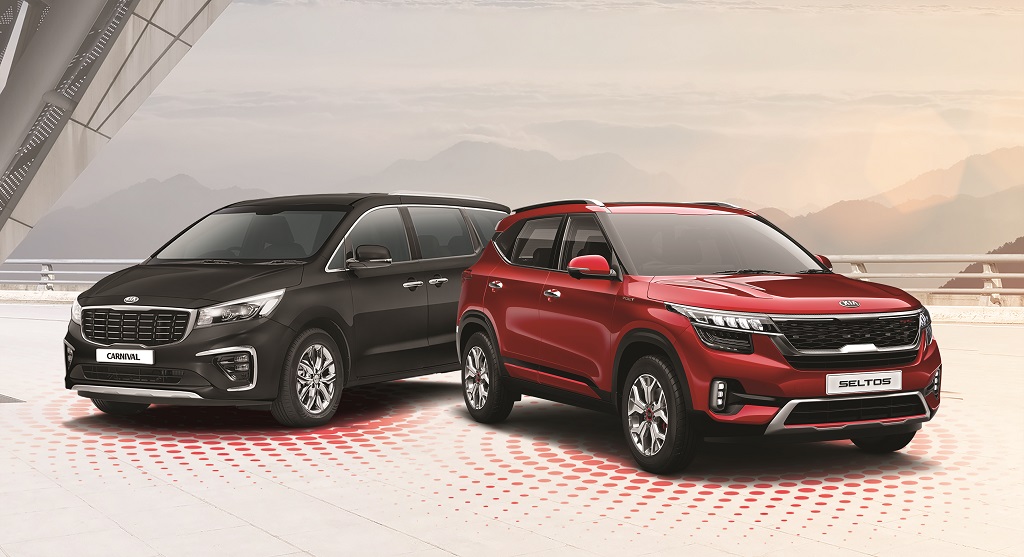 The company records74% Y-o-Y growth with 10,845 unit sales in the month of August, 2020
Consolidates its position amongst the top 5 car manufacturer in the country
Kia Motors India has resumed its second shift at its manufacturing facility to cater to the soon to be launched Kia Sonet and fulfil the steady increase in demand for Seltos, Carnival.
New Delhi, September01, 2020: Kia Motors India, a wholly owned subsidiary of Kia Motors Corporation, registered sales of 10,845 units in the month of August 2020. Owing to the recovery of demand in the domestic market since resuming operations after the lockdown, Kia Motors India has been able to consolidate its position as one of the top 5 car manufacturers in the country. Setting one more milestone in its India journey, the company also marked 1 Lakh unit sales of Seltos in less than a year's time. Seltos achieved 10,655 units of sales in August 2020, establishing itself as one of the bestselling SUVs in India.
Kia Motors began its sales in India in August 2019 with its debut product, the Seltos. With steady increase in demand, Kia Motors India has registered74%surgein Y-o-Y sales as compared to 6236units last year. Within just 1 year of commencement of sales in India, Kia motors have acquired almost6% market share in the passenger vehicle segment with only two products – Seltos and Carnival in the market. Besides, Kia has been a trendsetter for the future technology with over 50,000 active connected cars on the roads, the only brand in India to achieve this milestone.
Commenting on the first-year sales achievement, Mr. Kookhyun Shim, Managing Director & Chief Executive Officer, Kia Motors India said "The Indian consumers has been very welcoming towards Kia Motors as we became the fastest automaker in India to reach over 1 lakh sales in just 1 year. This milestone is a great success as well as a testament of consumer's trust on the brand and products. This instils more confidence in us and brings in motivation to build a robust product pipeline, which addresses the changing needs of Indian consumers."
"Inspired with the success of Seltos; we are proud to present our third product for India – Sonet which is not only locally manufactured but exclusively manufactured in India too. Sonet is specially designed for the Indian consumers who are young at heart and are risk-takers, trendsetters, and highly connected individuals. With 30+ segment-best features and Kia's renowned design language, quality and reliability, we are confident of recreating history with Sonet which is slated to be launched on the 18th of this month. Also, we are initiating our plan to establish India as an export hub with Sonet, catering to 70+ countries from our state-of-the-art Anantapur manufacturing unit",he further added.
Kia Motors India is all set to revolutionize the automobile industry with the launch of its third offering in the Indian market, the Kia Sonet. The made-in-India for the world Kia Sonet has already set new records in the category with 6,523 bookings on the first day. Offered first to Indian customers, the Sonet is being produced only at the state-of-the–art manufacturing unit at Anantapur. The company has already resumed the second shift at its plant to smoothly cater to the increasing demand of the Kia cars in the Indian market.EstablishingIndia as an export base for over 70 markets including the Middle East and Africa, Latin America and Asia, Kia is preparing for a strong response for the Sonet across markets.
About Kia Motors India (KMI)
In April 2017, Kia Motors signed a memorandum of understanding (MOU) with the State Government of Andhra Pradesh, India, to build a new manufacturing facility in Anantapur District and completed and commenced the mass production in August 2019. The manufacturing facility has an annual production capacity of approximately 300,000 units. Kia Motors India has launched two vehicles for Indian market – The Seltos and The Carnival and has made a mark in India with product and service quality and reliability. The Seltos, establishing itself as a trusted product by brand Kia, has crossed 100,000 sales milestone in just one year of its sales period. Kia Motors is globally known to make quality vehicles which address the gaps in the automotive market and Seltos too have won many accolades in India. Tasting initial success, third product of Kia Motors India the Sonet has secured 6523 bookings on the first day of commencement of pre-bookings. In April 2020, Kia's two global products Telluride and Soul EV have bagged world's most prestigious automotive awards – The World Car of the Year and The Urban Car of the Year respectively at the WCOTY 2020. Kia Motors India has the widespread network of 265 customer touchpoints, in 160 cities across Tier 1, 2 and 3 cities in India.
For more information about Kia Motors India, please visit www.kia.com/in 
About Kia Motors Corporation
Kia Motors (www.kia.com) is a maker of world-class quality vehicles for the young-at-heart. Founded in 1944, Kia today sells around 3 million vehicles a year in over 190 countries, with 52,000 employees worldwide, annual revenues of over KRW 58 trillion (about US$50 billion) and manufacturing facilities in six countries. Kia is spearheading the transition to electric vehicles and pursuing mobility services to help tackle urban challenges around the world. The company's brand slogan – "The Power to Surprise" – represents Kia's global commitment to surprise the world with exciting, inspiring experiences that go beyond expectations. 
For more information, please visit the Kia Motors Global Media Center at www.kianewscenter.com