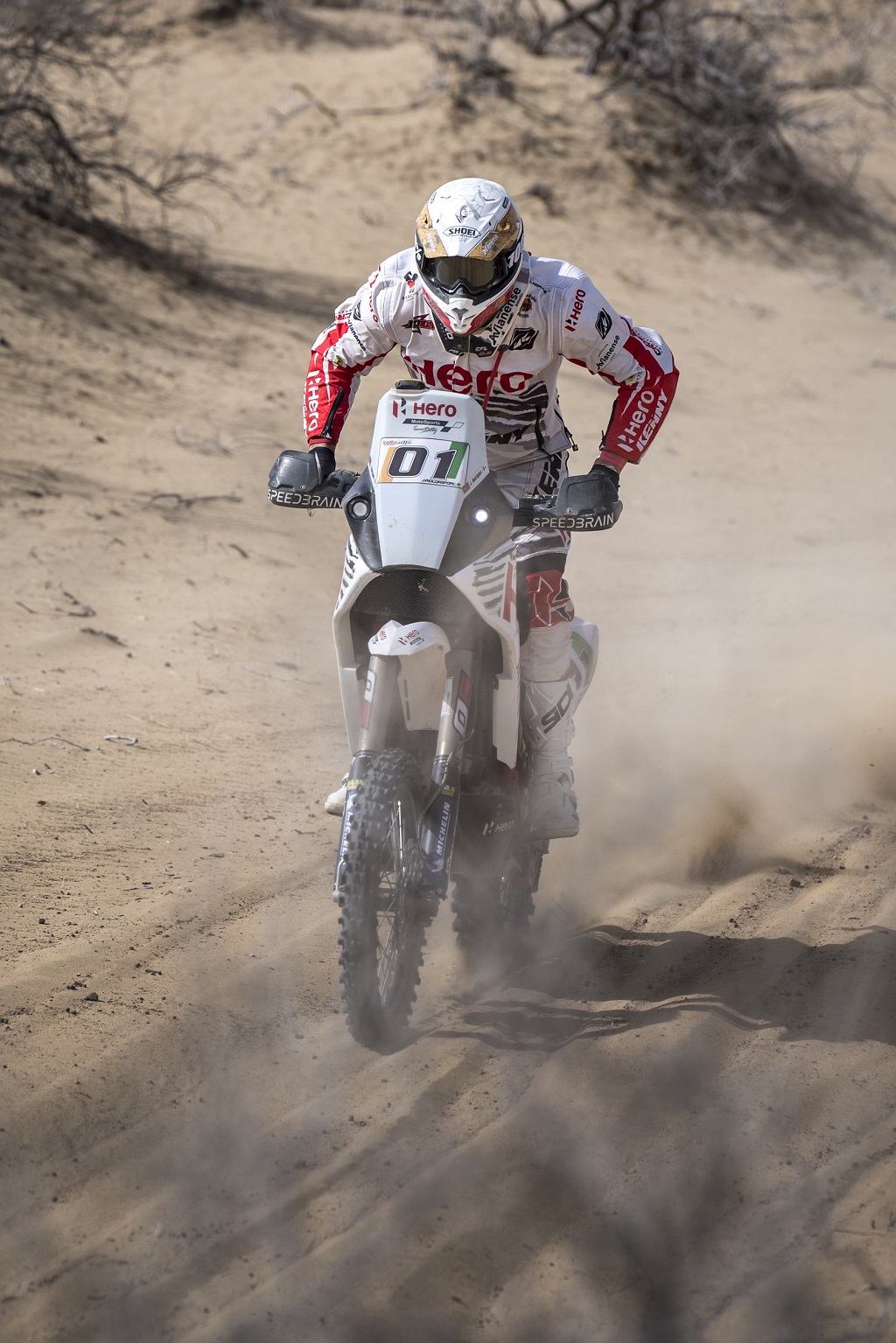 Brings Home The First Victory For Hero Motosports Team Rally
Jaisalmer, India, April 9, 2017 – Participating in his first rally on Indian soil, Hero MotoSports Team Rally's Joaquim Rodrigues today won the India BAJA 2017. JRod – as he is popularly called – blazed through the second leg of the India BAJA rally to finish in first place in the overall general classifications. This is also the first win for Hero MotoSports Team Rally, since its inception last year.
The win for JRod and Hero MotoSports Team Rally comes at an appropriate time, as the Team celebrates the completion of its first year in rally racing since its formation in April 2016.
Following a great debut performance at the Dakar Rally earlier this year, the Team has achieved back to back podium finish with the win at India BAJA, the first being the Desert Storm 2017 in February. With this win, the Team has built up great momentum leading into the Merzouga Rally, in Morocco in May, just under a month from now.
The final leg of the Rally today, comprised of a shorter run of about 286 kms, out of which 140 kms made up the timed sections. The two special sections of the day ran for 88 and 52 kms respectively, around the famous "Turkon ki Basti" in San region of Jaisalmer, that offers a fast yet difficult track to the riders with undulating terrain, habitation, and thick bushes all along.
JRod made light of the opening stage of the day to complete the 88-km fifth special in quick time. He followed it up by continuing his winning run in the final stage as well, to bring home his first win.
Joaquim Rodrigues (Comp No: 01), said "Today was a perfect day for me with no mistakes. I opened the stage, so there was no dust and that helped me run my own race. I'm very happy with this victory. I have to thank my team, Hero MotoSports Team Rally, for giving me the best bike and provide great support. I am happy for me and my team, and now look forward to Merzouga."
On his first win in the rally circuit, Rodrigues said "It is always nice to win especially because I am new in this rally world. So it's good to have my first win but I still have a lot to learn and we are on the right track."
Wolfgang Fischer, Team manager, HeroMotoSports Team Rally, said "It was a great experience to participate at the India BAJA. And we are thrilled to bring home the first victory for Hero MotoSports Team Rally. Hopefully, this will be a big step forward for us and the future of Indian motorsports. We would like to thank the organizers for putting up a great race and also for the cooperation extended to us. We also congratulate Tanveer for winning the Dakar Challenge and hopefully, we will see many more riders coming out of India in the future"
Provisional General Classifications
1st Position      Joaquim Rodrigues           Hero MotoSports Team Rally            
2nd Position      Arvind K P                         Sherco TVS
3rd Position      Tanveer Abdul Wahid      TVS Racing