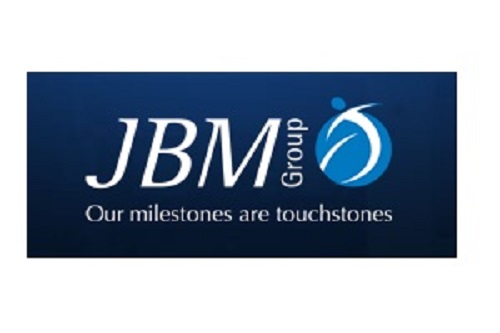 Profit Before Tax up 23.95%, Sales up by 6.27%
Gurugram, September 4, 2017: JBM Auto Ltd, India's leading automotive company (BSE: 532605 & NSE Code: JBMA),today announced its Consolidated results for the quarter ended 30th June 2017 and have shown total 9.09% decrease in net profit to Rs. 16.30 crore in Q1 FY'18 as compared to Rs. 17.93  crore in the same period last year. Sales stood at Rs. 430.62 crore against Rs. 405.21 crore a year ago,
The company recorded a profit before tax of Rs 27.99 crore in Q1 FY'18 as compared to Rs. 22.58 crore in the same quarter last year, an increase of 23.95%. EBIDTA increased by 16.74% at Rs. 51.05 crore compared to Rs. 43.73 Cr crore in the corresponding period last year. Earnings per share (EPS) for Q1FY' 18 stood at Rs. 4, compared to Rs. 4.40 in Q1 FY'17,
Particulars
Quarter ended
30.06.2017
30.06.2016
Gross Sales (including other operating income)
430.62 cr
405.21 cr
EBIDTA (excluding JV's share)
51.05 cr
43.73 cr
Profit Before Tax (PBT)
27.99 cr
22.58 Cr
PAT (excluding Exceptional Item)
16.30 Cr
10.31 Cr
Profit After Tax (PAT)
16.30 cr
17.93 Cr
Earnings Per Share (in Rs.)
4.00
4.40
About JBM Auto:
JBM Auto Ltd. is the flagship company of the USD1.35 billion JBM Group. The company is the leading manufacturer of auto components and buses in the country. The company's manufacturing facilities are strategically located in close proximity of leading automobile hubs of India at Faridabad, Greater Noida, Nasik, Chennai, Sanand, Pune and Indore. Its products are widely used in two‐wheelers, cars, tractors and trucks and many other sectors in India and overseas.
 About JBM Group:
 JBM Group is a US $1.35 billion conglomerate having a diversified portfolio in the field of auto components, bus manufacturing, engineering & design services and renewable energy. It has an infrastructure of 40 manufacturing plants and 4 engineering & design centres across 18 locations globally. JBM's focus on quality-delivery, frugal engineering, low time-to-market and art-to-part philosophy has provided the group an indomitable position in the automotive industry.