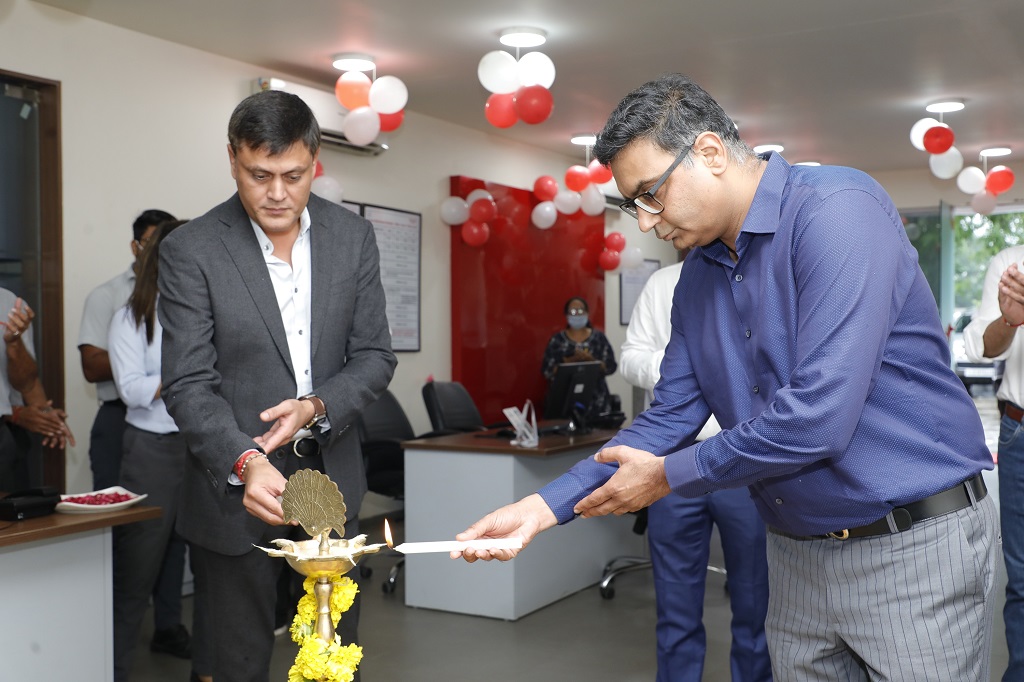 Selected ISUZU dealers will partner with TASL to provide exclusive facilities for multi-brand service by "MyTVS"
Torque ISUZU, Ahmedabad will be the first dealership to offer such a facility
12 August 2020,  New Delhi: Japanese Vehicle manufacturer, Isuzu Motors India and TVS Automobile Solutions (TASL), a leader in providing automotive aftermarket solutions inaugurated a 'multi-brand' "MyTVS" facility at Torque Isuzu here in Ahmedabad. This facility will deliver multi-brand services under the brand – "MyTVS".
As an industry first, under this partnership programme, ISUZU dealer partners who have additional capacity can opt to become franchisees of "MyTVS" providing dedicated and shared services within their existing Isuzu service premises itself. The facility of "MyTVS" while within the ISUZU workshop premises will have dedicated facilities for other brands. The predominant part of the workshop will, however, continue to operate as an exclusive ISUZU facility. Some services will be shared. This will bring about efficiencies and ensure better viability for the dealer while providing more reach for "MyTVS".
The "MyTVS" facility will offer services such as general service and body/accidental repairs for multi-brand motor vehicles other than ISUZU vehicles. It aims to provide quality services to customers like quick service, speed wash as well as cashless insurance at reasonable costs. The identified manpower is trained with special focus on skill inventory, gap analysis and aggregate repairs for the multi-brand service.
Commenting on the occasion, Mr. Ken Takashima – Deputy Managing Director, Isuzu Motors India, said, "We are constantly working on making our facilities increasingly viable. This unique partnership will enhance the dealer's ability to offer dedicated services to ISUZU customers as well as connect with customers of other brands. We are delighted to collaborate with TVS Automobile Solutions to offer multi-brand services in India. Being an experienced and leading player in the industry, "MyTVS" will offer exceptional services to their customers".
Says Mr G. Srinivasa Raghavan, Managing Director, TVS Automobile Solutions Pvt. Ltd., "It is a decisive strategic deal that has the potential to disrupt the way the Indian automobile industry functions. The fact that brick and mortar dealership/service centre are capital intensive, this co-existence model will ease that burden. We see this partnership as a catalyst to thrive on each other's strengths and customers will be the ultimate beneficiaries. For MyTVS a partner like Isuzu will further strengthen our service portfolio range and help us penetrate in the Western part of the country."
Mr. Kuren Amin, Managing Director, Torque Commercial Vehicles, Ahmedabad, said, "We are extremely thankful to Isuzu Motors and TVS Automobile Solutions for reposing faith in us through this partnership. We are confident that with this partnership we will continue to deliver on both ISUZU and other brand's customer's expectations and provide the right service at all times".
About Isuzu Motors India Pvt. Ltd.
Isuzu Motors India Private Limited (IMI), a subsidiary of Isuzu Motors Limited, Japan, was established in August 2012. Headquartered in Chennai, the company sells the popular ISUZU D-MAX V-Cross – India's First Lifestyle and Adventure Pick-up and the ISUZU mu-X, premium 7-seater SUV in the personal vehicle segment and variants of ISUZU D-MAX pick-ups – S-CAB and Regular Cab, for the commercial segment. ISUZU vehicles are known for their reliability and performance around the world. Renowned the world-over, ISUZU vehicles are gaining huge significance in the Indian market as well, thanks to the 'value proposition' it offers the customers.
Isuzu Motors India manufactures these products at its new manufacturing plant in Sri City, spread over an area of 107 acres in the state of Andhra Pradesh. The company began its manufacturing operations in April 2016, with strong focus on quality and commitment to Indian market. An ISO 9001:2015 certified company, Isuzu Motors India is committed to providing products and services of the highest level of quality to ensure customer delight.
The company has dedicated dealer touch-points, conveniently located in 49 locations across the country. The company also operates a Lifestyle Brand Showroom with a Café at Nariman Point, Mumbai. For more information on the company, and its products/services. www.isuzu.in
About TVS Automobile Solutions
MyTVS, India's largest integrated multi-brand car service provider, is a division of TVS Automobile Solutions Private Limited. The passenger car service business was started in the year 2004 as a business division of TVS & Sons and was later hived off as a separate company – TVS Automobile Solutions – in 2011.
MyTVS has successfully redefined the unorganized passenger car service sector, with more than 600 service facilities including company-owned as well as affiliated partner garages across Tamil Nadu, Kerala, Karnataka, Andhra Pradesh, Telangana, Delhi and Maharashtra.
MyTVS offers Mechanical and Accident Repair Services for all brand of Cars, including @Home Service in selected cities, i.e. service at your doorstep. MyTVS ensures adherence to OEM quality standards, Spare parts sourced from original suppliers with a warranty, Technology-based transparency in the service process, Wide range of accessories and On-time Delivery at Affordable Cost.