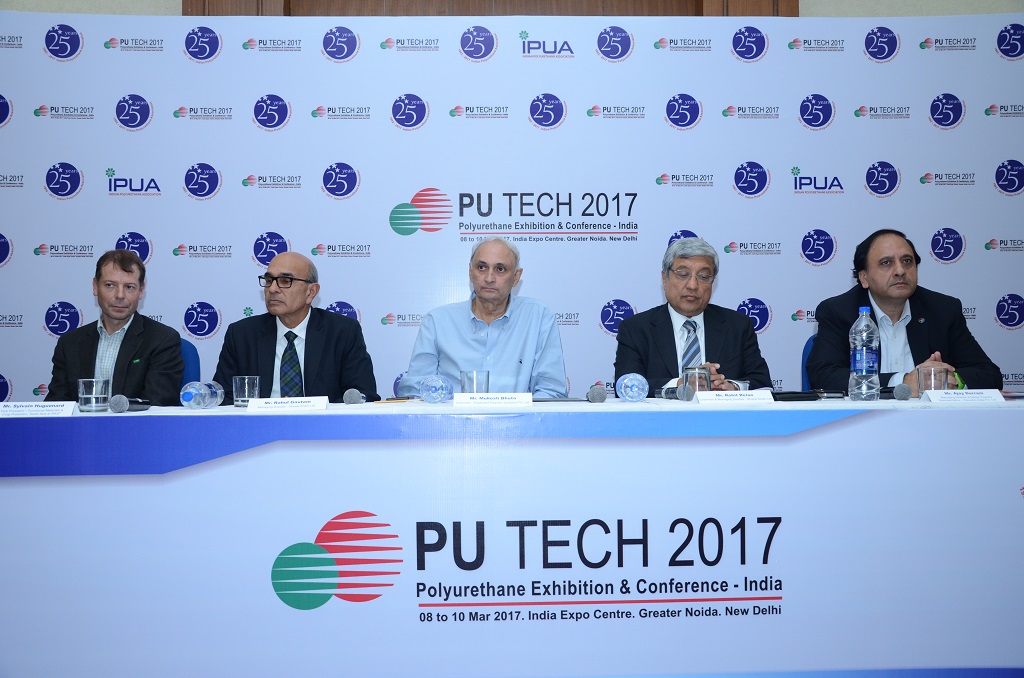 The Largest Polyurethane Event In South Asia
New Delhi,  February, 2017: The Indian Polyurethane Association (IPUA) announced the launch of the 5th edition of PU Tech'2017 Exhibition and Conference at the Press Club Of India to be held from 8th to 10th March'2017 at the India Expo Centre, Greater Noida, New Delhi.  This Mega Event brings together the entire polyurethane industry value chain together under one roof. The 3-day PU TECH Exhibition will feature over 250 exhibitors that will bring together, raw material producers, equipment suppliers, end-users and the industry at large to provide for a comprehensive growth of technology and markets.
It is hard to imagine today a world without polyurethanes.  No more than 10 feet does a person need to go to encounter some form of it, be it your shoes, automobile, mattress, refrigerator or your roof.  More and more, its importance in minimizing food waste through temperature controlled food supply chain, reduction of global warming gases emission through lightweight materials in automobile structural's and buildings insulation, high performance materials and coatings in the renewable energy mechanics, conversion from waste to wealth through wood binding – these are but a few examples of the efficacy of polyurethanes in making possible a creatively sustainable world.
"Polyurethane is a designers' polymer unparalleled by any of its kind when it comes to allowing technologists to chemically design and develop specific end products. At PUTECH 2017 our aim is to make the industry aware and increase applications using polyurethane and also make the industry technologically savvy." said Mr. Mukesh Bhuta – Chairman – Expanded Polymer Systems Pvt Ltd
PU TECH is a flagship event of the Indian Polyurethane Association which aims to precisely showcase such beacon lights of the rich landscape of polyurethane contributions to society.  This triennial event is the biggest in this part of the world, the only one which is run by an industry association and with all the global leaders fully involved in its creation and execution.  Started since 2005, PU TECH has the unique distinction of being a show of the industry and by the industry in India.
This edition is themed "Futuristic Polyurethanes'.  India is still an infant when it comes to the per capita consumption of polyurethanes.  While the life history of these materials spans 75 years, Indian industry has taken its benefits for about 40 of them.  However, the country's economic and social environment today is poised for highly positive growth with confidence to a bright and penetrative future which provides gainful employment and sustenance to an enterprising populace.  This year, all the stakeholders, both in India and abroad are on board and it promises to be the biggest and best ever.
The future is laced with uncertainties amidst golden opportunities.  Polyurethanes are the silver laces.  More and more of our buildings of the future need to be energy-conscious.  More and more of our cars need to be carrying us longer distances renewably and efficiently.  More and more of our footwear and mattresses should use either biobased or renewable raw materials.
More and more polyurethanes need to be sustainable if we have to carry our business responsibly.  The collective wisdom of the industry and influencing stakeholders can be seen and shared at PU TECH 2017, which will enable an inclusive approach to market development which is essential for a connected world.  New applications and systems are conceived best in the confluence of needs and solutions in a dynamic stream.
Moreover, this event is designed to be able to answer the curiosity of an entrepreneur or a processor or a well-established customer or even a student.  The response in participation as well as registrations for this show has already indicated that the entire extra-wide spectrum of polyurethanes is going to be present with a myriad ideas and solutions.
 This time, the IPUA is specially showcasing a slew of its initiatives:
Virtual Tech Centre. A unique initiative to bridge Research with the Industry. The association felt a need and made this bold move, which is showcased at the show.
Technical sessions to know about cutting edge technology across processes, trends and sustainability.
India Insulation Forum( IIF) and more recently launched Spray Foam Alliance of India( SFAI). These two initiatives to synergise industry and materials with a goal to cut losses across food chain and Energy in Buildings.
The industry is committed in its efforts to penetrate the public conscience with enduring solutions for a sustainable future country.  As "Make in India" gains momentum in 2017, it is a very exciting time to explore and review technologies in Processes and Materials in the wide world of Polyurethanes. A golden opportunity to meet the best minds in the industry from across the globe.
About The Indian Polyurethane Association (IPUA)
The Indian Polyurethane Association was formed in 1992. It is non-profit organisation created to promote a healthy growth of the Polyurethane Industry in India in the interests of the producers, processors, consumers and the society at large. It has been responsible for bringing together a heterogeneous group consisting of raw material manufacturers, machinery manufacturers, Processors, Moulders, laboratories etc under the banner of Indian Polyurethane Association (IPUA). The Association comprises of members of all sizes global and domestic. It  works together for the development of the industry. The main objectives of the IPUA are to increase applications using polyurethane and make the industry technologically savvy and socially relevant.