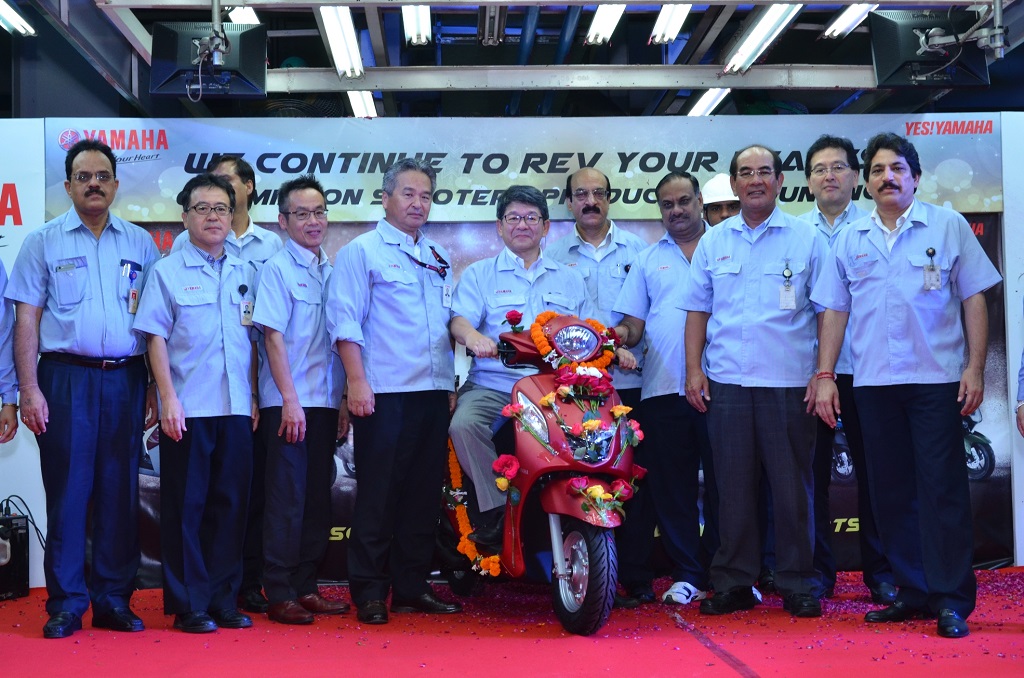 India Yamaha Motor Pvt. Ltd. (IYM) today announced a major milestone for its scooter product, having produced its one-millionth unit in India. IYM's one-millionth scooter 'Fascino' was rolled out from its Surajpur plant in Greater Noida on Friday.
The roll out of the one million scooters in India is a major milestone for IYM. This can be largely attributed to the outstanding performance of the production teams at Yamaha's Surajpur and Chennai plants. Since the first launch in Sept. 2012, Yamaha Scooters were enthusiastically accepted in the market. Out of the total demand of two wheelers in India, the scooter segment is soaring with 30% contribution to the two-wheelers sales and IYM is targeting 10% market share in scooters by the end of this year.
Commenting on this achievement, Mr. Hiroaki Fujita, Chairman, IYM, said, "This is a significant landmark for Yamaha in India. IYM has had a very successful run in the scooter segment and has been growing at a rapid pace in the past few years. The roll out of the one-millionth scooter in India is a reflection of Yamaha's increasing footprints in India in the scooter segment and we are confident that will be able to further reinforce our position in the market. Both our plants at Surajpur and Chennai have performed exceedingly well, contributing to the company's expanding customer base & business".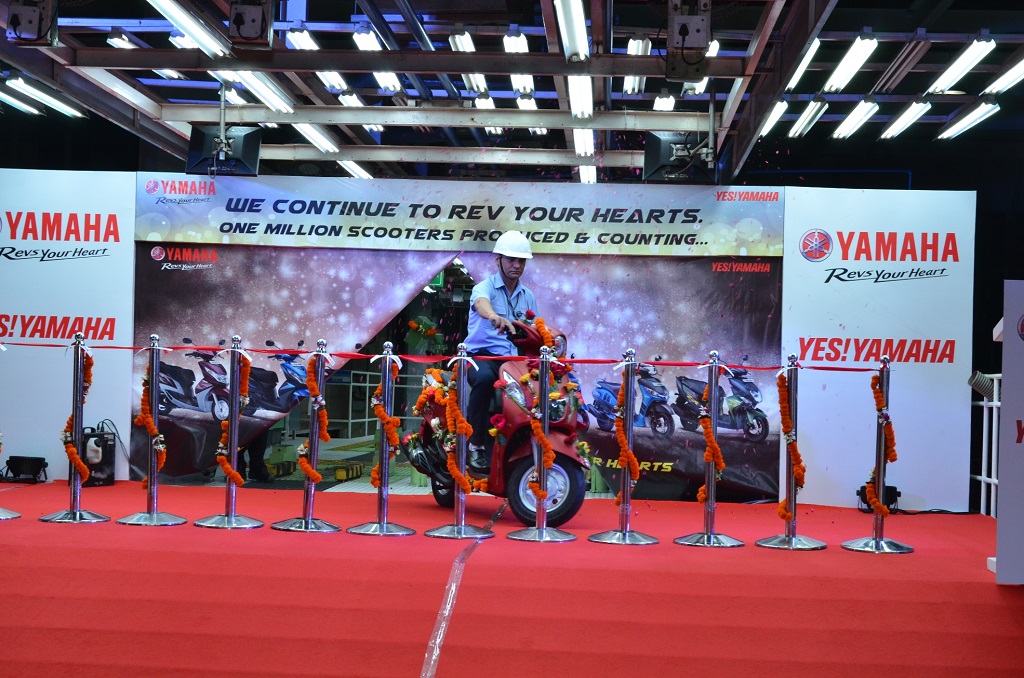 Out of the one million scooters produced, around 80,000 scooters have been exported to the global markets. The major overseas export countries for Yamaha are Nepal, Mexico, Sri Lanka followed by Cost Rica, Dominican Republic and Ecuador. Cygnus Ray Z has been the highest selling scooter in the export market. The scooter models are being exported from both the plants.
IYM entered the scooter market in India in 2012 with Cygnus Ray scooter aimed at young females. Thereafter, IYM has enhanced its Indian market scooter line-up by consistently launching products that respond to a wide variety of customer needs such as the Cygnus Ray Z targeted towards young males, the family-oriented Cygnus Alpha, the premium fashion scooter Fascino and the recently launched Cygnus Ray-ZR, developed around the concept of 'Next Generation Real Boy's scooter'. IYM currently produces Cygnus Ray Z, Cygnus Alpha, Cygnus Ray-ZR and Fascino scooter models in India.
This year, IYM's target is to produce 1 million vehicles, out of which 4.6 lakh units will be scooters. The two-wheeler market in India has been growing constantly over the last decade owing to political stability, economic prosperity and the resulting employment generation. The market reached 16 million units in 2015 and is expected to continue to grow at a decent pace going forward, led by scooter segment. IYM has seen rapid growth in sales numbers with 2016 first half sales growth at 45% over last year and scooters sales witnessing a growth of 94% vs. previous year.