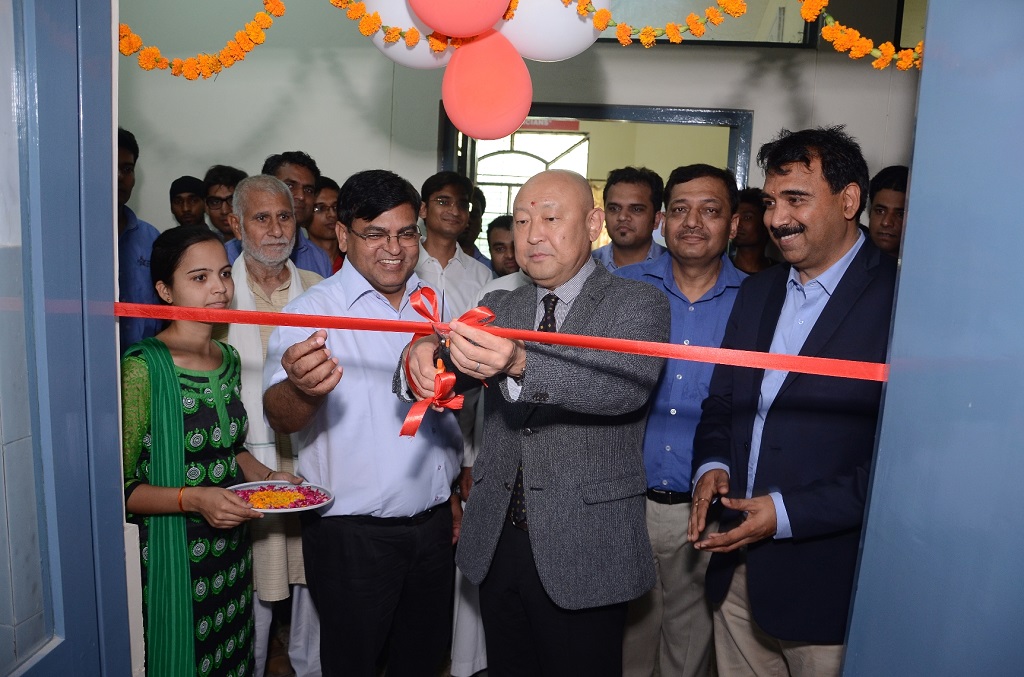 ~2ndYTS in Delhi, 6th YTS in North India and 22nd YTS in India~
~ As a part of its CSR initiative, Yamaha to impart technical training to relatively indigent youngsters
~ Yamaha to also assist in final job placements at its dealerships in the city for a secured future
India Yamaha Motor Pvt. Ltd, today marked the inauguration of its Yamaha Training School (YTS) at the premises of Don Bosco Yuva Kendra,one of the prestigioustechnical skill development institutes at Nangloi Road, Najafgarh in New Delhi. Yamaha andDon Bosco Yuva Kendra jointlyaim to create a 'Centre of Excellence' where youngsters will receive two-wheeler technical training that will enable them to become expert two-wheeler technicians. Thereafter, they could be employed gainfully at Yamaha dealerships to offer productive contributionsto the society.Technical experts from Yamaha are conducting the YTS program on behalf of India Yamaha Motor Pvt. Ltd.
Present at the event, Mr. Masaki Asano, Managing Director, Yamaha Motor India Sales Pvt. Ltd. said: "The existing skills gap in the industry can be reduced by imparting technical training to younger generations, as India is on its way to becoming an economic powerhouse. Yamaha as a brand catering to youngsters has addressed the matter with great responsibility.
United in vision & aspirations with today's young generation, Yamaha's drive of transformation enabled by training young talents and providing placement assistance will empower them to be job-ready, living up to the expectation of Yamaha being a socially responsible company."
Speaking on the occasion, Mr. Ravinder Singh, Vice President, Strategy and Planning, Yamaha Motor India Sales Pvt. Ltd. said "As an exclusive and trusted brand, Yamaha shoulders the responsibility to empower the relatively indigent youngsters of the society. MoU with Don Bosco Yuva Kendra,New Delhiwas signed in order to develop a synergetic partnership and thereby providing help to the deserving students to find employment in the automobile sector after the course on technical training. Yamaha has also signed an MoU with the Ministry of Skill Development and Entrepreneurship Government of India last year under which certification will be provided by National Council of Vocational Training (NCVT) – which is a national recognition for such endeavors and are in sync with the national agendas like 'Skill India' and 'Make in India'.Yamaha is the first and only two-wheeler manufacturer to offer this unique course certified by the Government of India."
As part of its continued CSR initiative, India Yamaha Motor Pvt. Ltd is poised to adopt Government/Private Technical Institutes and to partner with reputed NGOs across India to launch Yamaha Training Schools with Yamaha Technical Academy (YTA) certification. Yamaha also plans to launch YTS across India to encourage the relatively indigent youngsters to master Yamaha technology and get employed at Company dealerships.
Yamaha has inaugurated a total of 22 Yamaha Training Schools across India, including today's inauguration in Delhi and others as:Bhushan ITI, Jaipur, Rajasthan,Jayamatha Private ITI, Mar Ivanios College campus, Thiruvananthapuram, Kerala,G.H.Raisoni College of Engineering, Nagpur, Maharashtra, Dignity College of Architecture, Durg, Chhattisgarh, Bosco Boys Welfare Society, Borivali West, Mumbai, Don Bosco Technical Campus in Chennai, Don Bosco Technical Institute, Krishnanagar in West Bengal, YTS at Grow More Foundation, Himmat Nagar, Gujarat, YTS at Don Bosco Technical Institute at Mampetta, Mukkom in Calicut,  YTS at Little Flower Engineering Institute, South Kalamasssery, Cochin, YTS at Don Bosco Technical Institute at Sulthan Bathery in Wayanad District,Calicut, YTS at Gram Tarang Employability Training Services (GTET), Bhubaneswar, YTS at Don Bosco Technical School, Maligaon in Guwahati and YTS in Mangalore, Karnataka at the premises of St Joseph's Technical Institute. Yamaha had earlier commenced its YTS in Kolkata, at the premises of Don Bosco Technical School (DBTS) in Liluah and YTS in Aurangabad at the premises of Government Polytechnic in Aurangabad, Maharashtra. The company had also commenced its YTS in Delhi earlier last year, partnering Navjyoti India Foundation – a not-for-profit organization working with marginalized sections under the inspiring leadership of Magsaysay Award winner, Dr. Kiran Bedi. Yamaha's first YTS was started in association with Dayal Bagh Engineering Institute, Agra in 2013.
About Yamaha's Blue Core Technology
Implemented by Yamaha Motor Co., Ltd, (YMC), Japan on various models, "BLUE CORE" is a next-generation engine development ideal for models that take riding enjoyment, fuel efficiency and environmental performance to all-new levels. The "BLUE CORE" ideal focuses on the following three points:
Increasing combustion efficiency (combustion control)
Increasing cooling efficiency
Reducing power loss