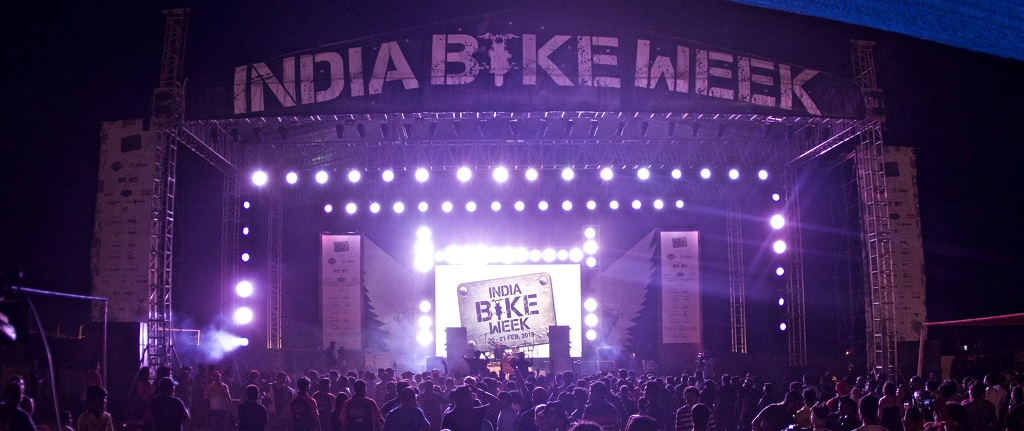 Scheduled on the 19th& 20th of February, the festival will look to host over 12,000 bikers from across India and overseas
Award-winning event and festival design agency Seventy Event Media Group (70 EMG), alongside India's No.1 travel and lifestyle channel FOX life,have today announced the highlights of INDIA BIKE WEEK (IBW) 2016.Scheduled to be held on the 19th and 20th of February, 2016 at Vagator in Goa, over 12,000 hardcore club-members and independent riders will ride to what has become India's biggest and most anticipated Biking Festival. Spread across two days, tens of thousands of thunderous automotive beasts will be heading to the Festival Party for the biggest brotherhood of bikers in Asia and the best of World Biking, Parties, Mayhem and Two Wheeler madness.
In a bid to cement its place in India's cultural landscape, India Bike Week has gone to new lengths to ensure that the festival appeals to the hardcore festival-goer and the dedicated gear head alike. This year, the festival's grandeur will be taken to a whole new level through an exciting event lineup that remains loyal to its roots, while also introducing new attractions that are guaranteed to bring both the casual and hardcore fan together, in celebration of good times and good company.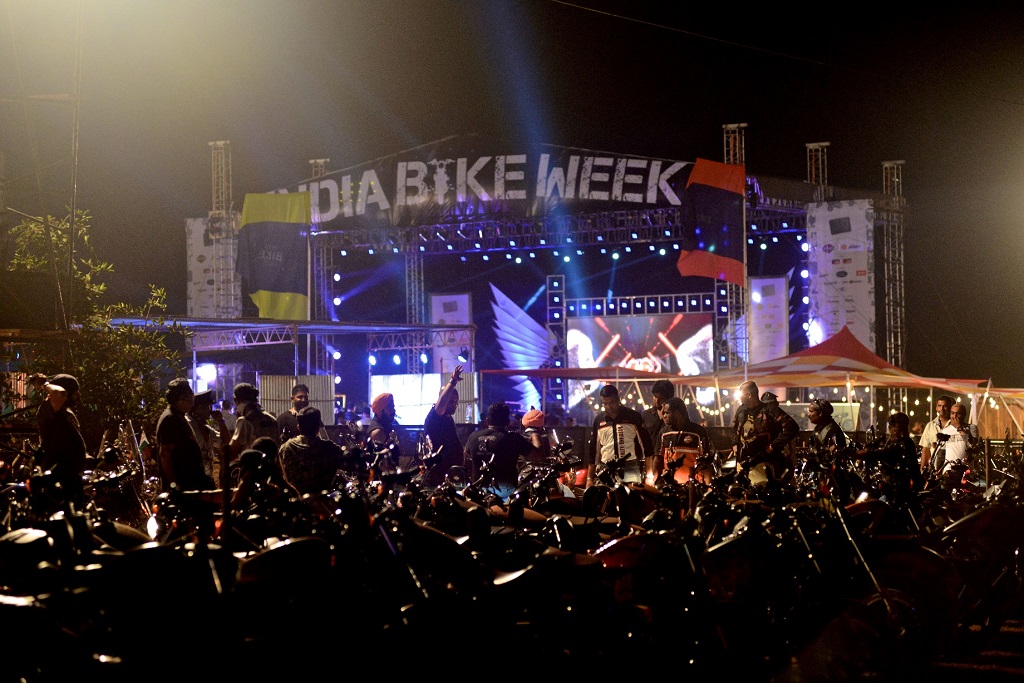 WHAT'S NEW!
This year India Bike Week 2016 is set to host India's first ever official HARD END URO event. Unveiling the premiere official Enduro challenge at IBW 2016, the event is open for general participation by amateur Moto Cross teams. Bringing alive this high octane motor biking challenge in India, the event will test man and machine to their limits, and participants will stand a chance to win a trophy to go witha cash prize of Rs 75,000.
As an addition to the list of premier special attractions, India Bike Week 2016 is launching the incredible and colourful IBW MAIN STREET. Main Street is India's 'Rio Carnival' for bikers, and runs right through the center of the Festival: a runway for biker clubs, solo riders,and all the wild and wonderful people of India Bike Week to parade their attitude and their remarkable speed machines. Lined with bars and tents, this is the street that never sleeps, with bikes revving, cameras flashing, festival-goers carousing, and DJs adding to the din on bridges suspended overhead.
Adding an artistic element to the main event, India Bike Week 2016 will be featuring the Moto Art Collective and it's first ever FILM FESTIVAL. A theatrical event like no other, it will feature profound travel films from all over the world,bringing together elements central to the rider, the bike and their journey. Movies showcased will be featured across three categories, namely Heels on Wheels (films highlighting unique take on women riders), Milestories (travel & adventure films beyond biking experiences) and Two-wheeler Talkies (films based around the passion of motorcycles and a love for the roads). The event will be judged by an esteemed panel of individuals, drawing idols from both the film industry and biking community, and awarding winners cash prizes.Appealing to the everyday adventure movie maker, a separate segment will encourage participants to enter short ride videos. Entries here will be featured on the India Bike Week website, where the winners will be awarded GoPro cameras. Participating categories are Ride with my Pride (films focusing on biking clubs and their rides) and My Ride Video (short videos highlighting great solo rides).
A treat to the eye, The MOTO ART COLLECTIVE is a curated collection of Motorcycle & Moto Culture inspired Art exhibited at a gallery style space at IBW. Biking lifestyle elements such as customized clothing & safety gear accessories by designer and biker ARJUN KHANNA, air-brushed helmets, live pinstriping, 2015 projects from India's most creative bike builders, and moto-photography by VIKRAM BAWA and RONNIE SEQUEIRA.
This year, event organizers are taking great leaps forward towards encouraging riders, plan their journey's towards Goa. Designed by IBW organizers as an incentive for bikers hesitant to take the plunge and ride to the festival, special initiatives have been undertaken to ensure that the 'Great Migration to Goa' won't be a lonely one. Event organizers have networked with over 100 biker clubs in India that will help contact and manage riders interested in taking the exciting journey up to Goa, allowing for great new friendships and associations to be forged.Solo and club riders scattered across cities in India will be able to journey down through highlighted feeder roads and link up on highways as they ride to their ultimate destination.
Safety being of paramount importance, this year organizers have taken additional measure to ensure both rider welfare and a heightened sense of biking experience for participants. IBW Marshals have been introduced who will feature as pack leaders patrolling and guiding the stream of riders till Goa. Medical support will also be provided as the IBW team set up a tailing Ambulance service for the ride.
WHAT'S BACK!
With its 4th edition set to be its biggest yet, all the old favouriteswill be back with a bang, bigger and better:the Bikini Bike Wash, every riders' ultimate treat to his machine;the National Custom Bike Build-Offs, dedicated to finding India's best bike builder for 2016, and is the only competition in India that sees professionals create and assemble customized bike designs from scratch; India's National Stunt Championship, featuring India's finest talents in the circuit battling it out in elimination rounds; the Biking Legends and Honour Roll session, an up-close and personal experiential opportunity where legendary racers and innovators from across the world are lauded for their achievements and share their unique stories through narrative storytelling; International Bike Expos sporting some of the most advanced and breathtaking pieces of automotive engineering; and The Vintage & Classic Bike Concourse, a celebrated showcase that will form a part of over 100 bikes on display at the festival and will feature unique and rarely displayed heritage rides sourced from collectors across the country, amongst other star attractions.
The festival will also stage over 18 domestic and international music artists dropping beats from genres ranging from Electronic Dance Music (EDM), House, and Contemporary Indian Folk Music tothe natural fan favorite, Rock.
Commenting on the announcement, Martin Da Costa, CEO & Founder, Seventy EMG said,''India Bike Week 2016 will be our biggest edition yet. We've got never before seen experiences like the Moto Trails show, and the Hard Enduro Challenge alongside all our classics like the national stunt championships, Bike Expo's, and the Bikini Bike Wash. I'm probably most excited about creating IBW's Main Street for the first time this year. We're working hard to develop it as a 'Sturgis Motorcycle Rally' meets the 'Rio Carnival' experience for the Biker Brotherhood and we know it's going to be high, wild and rock and roll amazing. We really felt that IBW had arrived in a big way in Feb 2015 and it was such a pleasure when EEMA voted it India's best Public Event. Now we're looking forward to really making it the biggest and best Bike Festival in Asia."
Adding on, Swati Mohan, Business Head, Fox International Channels Indiasaid,''What was a closed circuit of automotive ownershas today expanded into a vast thriving social circle of passionate explorers fueled by the growing trend of adventure travel. Look back over the past decade and you'll clearly notice the rise in bikers in the country that signifies the steady growth of the biking culture in India. From the hardcore to the everyday biker, India Bike Week has matured into the ultimate destination that helps bring together the biking community in all its grandeur in the country''.
She added, "Fox life's association with India Bike Week reflects our positioning as not just a channel but a lifestyle brand. As a great addition to our network, the festival is a clear representation of a larger than life event and something that our viewers would definitely want to experience"
As a prelude to the main event, the Chai &Pakoda Breakfast Runs are one of India Bike Week's (IBW) signature on-ground events taking place across India. These highly popular local breakfast rides, organized across India by the IBW team and local bike clubs, witness hundreds of bikers attending the breakfast runs. Pulling together riders with the passion for biking, the event is a free to all session that attracts interest from members of society irrespective of their bike's make.
Schedule of the upcoming Chai & Pakoda rides in the country –
o 20 Dec – Nagpur-Wardha-Amravati
o 27 Dec – Kochi
o 10 Jan – Pune-Ahmednagar-Aurangabad
o 17 Jan – Surat-Baroda-Ahmedabad
o 17 Jan – Hyderabad
o 24 Jan – Bengaluru
Being completely brand agnostic, India Bike Week (IBW) is the first and only festival in India that's built exclusively around bikes and bikers across manufacturers. Citing the sheer potential of growth of the community nationally, the IBW team this yearis looking to further expand its reach amongst bikers and explorers, across markets in India. The festival's yearly growth has fuelled ties with biking clubs all across the country while also cultivating associations with some of the biggest brands in the automotive industry, including Harley-Davidson, DSK-Benelli, Shell, CEATand a host of others.