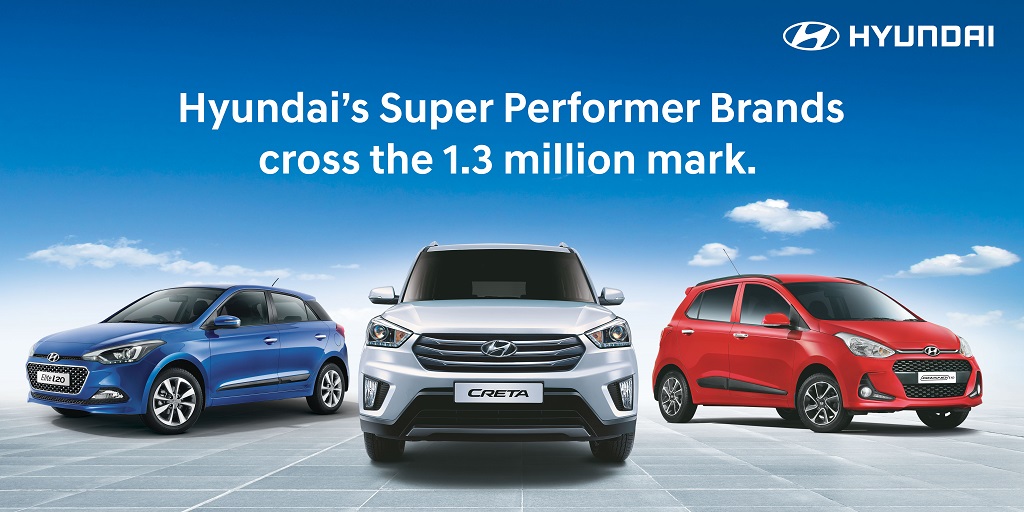 Most Awarded Grand i10, Elite i20 and Creta continue to be Most Loved and Admired Brand
New Delhi, August 02, 2017: Hyundai Motor India Limited (HMIL), the country's second-largest car manufacturer and leading exporter, has achieved yet another milestone for its most awarded and admired brands crossing 1.3 Million Sales Volume. Grand i10, Elite i20 and Creta have clocked domestic sales of 1.01 Million units and exports of 0.29 Million units with cumulative sales of over 1.3 Million units.
The Super Performer brands have set a new benchmark in their respective segments with class-leading features and unmatched performance in every aspect including safety, performance and product quality. Their continued success has further strengthened Hyundai's position as a Premium Car Manufacturer in India.
Commenting on HMIL's Super Performer Brands, Mr. Y K Koo, MD & CEO, Hyundai Motor India said, "We thank our Customers, Channel Partners and Vendors for their contribution in Hyundai's success in the country. This milestone reflects the strong connect and confidence that our stakeholders have on brand Hyundai. Grand i10, Elite i20 and Creta are trendsetters and winners. The 1.3 Million milestone is testimony of Hyundai's sharp and undeterred focus on creating customer delight and unique experiences."
"Grand i10, Elite i20 and Creta are winners of J D Power APPEAL Award 2016 demonstrating excellence of 'Made in India' products as per global standards", he added.
About HMIL
Hyundai Motor India Limited (HMIL) is a wholly owned subsidiary of Hyundai Motor Company (HMC). HMIL is the  second largest car manufacturer and leading passenger car exporter in India. It currently has ten car models across segments – Eon, Grand i10, Elite i20, Active i20, Xcent, Verna, CRETA, Elantra, Tucson and Santa Fe. HMIL's fully integrated state-of-the-art manufacturing plant near Chennai boasts advanced production, quality and testing capabilities.
HMIL forms a critical part of HMC's global export hub. It currently exports to around 87 countries across Africa, Middle East, Latin America, Australia and the Asia Pacific. To support its growth and expansion plans, HMIL currently has 480 dealers and more than 1,260 service points across India. In its commitment to provide customers with cutting-edge global technology, Hyundai has a modern multi-million dollar R&D facility in Hyderabad. The R&D center endeavors to be a center of excellence in automobile engineering.