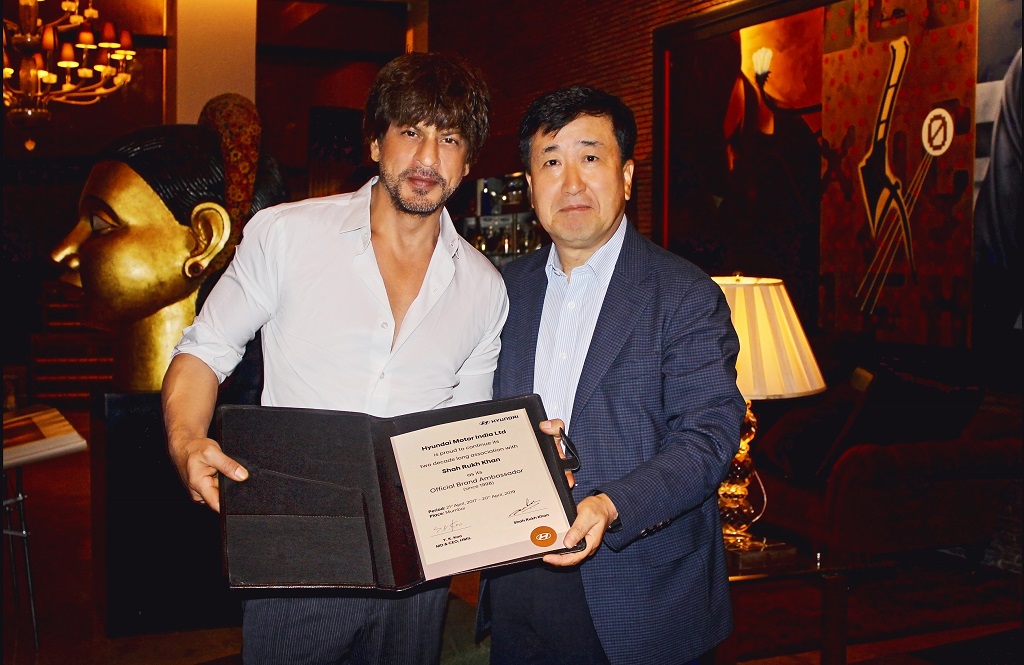 HMIL and SRK have been associated for 19 years, since 1998
One of the longest brand-ambassador partnerships ever
Mumbai, July 03, 2017: Hyundai Motor India Ltd (HMIL), the country's second largest car manufacturer and largest passenger car exporter is honored to extend its enduring association of 19 years with Shah Rukh Khan as its Corporate Brand Ambassador. Hyundai and Shah Rukh Khan's association has been the longest and consistent in the industry, making it one of the longest brand-ambassador partnerships ever.
Speaking on the association, Mr. YK KOO, MD & CEO, Hyundai Motor India Limited said: "SRK is one of the first "HYUNDAI FAMILY MEMBERS" and has played a key role in the success of SANTRO since our inception in India. Hyundai's association with Shah Rukh Khan has enhanced and propagated our brand values. Shah Rukh Khan has a very strong image of a family person and represents strong family values. Hyundai being a household name in automobiles in India connects strongly with Shah Rukh Khan and over the years, both have emerged as the most loved and trusted names. We are extremely happy and honored to continue this two decade long association and are confident that it will further strengthen Hyundai brand image in India."
Commenting on the occasion, Mr. Shah Rukh Khan, Corporate Brand Ambassador – Hyundai Motor India, said: "It has been a really wonderful journey with Hyundai as we complete 19 years of a fruitful association. It has always been a delight to be with a Modern Premium car brand. It's been very satisfying in terms of association as brand ambassador with Hyundai, as Hyundai has delivered much more than cars through its innovative experiences, adding brilliant moments to customers' lives. This is not just an endorsement for me, the brand Hyundai is family to me, and we have grown together!
In 2010, Shah Rukh Khan won the 'Brand Ambassador of the Year' award for Hyundai i10 at NDTV Profit Car & Bike Awards. Over the year Shah Rukh Khan has ascended as the Corporate Brand Ambassador of Hyundai Motor India and together we anticipate achieving many such milestones in future.
About HMIL
Hyundai Motor India Limited (HMIL) is a wholly owned subsidiary of Hyundai Motor Company (HMC). HMIL is the largest passenger car exporter and the second largest car manufacturer in India. It currently has ten car models across segments – Eon, i10, Grand i10, Elite i20, Active i20, Xcent, Verna, CRETA, Elantra and Santa Fe. HMIL's fully integrated state-of-the-art manufacturing plant near Chennai boasts advanced production, quality and testing capabilities.
HMIL forms a critical part of HMC's global export hub. It currently exports to around 85 countries across Africa, Middle East, Latin America, Australia and the Asia Pacific. HMIL has been India's number one exporter for the last 10 years consecutively. To support its growth and expansion plans, HMIL currently has 480 dealers and more than 1,250 service points across India. In its commitment to provide customers with cutting-edge global technology, Hyundai has a modern multi-million dollar R&D facility in Hyderabad. The R&D center endeavors to be a center of excellence in automobile engineering.