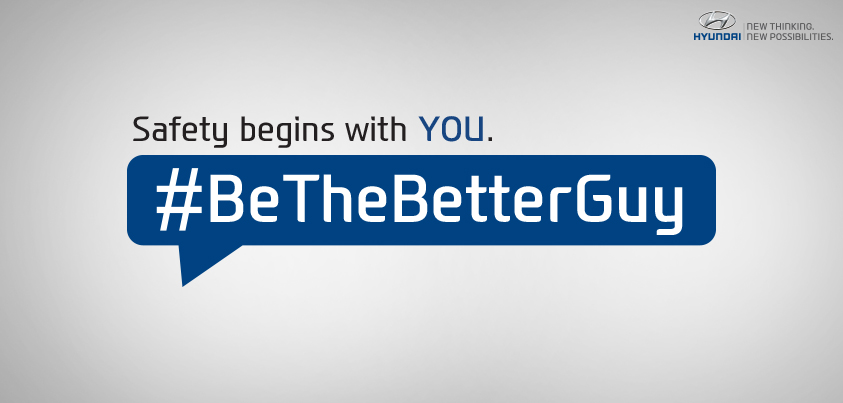 All films focus on Bringing 'Behavioural Change' for Safe Driving: #BeTheBetterGuy
Hyundai's Corporate Brand Ambassador Shah Rukh Khan spreads Road Safety messages
Hyundai Motor India Ltd. (HMIL), the country's largest passenger car exporter and second largest car manufacturer today released Road Safety films focusing on bringing 'Behavioural Change'. The key communication focuses on Safe Driving habits related to Use of Seat Belts, Over Speeding, Drunk Driving and Mobile phones usage while driving.
Hyundai has always been an advocate of Safe Driving. Hyundai believes the process of safety begins with the driver taking responsibility for their individual actions. 'Safe Move- Road Safety' awareness films are unique in nature as they highlight various situations in our day-to-day life highlighting actions which can prevent mishaps. The messages in these films revolve around creating innovative content, emphasizing on to 'Be The Better Guy' in an adverse situation related to road safety and Behavioural Change.
Commenting on the release of the video, Mr. YK Koo, Managing Director and CEO, Hyundai Motor India Ltd. said, "Hyundai Motor India is a Caring Brand, we want all the drivers to realize the importance of safe and responsible driving. We are confident that with these films, Safe Move Campaign will become a Social Movement with people's participation for a better future."
Watch the Video on:
URL: https://www.youtube.com/watch?v=JAbLVj0BYHs
Website: www.bethebetterguy.com
Share the Video with #BeTheBetterGuy
The Safety Film Messages from Hyundai Corporate Brand Ambassador Mr Shah Rukh Khan:
Use Seat Belt

SRK: "Aapki Car Mein Aapki Safety ke liye sab kuch hai, Because we care about you, but do you care about yourself?

Put Seat Belt On When You Drive,

Be The Better Guy"

Don't Over Speed

SRK: "Aapki Car Mein Aapki Safety ke liye sab kuch hai, Because we care about you, but do you care about yourself?

Don't Over Speed, Drive Responsibly,

Be The Better Guy"

Don't Drink & Drive
SRK: "Aapki Car Mein Aapki Safety ke liye sab kuch hai, Because we care about you, but do you care about yourself?

Don't Drink & Drive,

Be The Better Guy"

Don't use Mobile

While

Driving

 
SRK: "Aapki Car Mein Aapki Safety ke liye sab kuch hai, Because we care about you, but do you care about yourself?

Don't Use Mobile When You Drive,

Be The Better Guy"