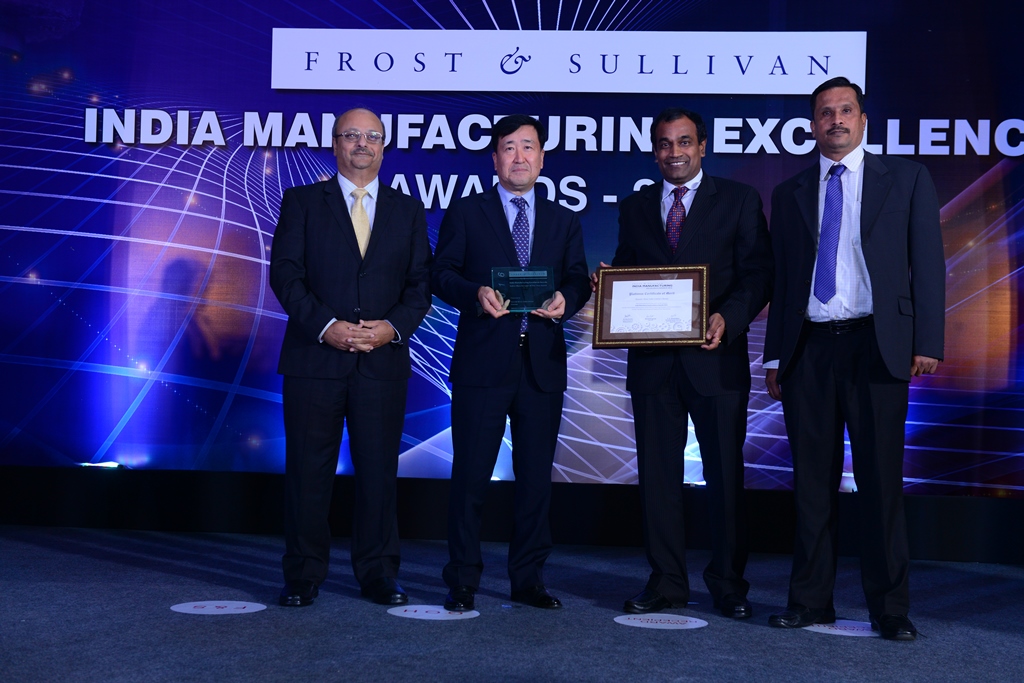 At the India Manufacturing Excellence Awards  by Frost & Sullivan
Hyundai Motor India Limited was adjudged the "Indian Manufacturer of the Year – 2016" the highest recognition conferred to any manufacturer, by Frost & Sullivan at the India Manufacturing Excellence Awards 2016.
Out of 93 entries selected for the award from an overall shortlist of 102 sites derived from an even larger base of contestants, HMIL was adjudged the winner for this coveted award. Participants were put through a stringent assessment process spread across every functions, both in core and support areas, spanning over 3-4 days by expert assessors of Frost & Sullivan at the company sites.
While receiving this award, Mr. Y. K. Koo, MD & CEO, Hyundai Motor India said, "Receiving this award is a great honour for HMIL. It validates our beliefs of excellence. We have been early adopters of making in India policy and exporting to world from India. Our products are recognised for their advanced design, quality and performance created from a world class manufacturing facility. We take pride in our world class manufacturing facilities, strong technological capability with a high degree of automation along with skilled manpower, making award winning products. I thank and appreciate Frost and Sullivan for instituting this very important platform which brings manufacturing excellence to the forefront"
The "Indian Manufacturer of the year award" was handed over by Mr. Aroop Zutshi, Global President & Managing Partner, Frost and Sullivan.
About Frost and Sullivan:
Frost & Sullivan Frost & Sullivan, the Growth Partnership Company, enables clients to accelerate growth and achieve best in class positions in growth, innovation and leadership. The company's Growth Partnership Service provides the CEO and the CEO's Growth Team with disciplined research and best practice models to drive the generation, evaluation and implementation of powerful growth strategies. Frost & Sullivan leverages over 50 years of experience in partnering with Global 1000 companies, emerging businesses and the investment community from more than 40 offices on six continents.
 About HMIL
Hyundai Motor India Limited (HMIL) is a wholly owned subsidiary of Hyundai Motor Company (HMC). HMIL is the largest passenger car exporter and the second largest car manufacturer in India. It currently has eleven car models across segments – Eon, i10, Grand i10, Elite i20, Active i20, Xcent, Verna, Creta, Elantra, Tucson and Santa Fe. HMIL's fully integrated state-of-the-art manufacturing plant near Chennai boasts advanced production, quality and testing capabilities.
HMIL forms a critical part of HMC's global export hub. It currently exports to around 92 countries across Africa, Middle East, Latin America, Australia and the Asia Pacific. HMIL has been India's number one exporter for the last 10 years consecutively. To support its growth and expansion plans, HMIL currently has 466 dealers and more than 1,159 service points across India. In its commitment to provide customers with cutting-edge global technology, Hyundai has a modern multi-million dollar R&D facility in Hyderabad. The R&D center endeavours to be a center of excellence in automobile engineering.