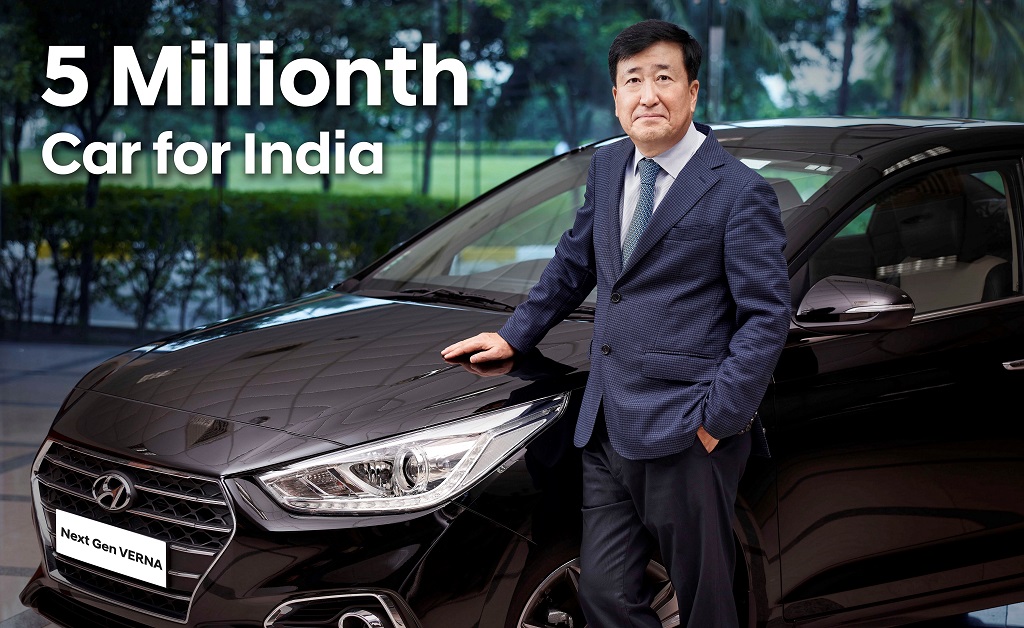 Fastest 5 Million Mark Achieved by Any Manufacturer in Indian Passenger Vehicle Market
Mumbai, November 28, 2017: Hyundai Motor India Ltd. (HMIL), the country's second largest car manufacturer and the number one car exporter since inception, today marked 5 Millionth Car Milestone with the rollout of the Super Performer brand – 'The Next Gen VERNA' for Domestic Market.
Commenting on the milestone Mr. Y K Koo, MD and CEO, Hyundai Motor India Limited said, "Hyundai has a remarkable journey in India by becoming the most loved and trusted brand by customers, partners and experts. Today we are very happy to roll out the 5 Millionth car with the Next Gen VERNA in the Indian market, the fastest in the Industry symbolizing Hyundai's long-term commitment to the Indian market.  Hyundai's Modern Premium Brand direction is a commitment to offer world class and benchmark products meeting customer's aspirations. We will continue this momentum with strong efforts towards customer delight through unique experiences to customers. We thank our valuable customers and partners for their support and trust in Hyundai."
Hyundai rolled out its 1st Millionth Car, Santro, in 2007 in just 8 years and 7 months post commencement of commercial production in 1998 and continued the trend of setting benchmarks in the industry with its 3 Million Mark in less than 2 years and 8 months in July 2013 followed by next fastest 4 Million Mark in only 2 years and 4 months in Nov 2015.
Hyundai has been expanding its product portfolio, foraying into new segments, strengthening the sales and service network with over 2,200 sales and service points including 422 rural outlets.
Models that significantly contributed to Hyundai's successful journey in the past two decades include Hyundai Santro, new models Hyundai EON, Hyundai VERNA, Hyundai CRETA, i10 GRAND, Hyundai ELITE i20 & i20 ACTIVE, Hyundai XCENT, Hyundai TUCSON and Hyundai ELANTRA.
Hyundai Motor India's Domestic Million Milestones
| | | |
| --- | --- | --- |
| 1 Million | April 2007 | 8 Years & 7 Months |
| 2 Million | Nov 2010 | 3 Years & 7 Months |
| 3 Million | July 2013 | 2 years & 8 Months |
| 4 Million | Nov 2015 | 2 Years & 4 Months |
| 5 Million | Nov 2017 | 2 Years |
About HMIL
Hyundai Motor India Limited (HMIL) is a wholly owned subsidiary of Hyundai Motor Company (HMC). HMIL is the second largest car manufacturer and number one car exporter since inception in India. It currently has ten car models across segments – Eon, Grand i10, Elite i20, Active i20, Xcent, Verna, CRETA, Elantra, Tucson and Santa Fe. HMIL's fully integrated state-of-the-art manufacturing plant near Chennai boasts advanced production, quality and testing capabilities.
HMIL forms a critical part of HMC's global export hub. It currently exports to around 87 countries across Africa, Middle East, Latin America, Australia and the Asia Pacific. To support its growth and expansion plans, HMIL currently has 480 dealers and more than 1,260 service points across India. In its commitment to provide customers with cutting-edge global technology, Hyundai has a modern multi-million dollar R&D facility in Hyderabad. The R&D center endeavors to be a center of excellence in automobile engineering.