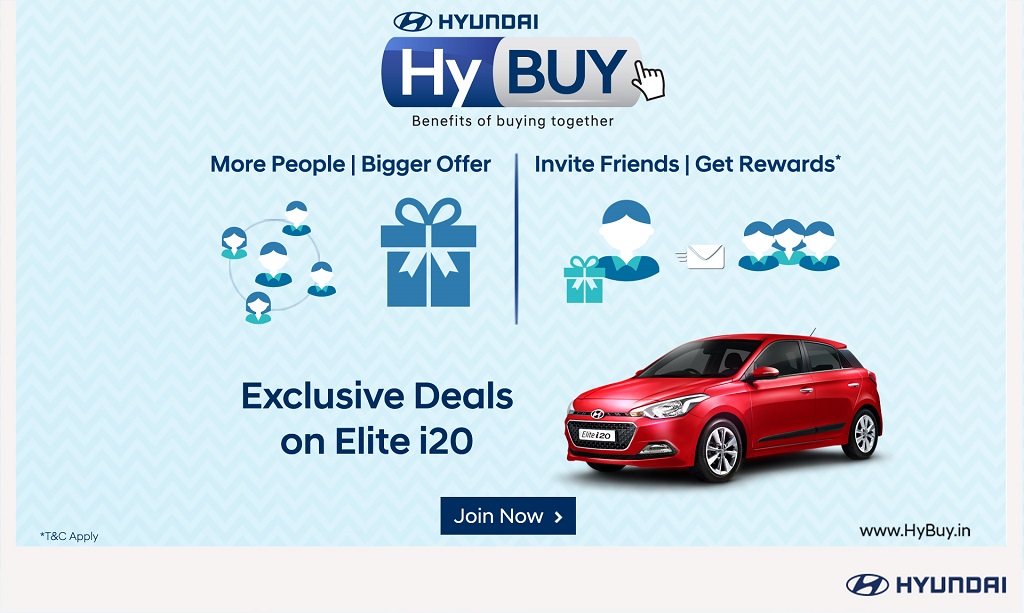 HyBuy is most the innovative initiative in the auto Industry, offering customers a unique online buying experience
Hyundai Setting Industry Benchmarks, redefines the car buying journey for customers through Gamification of the Buying Experience
HyBuy benefits are over and above the current Market Offer
Benefits get more attractive as more people join the deal                                                                                                                              
Mumbai, July 12, 2017: Hyundai Motor India Ltd (HMIL), the country's second largest car manufacturer and largest passenger car exporter launched a Unique and Innovative Digital Marketing Initiative- 'HyBuy', redefining the car buying experience.
Hyundai is a modern premium brand and HyBuy is based on 3 main pillars – Simple, Caring and Creative, fueling Hyundai brand's key vision of being "Lifetime partners in Automobile and Beyond".
Speaking on 'HyBuy' initiative, Mr. Puneet Anand, Sr. General Manager (Marketing) & Group Head, Hyundai Motor India Ltd. said: "The time is right as Digital India is growing incrementally.  Hyundai always strives to set Industry benchmarks and offer unique experiences to customers adding 'Brilliant Moments' to their lives. HyBuy is the most innovative and unique digital initiative in the Auto Industry. It is aimed to redefine car buying journey of customers and support the futuristic mass movement of government's 'Digital India'."
Customers on digital platforms are connected and look forward to an engaging experience. HyBuy utilizes the Social Media Connectivity and benefits the customers in the most convenient manner. Giving customers the power to incentivize their own purchase journey to gain maximum benefits is a way of giving the 'Power To The People' andadding the essence of gamification to engage customers.
The campaign has been designed to adopt an approach to create buzz on digital. HyBuy initiative requires a customer to sign up and join the deal on the website www.HyBuy.in . The customer can avail benefits by depositing a certain amount of money and gain more rewards on sharing this deal with his friends and family to participate in this program. HyBuy provides attractive offers and these benefits increase when more people join the deal. The campaign is going to be just for a limited number of cars only, set with a pre-defined duration in real time and benefits are over and above the current Market Offer. Only booking is done online, rest of the buying experience continues at the dealership end. For more information on HyBuy login to: www.HyBuy.in
Youtube video link: https://youtu.be/C6kWpYtAsgE
Hyundai Motor India Digital Reach:
Facebook Fans : 8.9 Mn
Twitter Followers : 491 K
Instagram : 190 K
YouTube Views : 65 Mn 
YouTube subscribers : 25.8 K
LinkedIn connections : 71.7 K
About HMIL
Hyundai Motor India Limited (HMIL) is a wholly owned subsidiary of Hyundai Motor Company (HMC). HMIL is the largest passenger car exporter and the second largest car manufacturer in India. It currently has ten car models across segments – Eon, i10, Grand i10, Elite i20, Active i20, Xcent, Verna, CRETA, Elantra and Santa Fe. HMIL's fully integrated state-of-the-art manufacturing plant near Chennai boasts advanced production, quality and testing capabilities.
HMIL forms a critical part of HMC's global export hub. It currently exports to around 85 countries across Africa, Middle East, Latin America, Australia and the Asia Pacific. HMIL has been India's number one exporter for the last 10 years consecutively. To support its growth and expansion plans, HMIL currently has 480 dealers and more than 1,250 service points across India. In its commitment to provide customers with cutting-edge global technology, Hyundai has a modern multi-million dollar R&D facility in Hyderabad. The R&D center endeavors to be a center of excellence in automobile engineering.