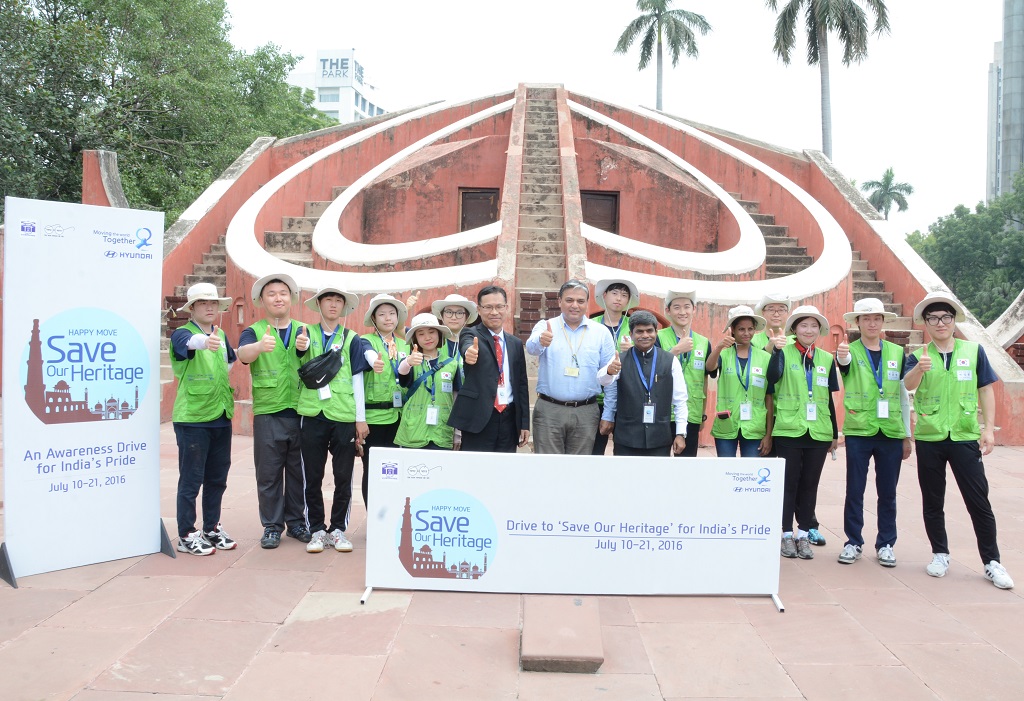 HMIL associates with the Archeological Survey of India (ASI) for the awareness drive

17th Happy Move – Over 100 Global Youth Volunteers Camp to support the initiative at 4 heritage sites & 4 schools in Delhi
Hyundai Motor India Ltd, the country's second largest car manufacturer and the largest passenger car exporter, today launched its Second Phase of its global CSR campaign – Happy Move – 'Save Our Heritage' at 4 heritage sites in Delhi. The initiative is undertaken in collaboration with the Archaeological Survey of India (ASI) and involves a School Contact Program for reaching out to schools students.
Hyundai will conduct awareness drive (July 11- 21, 2016) with over 100 Happy Move Global Youth Volunteers (80 from S.Korea and 24 from India) at the heritage sites of Jantar Mantar, Qutub Minar, Old Fort and Hauz Khas. The volunteers will undertake maintenance activities to preserve the amenities, gardens and will conduct awareness drives to educate the visitors about the value of our heritage.
Further to spread the message amongst children, volunteers will also conduct School Contact Programme at 4 Delhi-Tamil association (DTEA) Senior Secondary School at Lodhi Estate, R.K.Puram, INA Market and Mandir Marg. Volunteers will conduct school premises cleaning, school wall designing, maintenance of gardens and design competitions to generate a creative and innovative study environment.
On the occasion of the launch of 2nd phase, Mr. Rakesh Srivastava Sr. VP – Sales & Marketing, Hyundai Motor India Ltd. said, "Hyundai in partnership with the Archaeological Survey of India is leading to make an on-ground impact in thinking and generating importance for our rich heritage. This association for 'Save Our Heritage' campaign will help us to reach out to masses on the significance of our heritage. We believe heritage is a universal asset that influences and inspires people of all ages and backgrounds. 'Happy Move' is a step to 'Save Our Heritage' by sensitizing the people to understand the value of our heritage in our lives for which, we are conducting maintenance and awareness programs at four heritage sites of national significance."
 Archaeological Survey of India (ASI) official said, "We are happy to associate with Hyundai Motor India for this noble cause of preserving heritage monuments. Earlier this year, the activity was conducted at 4 monuments and we are positive that such initiatives will bring the change in public outlook towards heritage. We believe, there is an immediate need to create awareness at different intervals amongst people to make them understand the value of heritage".
Earlier this year the 16th Happy Move volunteer campaign was conducted at 4 heritage sites Safdarjung Tomb, Qutub Minar, Old Fort and Firoz Shah Kotla. Alongside, the program also reached out to over 2,300 students across 4 schools close to these monuments in Delhi through School Contact Program which also involved cultural exchange with the volunteer Korean students.
The Happy Move Global Youth Volunteers are selected by Hyundai Motor Company with a view to create a global community around the principals of sharing. Currently in its 17th edition, the volunteer program has sent over 3,000 volunteers to India till date who have been instrumental in creating a meaningful difference to lives of people in over 65 villages around Chennai. The Happy Move Global Youth Volunteers have helped create sanitation facilities for over 500 families, provided school infrastructure that has helped 180 schools and over 90,000 students.