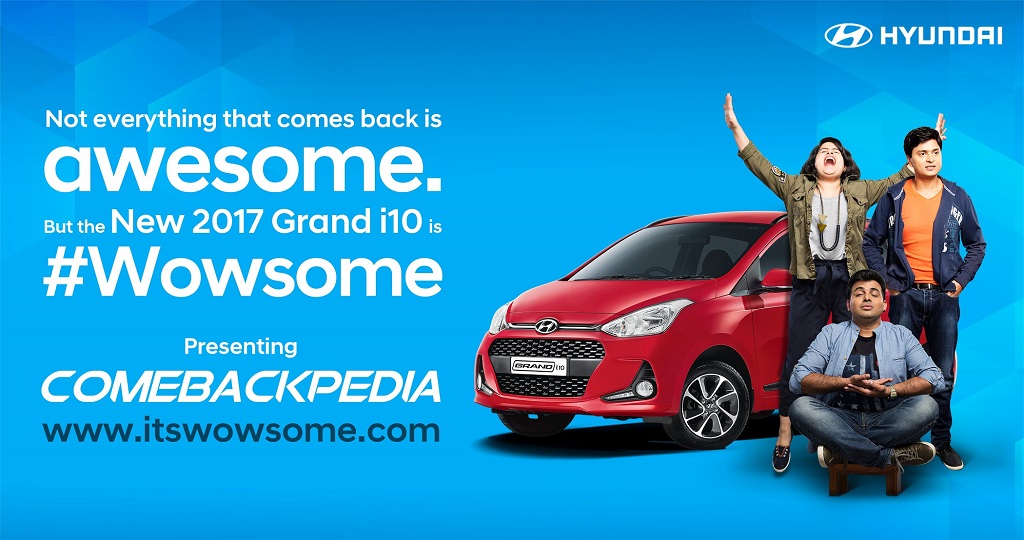 Unique Thematic Campaign "Comebackpedia" to promote Newly Launched #Wowsome 2017 Grand i10
Collaborate with 7 Popular Humour Artists
Mumbai, February 10, 2017: Hyundai Motor India Ltd., the country's largest exporter and the second largest car manufacturer today launched the innovative Digital Campaign – 'Comebackpedia' for the New 2017 Grand i10.
Speaking about the Digital campaign Mr. Puneet Anand, General Manager & Group Head- Marketing, Hyundai Motor India, said "Hyundai Motor India is the country's most loved car manufacturer and as a part of our Experience Hyundai initiative, we are constantly innovating and improving Hyundai brand experience for our customers. Hyundai has a strong focus towards digital marketing to engage the youth across all digital platforms and #Wowsome campaign "Comebackpedia" is a step ahead in the direction."
Innovation and customer centric approach have been pillars of growth and philosophy of Hyundai globally. India is moving fast towards digitalization and content marketing has gained importance. Hyundai is committed to innovate across all digital platforms and to break through the content clutter, the innovative concept of creating "Comebackpedia" came into being. Hyundai tied-up with India's 7 acclaimed humour artists to create first of its kind encyclopedia of interesting comebacks, in the form of 'MEMEs', a format popular among the youth on digital platforms to voice their reactions on current topics.
To participate, fans have to log on to www.itswowsome.com and create a MEME using the expressions of their favourite artists and add an interesting reaction to a comeback and further share it with their friends. The most unique MEMEs will feature in the video created by the humour artists and will also get a chance to win #Wowsome merchandise from Hyundai.
Link of Introduction Video of campaign:– https://www.youtube.com/watch?v=jfh09Hx254g
About HMIL
Hyundai Motor India Limited (HMIL) is a wholly owned subsidiary of Hyundai Motor Company (HMC). HMIL is the largest passenger car exporter and the second largest car manufacturer in India. It currently has eleven car models across segments – Eon, i10, Grand i10, Elite i20, Active i20, Xcent, Verna, Creta, Elantra, Tucson and Santa Fe. HMIL's fully integrated state-of-the-art manufacturing plant near Chennai boasts advanced production, quality and testing capabilities.
HMIL forms a critical part of HMC's global export hub. It currently exports to around 87 countries across Africa, Middle East, Latin America, Australia and the Asia Pacific. HMIL has been India's number one exporter for the last 10 years consecutively. To support its growth and expansion plans, HMIL currently has 476 dealers and more than 1,230 service points across India. In its commitment to provide customers with cutting-edge global technology, Hyundai has a modern multi-million dollar R&D facility in Hyderabad. The R&D center endeavours to be a center of excellence in automobile engineering.