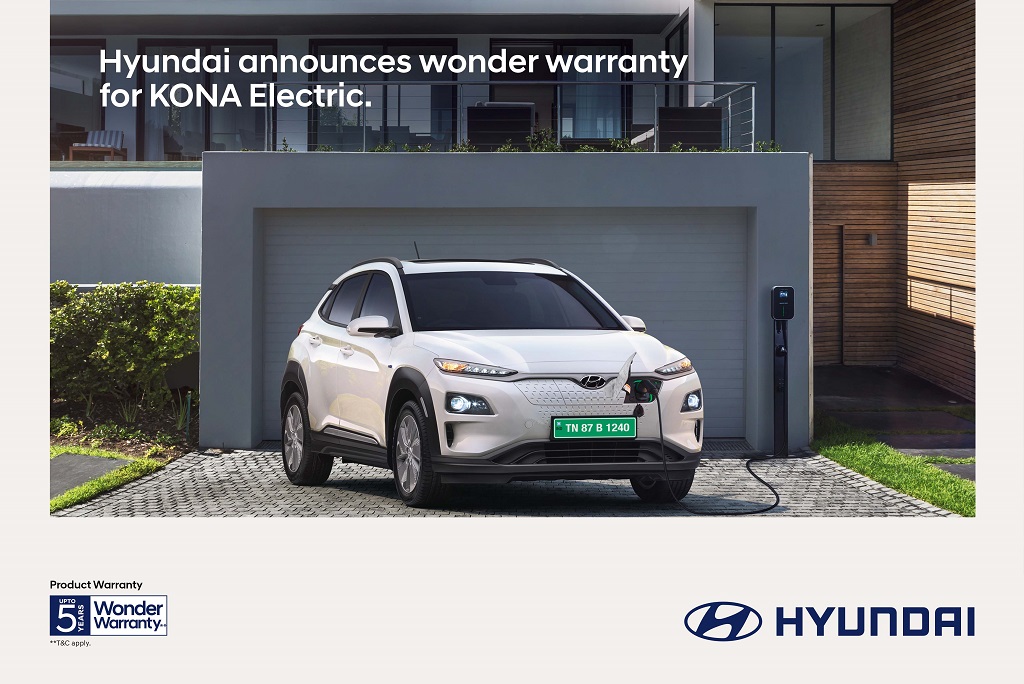 Variable Warranty Option for KONA Electric Vehicle
Installation of AC 7.2KW chargers at more than 50 Dealerships in 30 cities
Mumbai, July 30, 2020: Hyundai Motor India Ltd, India's first smart mobility solutions provider and the largest exporter since inception, has launched variable warranty option, "Wonder Warranty" for its KONA Electric Vehicle customers.
Commenting on the scheme for KONA Electric, Mr. Tarun Garg, Director – Sales, Marketing & Service, said, "Hyundai has always kept its customers at the highest pedestal and offered unmatched customer experience. The Hyundai KONA has pioneered in the Future Mobility and Green Mobility space. In line with the response we have received for India's First Fully Electric SUV, we have introduced the Wonder Warranty scheme which elevates after-sales customer experience by offering them the freedom of choice and provide a Complete Peace of Mind."
All the existing customers have an option to choose wonder warranty and get the benefits without paying any extra cost.
 Customer can opt for any of the Wonder Warranty option as mentioned below
3 Yr/Unlimited   OR
4 Yr/60 000 Km   OR
5Yr/50 000 Km
However, the Battery Warranty for 8 years /1 60 000 Km remains applicable irrespective of the Wonder Warranty option chosen.
To provide unparalleled customer delight to KONA EV customers, Hyundai Service has ensured the installation of 7.2KW AC chargers at more than 50 Dealerships in 30 cities. Further, each Hyundai Kona is provided with 7.2 KW AC charger to ensure charging at Customer's residence in 6 hours 10 minutes.
The Industry first 'Vehicle to Vehicle (V2V)' charging facility has been developed and implemented by HMIL  to provide customers anywhere anytime charging at Delhi, Chennai, Mumbai and Bengaluru.
Portable Chargers are also available for emergency charging support (Through Road Side Assistance partner) at Delhi and Bengaluru.
From online service booking, Vehicle status update via WhatsApp, Pick and Drop from home/office and online payment facility, a "Contact less  service experience" is ensured for the customers, wherever they are and whenever they want to. With its strong network of 1310 workshops, Hyundai has always been at the forefront in providing the best ownership experience to their customers. Hyundai has been ranked No.1 by JD Power in Customer Service Index (CSI) study for 3 years in a row.
About HMIL
Hyundai Motor India Limited (HMIL) is a wholly owned subsidiary of Hyundai Motor Company (HMC). HMIL is India's first smart mobility solutions provider and the number one car exporter since inception in India. It currently has 11 car models across segments SANTRO, GRAND i10, GRAND i10 NIOS, ELITE i20, AURA, VENUE, Spirited New VERNA, All New CRETA, ELANTRA, New 2020 TUCSON & KONA Electric. HMIL's fully integrated state-of-the-art manufacturing plant near Chennai boasts of advanced production, quality and testing capabilities.
HMIL forms a critical part of HMC's global export hub. It currently exports to around 88 countries across Africa, Middle East, Latin America, Australia and Asia Pacific. To support its growth and expansion plans, HMIL currently has 517 dealers and more than 1,330 service points across India. In its commitment to provide customers with cutting-edge global technology, Hyundai has a modern multi-million-dollar R&D facility in Hyderabad. The R&D centre endeavours to be a centre of excellence in automobile engineering.