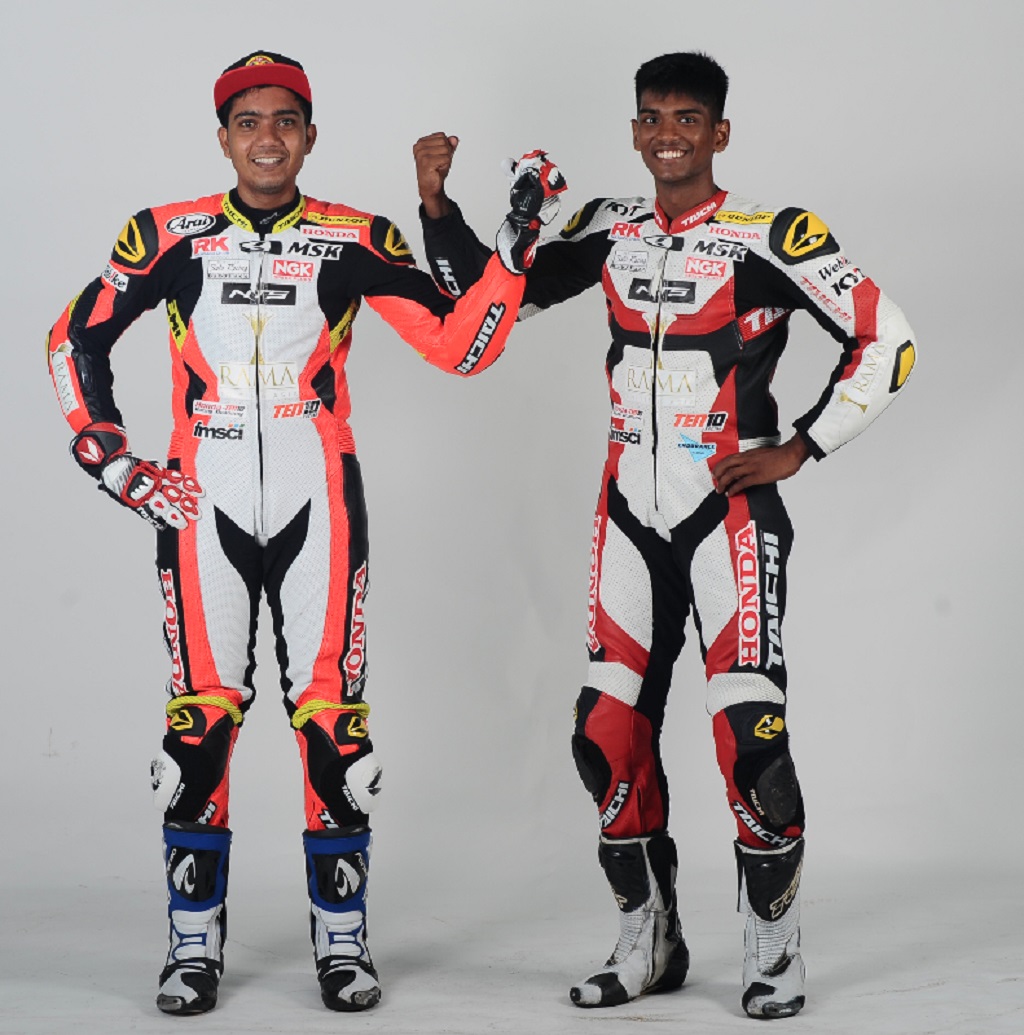 Sarath Kumar & Sethu Rajiv will test the tarmac at 2017 Asia Road Racing Championship starting this weekend with RAMA Honda Racing team
Johor Bahru (Malaysia), March 31: The 2017 season of the Asia Road Racing Championship (ARRC) is all set to kick off at the Johor Bahru, Malaysia this weekend. The inaugural round of 2017 season will witness 2 Indian riders supported by Honda 2Wheelers India at this prestigious international racing event. They are part of RAMA Honda Racing team by NTS T.Pro Ten10.
Both the Indian riders – Sarath Kumar (participating in SuperSport 600CC class) and Rajiv Sethu (participating in Asia Production 250cc class) are supported by Honda Motorcycle & Scooters India Pvt. Ltd. and Honda Motorsports Japan as a key talent development from India in the international racing series.
A perfect amalgamation of Indo-Japanese professional racing units, the RAMA Honda Racing team by NTS T.Pro Ten10 consists of India's top racer Sarath Kumar (bike # 69) who continues his stint with the team in SuperSport 600CC class hoping for an improved performance after recovering from his injuries last year. He will be riding a Honda CBR600WR.
Expressing his excitement for 2017 season, Honda 2Wheelers India supporter ridAer Sarath Kumar said, "I am so happy to get back to riding the SS600 this year. Personally for me, 2016 was a challenging year with injuries. This season I have worked very hard and want to put up a great performance this year. Throughout my career, Ten10 Racing with Honda 2Wheelers India always had faith in me and has powered my dreams. I hope to deliver my best for them. I also thank Mr. John Sudheer who has come forward to support this sport and a talent like me".          
Also making his debut in Asia Road Racing Championship (ARRC), is the 2016 Indian National Champion and former Asia Dream Cup participant, the young rising talent from Chennai, Rajiv Sethu (Bike # 17) in the Asia Production 250CC class, riding the all new Honda CBR250RR.
Visibility excited debutant Honda 2Wheelers India supporter rider Rajiv Sethu, said, "For any Indian racer, getting global exposure is a big opportunity. Honda 2Wheelers India has my dream come true. I look forward to ride and learn from riders like Koyama San who is among the most experienced racers in the world. 2017 season for me is all about improving my riding and presence in international races.  This is my first exposure in ARRC and it's a big deal for me. I will do my best to make my team and country proud."

Speaking on Indian riders skilling up and going global, Mr. Prabhu Nagaraj, Vice President – Customer Service, Honda Motorcycle & Scooter India Pvt. Ltd. said, "India is making gradual and consistent progress in motorsport and our boys going international arena is great for the sport. As part of Honda's rider development program, two young talented Indian riders Sarath & Rajiv will be seen in action in Asia Road Racing Championship (ARRC) this year. We are extremely delighted to have them in our international mix and are confident that they will put up a great show. I'm sure these riders will be creating & supporting dreams for many more young riders to make a career in racing. With the ARRC returning to India later this year, this will be another great opportunity for the riders as well as the motorsport fans in India."
Team Owner, Yusuke Teshima: "I am so happy to put together such a big team across two classes this season in FIM Asia Road Racing Championship in collaboration with India. The team comprises of very talented racers from India and Japan and this will be a great platform for them to grow to the next level of professional motorcycle racing. We are confident of putting up some good performances for Honda and our sponsor, RAMA, this year."   
The Japanese contingent comprises of three experienced and talented riders lead by "pocket rocket" Tomoyoshi Koyama #71 who moves to the crucial AP250 class from SS600 in a strategic move for the team and Honda. While Tiga Hada #23 takes up the mantle in SS600 to lead the championship fight for Honda and ARRC Rookie, Sena Yamada #17 begins his Asian stint with vast experience in the European Moto3 and Moto2 circuit and is the dark horse to watch out for.
Visibly one of the largest teams on the grid with five participants in two classes the team is backed by Mr. John Sudheer of RAMA Group of Companies, a serial entrepreneur and visionary whose appreciation for passion and deserving talents has created a love for this sport and the team.
Team Ambassador, John Sudheer: "I have been associated with the team for one year during the 2016 season and I have been to all their races and the kind of passion and commitment they have towards this sport made me decide to continue my support for the 2017 season, this time with my own brand RAMA (Royal Asia Movie Awards). I see this as a perfect platform for Asian collaboration, uniting Asia through motorcycle racing.  Moreover with Indian talents involved and benefiting through this sport it is something exciting to see especially when they carry my brand across Asia."  
About 2017 FIM Asia Road Racing Championship: The FIM Asia Road Racing Championship is the regional motorcycle road racing championship for Asia, held since 1996.  This championship is part of the production-based category of racing, similar to the Supersport World Championship, British Supersport Championship and AMA Supersport Championship. Modified versions of production motorcycles available to the public are featured in the race.  The Championship is currently divided into three open-make classes and two mono-brand developmental classes. The open-make categories are the SuperSports 600cc, Asia Production 250cc and Underbone 130cc. The developmental classes race on single-make motorcycles.