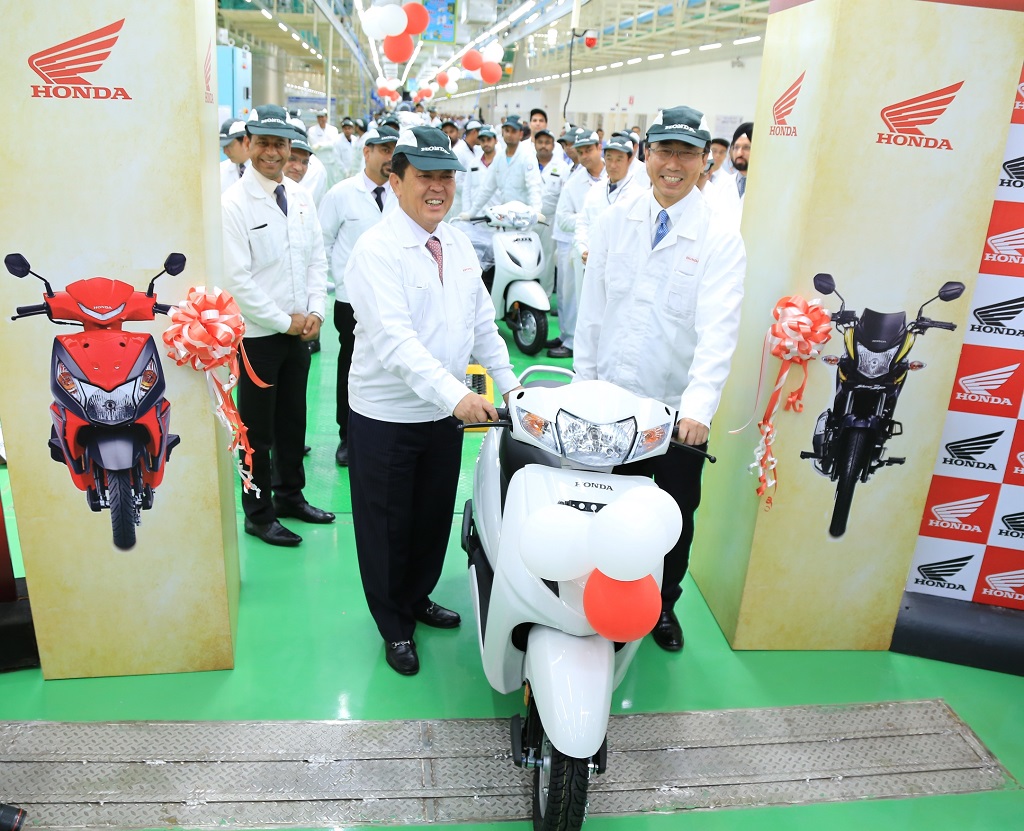 Total annual capacity from Honda's four plants is now at 6.4 million units
Narsapura plant creates global record as
'World's LARGEST & HIGHEST PRODUCTIVITY PLANT of Honda
Ø  India is now the biggest production base of Honda worldwide  =>
–       New 4th line of 0.6 million annual capacity at Honda's Narsapura plant starts commercial production
–       With this expansion, Karnataka plant is now Honda's biggest plant worldwide with 2.4 million units annual production capacity
–       India becomes No. 1 production base of Honda worldwide: Honda 2Wheeler India's total capacity from 4 plants increases from 5.8 million to 6.4 million units in FY'2017-18
Ø  Honda and its allied suppliers invest over Rs. 5,400 crore in Karnataka =>
–       Honda 2Wheelers cumulatively invests over INR 2,600 crore directly at its 3rd plant
–       26 suppliers invest additional INR 2,800 crore and set up ancillary plants in Karnataka
Ø  Direct & indirect employment to 22,000 people in Karnataka =>
–       Honda provides over 7,000 direct employment at its new 4th assembly line
–       Another 15,000 indirect employment opportunities ushered in by Honda's suppliers
Ø  Honda's 3rd plant has many firsts in Manufacturing technology worldwide =>
–       The Green factory is Honda's first plant with 100% Rain-water harvesting & Solar power system
–       State-of-the-art Paint booth automatic air balancing system (World First in Honda's 2wheeler operations)
–       Cutting-edge manufacturing with advanced automated processes and 78 robots
–       Increased automation in machine shop, paint shop, weld shop, aiming at higher efficiency and  superior quality
Bengaluru, August 2, 2017: Continuing to invest in 'Make in India', Honda Motorcycle & Scooter India Pvt. Ltd. (HMSI) today inaugurated the fourth assembly line at its landmark third two-wheeler plant at Narsapura (near Bengaluru, Karnataka) in India. With this latest expansion of 0.6 million units, Honda 2Wheelers India's combined annual production capacity from all four plants is 6.4 million units annually – making India the No. 1 production hub for Honda's two-wheeler operation globally for the first time.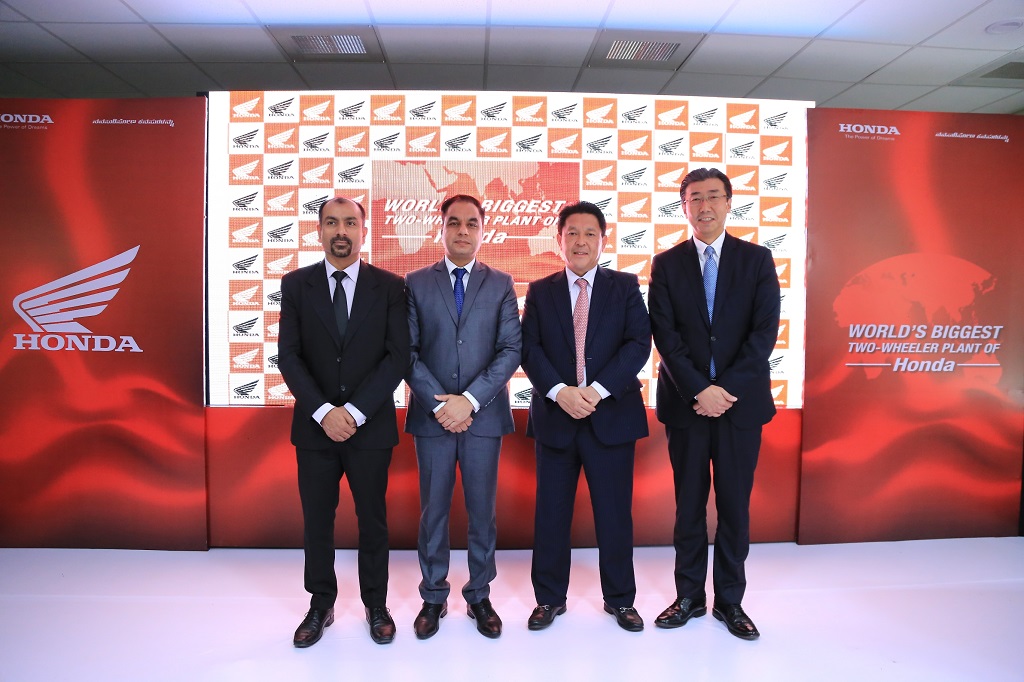 Present at the line inauguration at Honda's third plant in Karnataka were Mr. Shinji Aoyama, Chief Officer – Asia and Oceania Regional Operations, Honda Motor Co., Ltd.), Mr. Minoru Kato (President & CEO – Honda Motorcycle & Scooter India Pvt. Ltd) and senior management officials from Honda.
Elaborating how Asia Oceania region contributes 60% to Honda's global two-Wheeler, automotive and power product sales and how India is driving the growth, Mr. Shinji Aoyama, Chief Officer, Regional Operations (Asia & Oceania), Honda Motor Co., said, "Honda's two-wheeler business spans more than 120 countries worldwide and India is leading the demand. In 2016-17, India alone contributed 28% to Honda's global 2Wheeler sales and became the No. 1 contributor to Honda's two-wheeler business. The growing Indian 2Wheeler market is top priority for Honda. To better meet dynamic market demand and to prepare for the future opportunities, today Honda has inaugurated the fourth assembly line in the Karnataka plant. With this, the Narsapura plant will now produce 24 lac two-wheelers annually. This makes the Narsapura the world's largest two-wheeler plant for Honda and also India the No. 1 production base for Honda globally."
Detailing on Honda's growth trajectory in India & the trend of increasing demand for automatic scooters in Indian market, Mr. Minoru Kato – President & CEO, Honda Motorcycle & Scooter India Pvt. Ltd. said, "In the first quarter of FY'2017-18, Honda Wheelers India aggressive growth led the  industry momentum. Growing double the speed of industry at 19%, Honda alone contributed 68% to industry's new volumes resulting in 3% market share gain to ever highest of 30%. While expanding leadership in scooter segment (59% market share), Honda is now also the new No. 2 motorcycle brand of India. The latest expansion further fortifies Honda's ability to serve the market faster with its increased annual production capacity to 6.4 million units from all plants. In the long term, Honda 2Wheelers India's steady and strategic investments will power our dreams to make India the Export hub worldwide."
ANNUAL PRODUCTION CAPACITY:
The new 4th assembly line adds another 0.6 million units capacity, increasing Honda's third plant annual production capacity to 2.4 million units. This latest expansion increases Honda 2Wheelers India's total annual production capacity to 6.4 million units from its four plants.
With the new capacity expansion, Honda 2Wheeler India has made two new global records. Firstly, the Narsapura plant is the now World's Largest two-wheeler plant of Honda. Secondly, this expansion has made India the No. 1 in two-wheeler production base for Honda worldwide.
Timeline
1st plant

Manesar

Haryana

2nd plant

Tapukara

Rajasthan

3rd plant

Narsapura

Karnataka

4th Plant

Vithalapur

Gujarat

Honda 2Wheeler India total annual production capacity
Till FY'2010-11
1.6 million
1.6 million units
FY'2011-12
1.2 million
2.8 million units
FY'2013-14
1.8 million
4.6 million units
FY'2015-16
0.6 million
5.2 million units
FY'2016-17
1.2 million
5.8 million units
FY'2017-18
2.4 million
6.4 million units
EMPLOYMENT & INVESTMENT GENERATION:
Honda's two-wheeler plant in Narsapura has given a big boost to socio-economic development in Karnataka. Honda together with its 26 suppliers who set up ancillary units locally have invested over INR 5,400 crore and generated nearly 22,000 employment in the state!
Directly, Honda's Narsapura plant employs 7,000 associates with investment of INR 2,600 crore.
Indirectly, 26 new suppliers who up manufacturing facilities in Karnataka have made additional investment of INR 2,800 crore and created 15,000 additional employment opportunities at their plants
BENCHMARKING 'MAKE IN INDIA' IN AUTO MANUFACTURING: 
The Narsapura plant has many innovations and manufacturing firsts which have contributed to making it the 'World's Highest productivity plant of Honda'.
This is Honda's first 2Wheeler plant worldwide which has a manufacturing innovation of fully automated paint booth air balancing system. The system automatically adjusts amount of air necessary for the paint flow, which was done manually earlier. Additionally, aiming to achieve the enhanced safety and efficiency at production sites, as well as reduction in fatigue of operators. Honda 2wheeler has added on 14 robotic processes which were done manually in the past in the areas including paint shop, welding, and material handling.
A GREEN FACTORY IN TRUE SENSE:
At the core of Honda's 3rd plant is innovation and state of the art manufacturing technology.
Developed with a Green Factory concept, the Narsapura plant is the Honda 2Wheeler India's only plant with 100% rain water harvesting system (nearly 4 lakh liters of water is recycled and re-used per day with zero external water consumption) and zero liquid discharge plant.
The plant is committed to achieve 80% of energy requirements from solar power (generating 85,000 KWH solar power per day) and reduce carbon footprint by 50,000 tonnes of CO2 emissions annually by October 2017.
POSITIVE CONTRIBUTION TO SOCIETY:
With its philosophy of Being a Company that society wants to exist; Honda's third plant in Narsapura has accelerated development in the Kolar District (Karnataka).
Since the Narsapura plant's inauguration, Honda has invested over Rs. 200 million in various CSR initiatives in rural sports, health & sanitation, rural development, education and environment.
Honda key CSR initiatives in Karnataka include:
è  Promoting rural sports in Kolar, Honda has established a 5,000 seating-capacity outdoor stadium at Malur, an indoor stadium at Kolar and is coming up with an outdoor stadium at Kolar.
è  Committed to Healthcare & Clean Drinking water, Honda has reached out to 16 villages in and around Narsapura with its Mobile Medicare Units in association with HelpAge India. Additionally, Honda has also financially assisted 500 cataract operations for the needy, supported SNR hospital Kolar with modern equipment to develop a blood bank, conducted 33 essential medical tests free of cost for 4,000 villagers (with plans to expand the net of beneficiaries to 10,000 people), established sustainable clean drinking water projects with RO technology in and around Narsapura benefitting over 25,000 people, constructed overhead water tank of 50,000 liter water capacity with supply lines to meet the daily water requirement of the residents of Karnayakhalli village.
è  Honda's key initiatives in rural development include construction of RCC road connecting Karnayakhalli and Mindahalli village, setting up of high mask lights and solar powered lights to light up community areas in Narsapura village.
è  Empowering youth with education & skills for better employment, Honda 2Wheelers Technical Centre of Excellence set up in Bengaluru arms 600 unemployed youth annually with auto industry specific skills. Honda has also equipped Government schools with basic infrastructure facilities.
è  In the field of Environment, Honda 2Wheelers planted 16,000 fruit bearing trees in 9 villages of Kolar, Karnataka under Harit Udaan – a rural livelihood support community tree plantation program in collaboration with SankalpTaru Foundation. Project 'Harit Udaan' will create a self-sustainable & empowered ecosystem wherein community members are engaged in growing and nurturing fruit bearing trees in the long term.