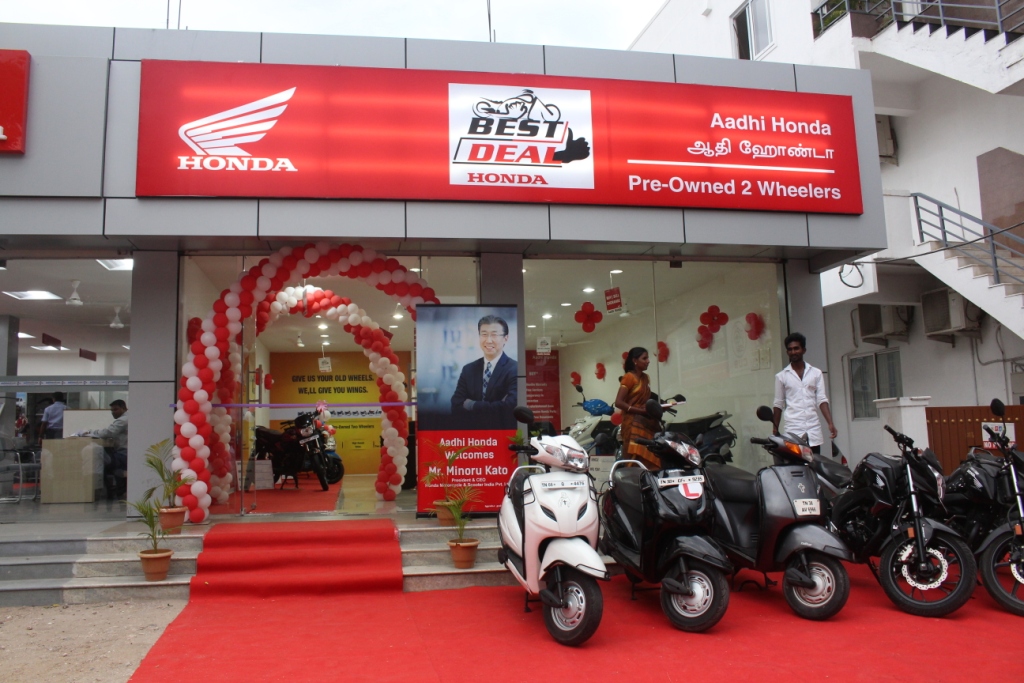 Strong momentum in pre-owned sales à Honda's pre-owned sales grow 3 times the speed of new 2Wheeler sales in FY'17
Honda advances targets by one year à Will reach 200 Best Deal milestone by FY`17-18
Coimbatore, 12 June 2017: Honda Motorcycle & Scooter India today inaugurated its landmark 150th 'Best Deal' outlet -its exclusive pre-owned two wheeler business at Aadhi Honda, Coimbatore, Tamil Nadu.
Honda 2wheelers today also announced that buoyed by growing sales from its organised pre-owned two wheelers business, it has advanced targets for – Best Deal to 200 outlets by end of current fiscal year 2017-18.
Honda 2Wheelers has pioneered the concept of Certified Pre-owned Outlets – 'Best Deal' – two-wheeler industry's first organized retail set-up exclusively for pre-owned two wheelers. These outlets have enabled the company to create more touch-points of interacting with customers and also tap into the huge potential that the pre-owned two-wheeler market offers.
Interestingly in 2017 when new two wheelers industry faced challenges like demonetization and transition from BS-III to BS-IV which lead to a stunted single digit growth, there was a significant boost in demand for pre-owned two wheelers. In financial year 2016-17, sales of Honda's pre-owned business- Best Deal grew by 23% which is three times that of the new 2wheeler industry growth of only 7%. Supporting this growth, was the rapid network expansion of Best Deal outlets count by 44% to 147 outlets in FY 2016-17.
Elaborating at the inauguration ceremony of 150th Best Deal outlet, Mr. Yadvinder Singh Guleria, Senior Vice President – Sales & Marketing, Honda Motorcycle & Scooter India Pvt. Ltd., said, "With the introduction of the concept of Certified Pre-owned Outlets – Best Deal, Honda has pioneered 2 Wheeler industry's credible and trust worthy pre-owned business platform. Our experience shows that pre-owned industry is evolving at a very fast pace and the replacement cycle for two-wheeler has come down to 4-5 years. Honda sees good future potential in pre-owned two-wheeler business and has advanced its expansion horizon to 200 Best Deal Outlets by the end of this fiscal itself."
Uniqueness of Honda's Best Deal concept
Honda's Best Deal are the first such retail set-up by any two-wheeler manufacturer in India to venture exclusively in the highly fragmented and unorganized pre-owned market. Honda's Best Deal network now covers 117 cities across 21 states of India.
Through Best Deal, Honda is giving a credible and organized platform to earlier untapped category of two-wheeler customers – (1) those who want to exchange their existing two-wheeler of any make for a brand new Honda two-wheeler, and (2) those customers who want to buy a refurbished and certified pre-owned Honda two-wheeler and seek the Best Deal in the market.
Transparency and benefits to customers
For Honda's customers, the biggest advantage over the unorganized platform is the peace of mind as every purchase in Best Deal comes with 2 Free Services, 6 Months Warranty and genuine after-sales support. The seller receives best price for their two-wheeler. Honda Best Deal outlets verifies owner's documents and assures hassle free and timely ownership transfer to the new customer.